Melville Doocot

Monimail, Fife

Location Guide
This doocot was originally built as a windmill sometime during the 1700's. It stands on a mound which contains a vaulted storage chamber. The walls were battered (wider at the bottom) to help offset the weight of the sails. These would have been fixed into a wooden top structure which could be rotated to angle the sails to the wind.
At some point it was converted to a doocot, by cutting off the top and adapting the design to be able to take a single-pitched roof. All the windows were blocked up, except one which was left for the pigeons to fly in and out.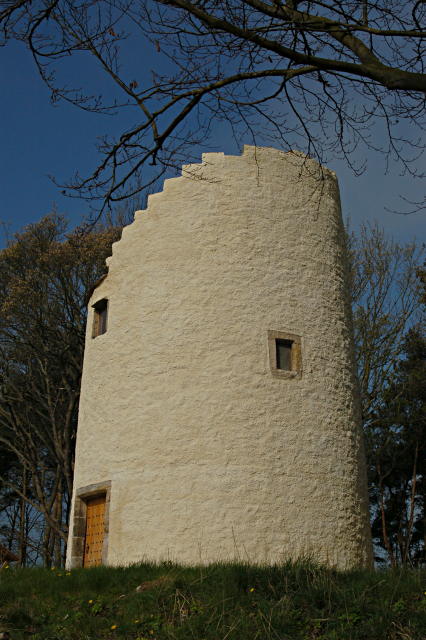 Photo by Jim Bain

Inside the walls were lined with stone nesting-boxes. During restoration in the 1970's some missing stone boxes were replaced with concrete replicas. In the centre is a wooden structure called a 'potence', which is a ladder attached to a central rotating wooden pillar, this allowed access to the nesting boxes, and could be moved by the person on the ladder kicking against the wall.
The windmill, and later the doocot, were part of the estate surrounding Melville House, the home of the Earls of Leven and Melville.
To see inside the key is available at Windmill Cottage, see the contact information page on their website for contact information.
---
Please let us know any other information that we can add to the Grid(s) or page and any errors that you discover. Before making a long trip to any location it is always wise to double check the current information, websites like magazines may be correct at the time the information is written, but things change and it is of course impossible to double check all entries on a regular basis. If you have any good photographs that you feel would improve the illustration of this page then please let us have copies. In referring to this page it is helpful if you quote both the Page Ref and Topic or Section references from the Grid below. To print the planning grid select it then right click and print the selected area.
Please submit information on locations you discover so that this system continues to grow.