Stoke Sub Hamdon Priory Dovecote

Stoke Sub Hamdon, Somerset

Location Guide
This Priory dovecote is believed to date from the 15th century. It is a circular stone building, now roofless, with around 500 nest boxes inside.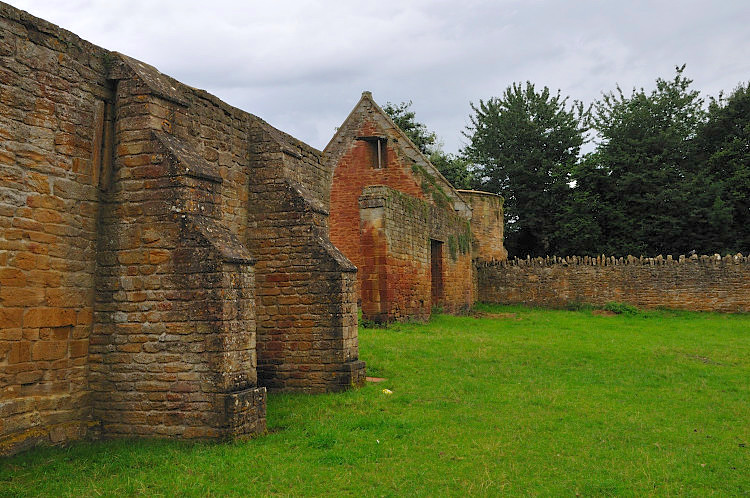 The dovecote is the circular structure at the back we were not able to get closer
as there was some restoration work going on in the buildings nearer to us.
This dovecote is within the walls of Stoke Sub Hamdon Priory and access is through some large wooden gates which are open March to September from 11am-5pm. On the Great Hall of the Priory is open to explore, but once your are in the main courtyard you can see the roofless dovecote at the end of some ruined buildings. It is not possible to see the dovecote unless you are within the courtyard, so it is necessary to visit this one when it is open.
Although British Listed Buildings

lists it's address as 8 Hill View Close, it is not possible to see it from this side as there are trees in the way and the gardens of the houses in Hill View Close, but it is directly behind it.
---
Location: Stoke Sub Hamdon Priory Dovecote, Stoke Sub Hamdon, Somerset

Grid Reference:

ST472174

Ceremonial County: Somerset

Map Link: Multimap

Aerial photo: Multimap Aerial

Getting there: Off the A303 take the exit to Stoke Sub Hamdon, this road leads into North Street and the priory entrance in near the top of this road on the right hand side past the church.

Access: Off North Street. Park just beyond it on the side of the road, or off the road going through the centre of the village, West Street, there is a car park with public toilets and then you can walk down North Street.
Website: National Trust
Other Useful Websites: British Listed Buildings
Email:

stokehamdonpriory@nationaltrust.org.uk

Address: North Street, Stoke Sub Hamdon, Somerset
Postcode: TA4 6QP
Telephone: 01935 823289
Opening Times: 14 Mar-26 Sep 2010 Mon-Sun 11am-5pm or dusk if earlier.

Charges: FREE

Nearby Locations: Norton Sub Hamdon Dovecot, Somerset
Other Location Pages:

Other Relevant Pages: Dovecots Dovecots in England Dovecots in Wales

Doocots in Scotland

Notes:
Please let us know any other information that we can add to the Grid(s) or page and any errors that you discover. Before making a long trip to any location it is always wise to double check the current information, websites like magazines may be correct at the time the information is written, but things change and it is of course impossible to double check all entries on a regular basis. If you have any good photographs that you feel would improve the illustration of this page then please let us have copies. In referring to this page it is helpful if you quote both the Page Ref and Topic or Section references from the Grid below. To print the planning grid select it then right click and print the selected area.
Please submit information on locations you discover so that this system continues to grow.