Wells High Street, Then and Now

Wells, Somerset

Location Guide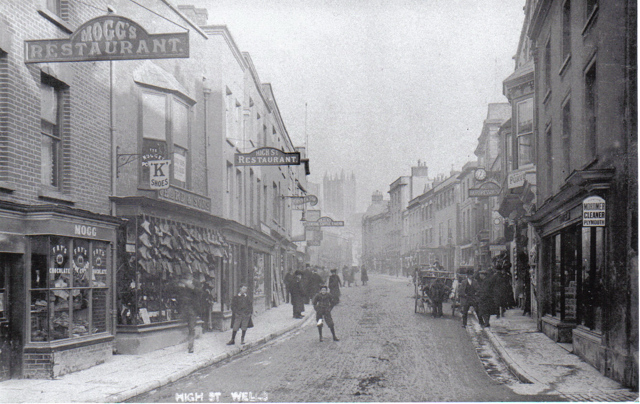 Wells in the past - probably between 1900 and 1910
A similar view today August 2010
The same street in 1995 from a little further back
Moving further down the road back in 1995
Moving further down the road today 2010
The roof line in Wells High Street has hardly changed, particularly on the right of the picture.
You will see one of the features of this street is the two streams that run down each side of the road, you can see this clearly in the old photograph at the top of the page and the modern photograph under it.
The road covering and markings, and how the pavement work have changed between each set of photos. The latest redesign has lower curbs and this and some of its features seems to catch a lot of people out, while spending only a few minutes there recently I saw several people fall over and several others who nearly did. The combination of multiple curbs, smaller steps and the streams are catching people out.
Traffic in this street is non stop and there are vehicles parked on both sides near the far end, and again now around the junction at the end I was photographing from. There is a section that is narrower and traffic comes down single stream, and when someone crosses the level crossing down further it causes a gap in the traffic, if quite a few people cross you get the odd situation of no traffic for a period, this is how I managed to get the current day photo with no traffic immediately in front of me. Ideally you want to photograph this road very early in the morning when no traffic much is about.
Wells is a small city with a population of a large village, around 10,000. It has a long history and many features worth exploring. The large building at the end of the street in all the photos is Wells Cathedral.

---
Location: Wells - High Street, Wells Somerset

Grid Reference:

ST548456

Ceremonial County: Somerset
Aerial photo: Multimap Google

Getting there: High Street, wells. Traffic is one way and just about continuous.

Access:
Website:
Other Useful Websites: Wikipedia on Wells
Email:
Address:
Postcode:
Telephone:
Opening Times: open al the time but you might find an early start, before the traffic is worth while here. Its virtually impossible to photograph here from the road with non stop traffic and a lot of parked vehicles.

Charges: none

Nearby Locations: Wells Cathedral, Bishops Palace, Old Bishops Palace
Other Location Pages: Then and Now Locations Somerset Then and Now Locations
Other Relevant Pages: Then and Now Photography

Notes:
Please let us know any other information that we can add to the Grid(s) or page and any errors that you discover. Before making a long trip to any location it is always wise to double check the current information, websites like magazines may be correct at the time the information is written, but things change and it is of course impossible to double check all entries on a regular basis. If you have any good photographs that you feel would improve the illustration of this page then please let us have copies. In referring to this page it is helpful if you quote both the Page Ref and Topic or Section references from the Grid below. To print the planning grid select it then right click and print the selected area.
Please submit information on locations you discover so that this system continues to grow.