Marlborough Then and Now

Marlborough, Wilshire

Location Guide
The site in which Marlborough sits has been occupied from before recorded history. There is a mound that had a castle built on it by William the Conqueror, that is said to be as old as Silbury Hill,


not far away. It was known as Merlin's mound, said to be where Merlin was buried and some say that the towns name comes from this.
In the location guide on the Marlborough White Horse


we discuss the mound.
The castle was finished around 1100, and Marlborough also had a mint set up by William and continued by his successor, at this time the town name was spelt on the coins as Maerlebi or Maerleber.
The town has existed for a long time and in 1204 it received a charter to hold a market.
Savernake Forest nearby was set up by William and became a favourite rRoyal hunting ground, the castle was used by him, and many others including Henry I, Richard I, John, and Henry II. Henry III held Parliament here, in 1267, when the Statute of Marlborough was passed. This gave rights and privileges to small land owners and limited the right of the King to take possession of land. This seven hundred year old law states that no one shall seize his neighbour's goods for alleged wrong, without permission of the Court. It is the oldest piece of English law which has not yet been repealed.
On 28 April 1653, the Great Fire of Marlborough burnt two hundred and fifty houses to the ground. Fire swept through the town again in 1679 and again in 1690. This time, an Act of Parliament was passed "to prohibit the covering of houses and other buildings with thatch in the Town of Marlborough".
It continued to play an important role throughout history, and in 1689, William III created Sir John Churchill, the distinguished Army General, Earl of Marlborough. In 1702, William's successor, Queen Anne created Churchill Duke of Marlborough.
The 'then and now' photo we have of Marlborough looks at a section of the High Street in 1902 and again today. You can find other images of this area at a variety of points in between at Historic pictures of Marlborough on BBC Radio Wiltshire.

Google Streetview can be used to move around the streets, to see the town today. Just click on either of the Google links below and then drag the little orange man to the street position of choice. The higher position of the Google cameras, well above the cars gives a less cluttered view.
The main street is closed two weekends in October for street fairs, Marlborough Mop, and has a market on Wednesdays.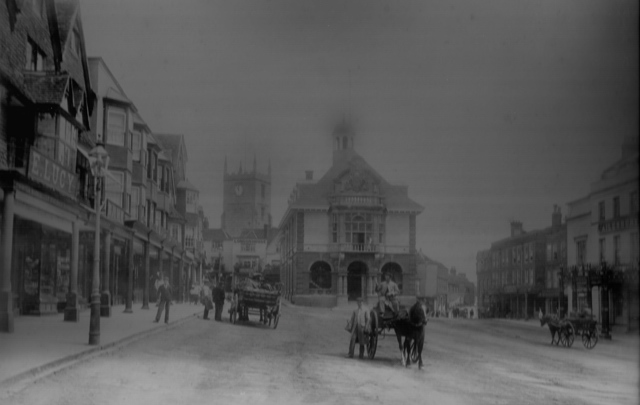 Marlborough High Street 1902
Marlborough High Street 2010
The road still slopes down to the right, and buildings from the outside are hardly changed, its just a lot busier now. My 2010 photo was taken on a Sunday morning, when in theory it should be quieter.
---
Location: Marlborough High Street, Marlborough, Wiltshire

Grid Reference:

SU187691

Ceremonial County: Wiltshire
Aerial photo: Multimap Google

Getting there: Marlborough centre, the A4 runs through the High Street

Access: Each side of the High Street is limited parking and also down the centre of the High Street there is pay and display parking, which fills up quickly there are other car parks in the town which are on the same level. However surrounding side streets do go up hill.
Website:
Other Useful Websites: Wiki Historic pictures of Marlborough on BBC Radio Wiltshire
Email:
Address:
Postcode:
Telephone:
Opening Times:

Charges:

Nearby Locations:
Other Location Pages: Then and Now Locations
Other Relevant Pages: Then and Now Photography

Notes:
Please let us know any other information that we can add to the Grid(s) or page and any errors that you discover. Before making a long trip to any location it is always wise to double check the current information, websites like magazines may be correct at the time the information is written, but things change and it is of course impossible to double check all entries on a regular basis. If you have any good photographs that you feel would improve the illustration of this page then please let us have copies. In referring to this page it is helpful if you quote both the Page Ref and Topic or Section references from the Grid below. To print the planning grid select it then right click and print the selected area.
Please submit information on locations you discover so that this system continues to grow.