Hardwick Hall Then and Now

nr Bolsover, Derbyshire

Location Guide
Said to be one of the most significant Elizabethan houses in England, it was built by Bess of Hardwick, one of the richest women in Britain in the 1590's.
The stone mason/architect was Robert Smythson,

his other work included Longleat House

in Wiltshire, Woolaton Hall

in Nottinghamshire, Burghley House

in Lincolnshire and Burton Agnes Hall

in Yorkshire. It is an early style of country house when it no longer became necessary to fortify them. His son John produced Bolsover Castle,

for the son of Bess.
It was handed over to the Treasury in exchange for death duties in 1956 and then given to the National Trust, the Old Hall is also owned by the National Trust but administered and managed by English Heritage.
Next to it is Hardwick Old Hall

its predecessor and later was used as guest and service accommodation after the new hall was built. The Old Hall is now a ruin.
There is new stable yard project in hand and the result is expected to be open on 2012, this is going to include all year opening and have shops, restaurants, plant sales etc. They are also going to be creating a new car park. Currently there is a cafe in the kitchens of the hall, so one of the most interesting features of this fine building is not shown well. With the development of the stable block hopefully they will have the kitchens on display fully.
Hardwick Hall also has extensive gardens.
We plan to produce another guide to Hardwick Hall and perhaps a gallery of images to go with it, this location guide is just looking at a 'then and now' photographic challenge. Changes over the last 100 plus years have included tree growth and the gardens at the front of the house is now laid out differently.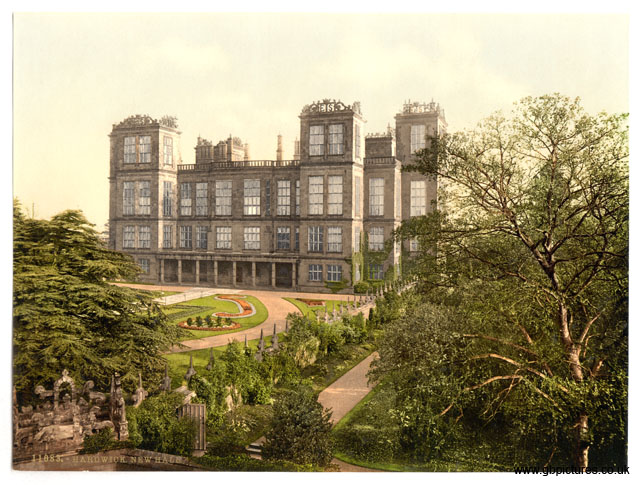 The old 1905 Photochrome above of Hardwick Hall shows this hall and front entrance yard/garden, plus to the right a slight peep behind the garden wall. Its taken from the roof of the lodge on the front of the Old Hall. This position is not accessible to you today so the nearest you can get is in the grounds just inside the garden wall, and to the right slightly to avoid a very large tree.
Hardwick New Hall in 2010
The nearer you get the more the building will appear to slop backwards. We could take a wider view closer and then correct it in Photoshop, use a perspective control lens, that has a sliding front element or use a camera on a pole. See our article on Making Buildings Stand Up Straight

for more on this.
This shows the reverse view form the position the previous image was taken, and you can see the piece of roof area on the lodge that the photographer was on. It would not help today as there is a rather large tree that would block most of the view.
From a high window in the Old Hall you can get a view of the New Hall, and from this see both the roof, on the left, that was used to take the Photochrome images and a part of the Old Hall and behind the wall into the garden.
This image however does show that if you had a reasonable high pole camera and put it on the grass the other side of the piece of remaining wall on the right, you would get a fairly near image to the Photochrome.
From this image you can see that once you were well above the wall, you would get a fairly clear view of the house.
We have a second Photochrome of Hardwick Old Hall

and another of nearby Bolsover Castle.

---
Location: Hardwick Hall, nr Bolsover, Derbyshire

Grid Reference:

SK463637

Ceremonial County: Derbyshire
Aerial photo: Google

Getting there: M1 Junction 29 and follow signs, there is one way system in operation within the estate.

Access: From the NT car park, you have to walk to the main gate where you can gain access to the garden and house past the payment desk.
Website: National Trust - own
Other Useful Websites: Wikipedia
Email:

hardwickhall@nationaltrust.org.uk

Address: Doe Lea, Chesterfield, Derbyshire
Postcode:

S44 5QJ

Telephone:

01246 850430

Opening Times: Hall: 23 Feb-30 Oct Wed-Sun 12noon-4.30pm; 3-18 Dec Weekends 11am-3pm
Gardens: 23 Feb-24 Jul and 7 Sep-30 Oct Wed-Sun 11am-5pm; 25 Jul-4 Sep Daily11am-5pm;
3-18 Dec 11am-3pm

Charges: Hall and Garden: Adult £9.98; Child £4.99; Family £24.94;
Garden only: Adult £5.04; Child £2.52; Family £12.60; Car Park: Adult £2
Joint Halls: Adult £12.18; Child £6.09; Family £30.45

Nearby Locations: Hardwick Old Hall Bolsover Castle
Other Location Pages: Then and Now Locations Derbyshire Then and Now Locations
Other Relevant Pages: Then and Now Photography

Photochrome Photo Archive for more Photochrome images from this area.

Notes:
Please let us know any other information that we can add to the Grid(s) or page and any errors that you discover. Before making a long trip to any location it is always wise to double check the current information, websites like magazines may be correct at the time the information is written, but things change and it is of course impossible to double check all entries on a regular basis. If you have any good photographs that you feel would improve the illustration of this page then please let us have copies. In referring to this page it is helpful if you quote both the Page Ref and Topic or Section references from the Grid below. To print the planning grid select it then right click and print the selected area.
Please submit information on locations you discover so that this system continues to grow.