John Constable, The Lock,
Then and Now

Flatford, Suffolk

Location Guide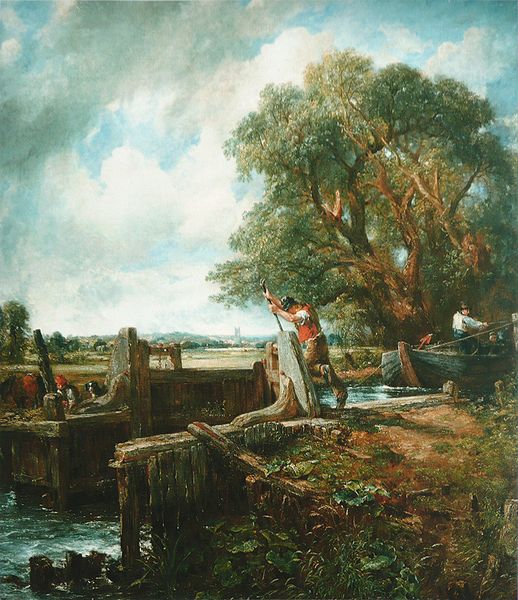 This painting is also known as 'A Boat Passing a Lock', it was Constable's 5th large painting, first exhibited in 1824, and the first one he would do upright rather than view. It measures 56 inches high by 47.5 inches wide. The lock gates are the same ones featured in Flatford Lock from the Mill House

painted in 1814. In 1826 he would use the same subjects again in another painting entitled 'A Boat Passing a Lock', which was a view measuring 40 by 50 inches. The first version above sold on the first day of the Royal Academy Exhibition and constable decided, as there were other interested buyers, to produce, after a short gap, another version.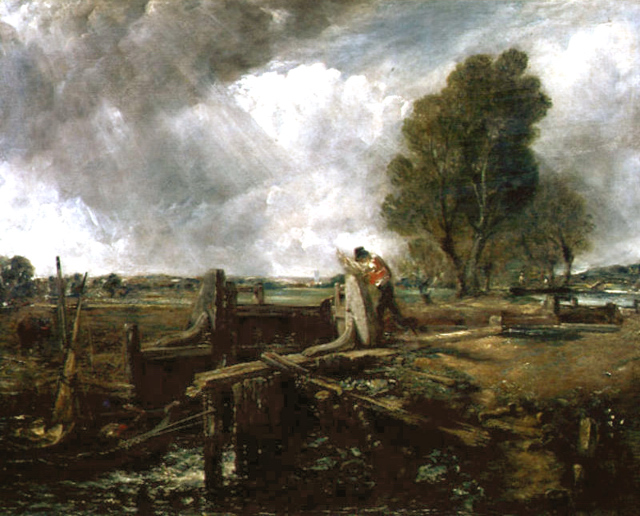 This is the oil sketch for the second version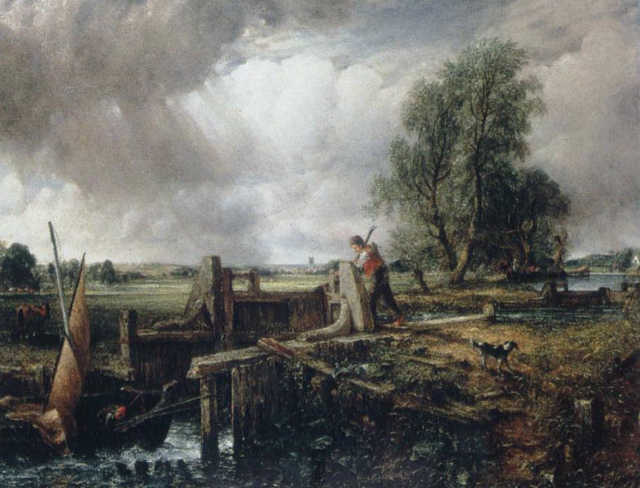 The final painting of the second version, although not a particularly good photo of it.
You cannot see this view today, there are too many trees. The position constable was representing this image from is on a barge or boat in the area next to the lock in front of the mill. He may have been on a barge or he may have been just at the back of the mill in line with this.
Today you would just see the lock and trees, lots of them.
In constable picture in the centre distance is Dedham Church, in practice it is very small from here. We can in practice still see it from just the other side of the bridge, but if I put a photo here it would be so small you wouldn't notice it.
Going further along the river, a few fields, we get closer to Dedham, and with less hedges and trees its easier to see the church, but today there is generally more hedges and trees than in Constable's time. In part this is because in his day wood was used in building, manufacture and for heating, so hedgerow trees were one of the farming crops, now they are mostly just left until they become dangerous and have to be dealt with.
---
| | |
| --- | --- |
| | |
Please let us know any other information that we can add to the Grid(s) or page and any errors that you discover. Before making a long trip to any location it is always wise to double check the current information, websites like magazines may be correct at the time the information is written, but things change and it is of course impossible to double check all entries on a regular basis. If you have any good photographs that you feel would improve the illustration of this page then please let us have copies. In referring to this page it is helpful if you quote both the Page Ref and Topic or Section references from the Grid below. To print the planning grid select it then right click and print the selected area.
Please submit information on locations you discover so that this system continues to grow.