John Constable, Hadleigh Castle,
Then and Now

Hadleigh, Essex

Location Guide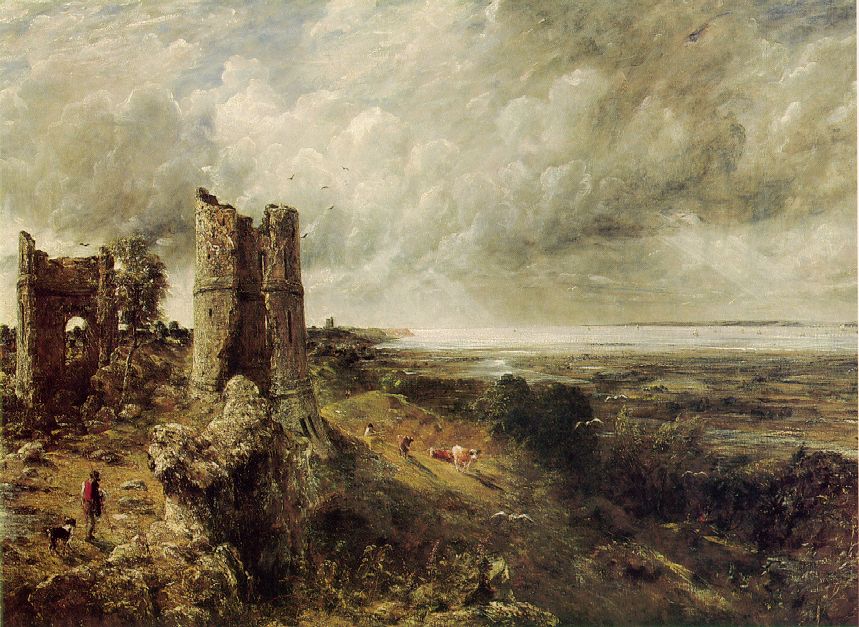 1829 painting by John Constable
The castle today, 200 years on and less of it survives
This is the nearest correct angle for the wall and tower but I am too low down, I need to be immediately behind where I am standing on the top of a piece of remaining tower.
Back further and you can see the piece of wall running along on the left and the tower on which Constable stood to do his painting on the right. There would have been more of it in his time.
Another view the wall is now in front and the remains of the tower he stood on behind.
Looking back from the larger tower on the top, you can see more of the wall remains.
Its still wide open from up here and when we took these photos in March 2010
it was windy and very cold, although a nice day.
Quite a bit of the walls and parts of a number of towers from this castle, that was built starting in 1274, still exists in what is now a country park.
Edward III was the first King to see the strategic importance of Hadleigh Castle. It was ideally situated as a base for defending the Thames Estuary against French raids during the Hundred Years War.
Edward's claim to the French throne had led to war with France. The need for a more systematic defence of the Thames Estuary led the King to refurbish and extend Hadleigh Castle and to build Queenborough Castle on the opposite Kent shore.
In 1370 it was refurbished over a period of 10 years by Edward III, and was one of the Kings favourite retreats.
English Heritage's page on the History of the Castle

has a drawing of what it probably looked like when complete.
---
Please let us know any other information that we can add to the Grid(s) or page and any errors that you discover. Before making a long trip to any location it is always wise to double check the current information, websites like magazines may be correct at the time the information is written, but things change and it is of course impossible to double check all entries on a regular basis. If you have any good photographs that you feel would improve the illustration of this page then please let us have copies. In referring to this page it is helpful if you quote both the Page Ref and Topic or Section references from the Grid below. To print the planning grid select it then right click and print the selected area.
Please submit information on locations you discover so that this system continues to grow.