John Constable, Flatford Mill from the Lock, Then and Now

Flatford, Suffolk

Location Guide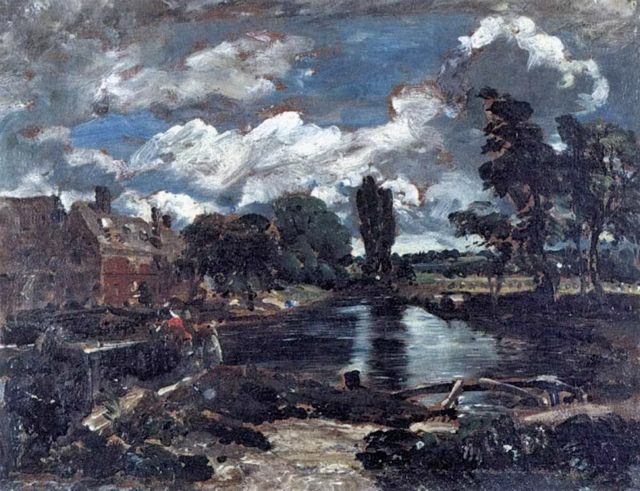 This is an oil sketch 9.75 by 11.75 inches, and later, based on this, Constable produced a finished picture last seen in public in 1926, then it disappeared. It will most likely be in a private collection somewhere, probably in the USA.
If you could find the finished version, it would be worth a lot now.
The nearest to the view from the same position today
Moving around to see more of the mill we can see the views below. You can't see any further down the river due to unmanaged tree growth where the towpath was.
As you can see, the main components of this image is still there, the lock design has changed and the whole lot is overgrown, but a small team with a chainsaw could recover this landscape.
---
Please let us know any other information that we can add to the Grid(s) or page and any errors that you discover. Before making a long trip to any location it is always wise to double check the current information, websites like magazines may be correct at the time the information is written, but things change and it is of course impossible to double check all entries on a regular basis. If you have any good photographs that you feel would improve the illustration of this page then please let us have copies. In referring to this page it is helpful if you quote both the Page Ref and Topic or Section references from the Grid below. To print the planning grid select it then right click and print the selected area.
Please submit information on locations you discover so that this system continues to grow.