John Constable, The Cornfield,
Then and Now

Near Flatford, Suffolk

Location Guide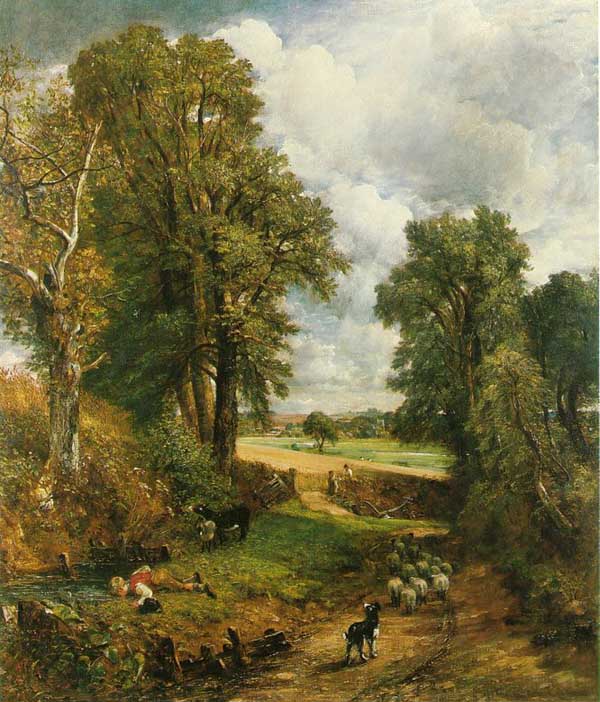 The Cornfield, one on my favourite John Constable paintings, it was painted in 1826.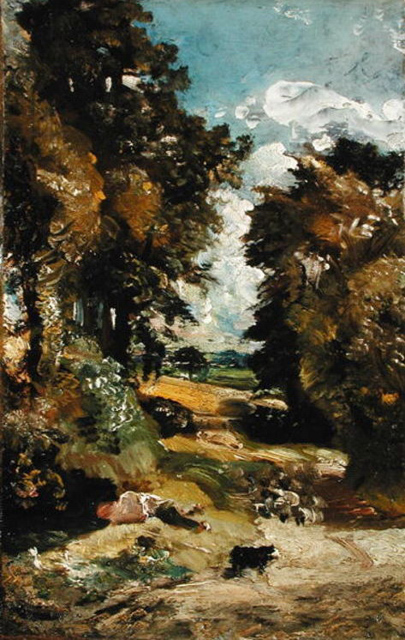 Oil sketch for the above.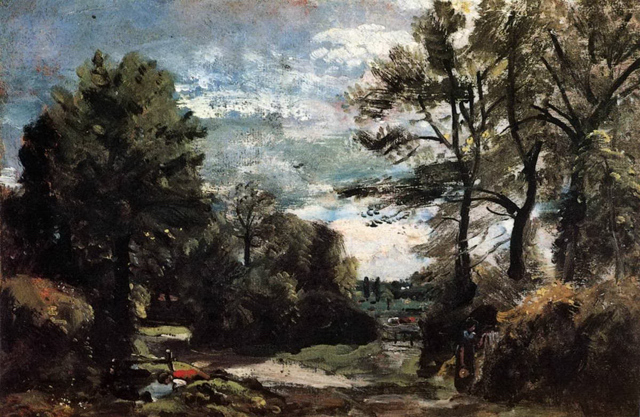 A lane near Flatford
Plus I think there is another painting further down the lane.
The same location today
A little closer
You can see the same land and hill shapes.
See the details on how to find this location below. Some books and sites say this is in the lane that you come up to join this road having crossed the river, it is not. There are no locations on this road where the road shape and background hill shapes could make this possible. The location I have photographed above is the only location in this area where it does.
---
Location: John Constable, The Cornfield, nr Flatford, Suffolk

Grid Reference:

TM071339

Ceremonial County: Suffolk

Map Link: Multimap

Google

Aerial photo: Multimap

Google Green arrow at opposite end of small field to A marker - Drag the small orange man to see street view.

Getting there: There is a one way system to Flatford Mill, and this is on the way out by car on Flatford Road. If you take the walk that takes you from Flatford Mill along the River, west, over the bridge and up the lane, you will join this road, on your left you will pass a small field then a very large one, that is the location for The Stour Valley And Dedham Church in the centre of this field, the lane you are on takes a wiggle and then turns a little right with a gate ahead of you. This is the location looking into a small field on the left.

Access: Road
Website:
Other Useful Websites:
Email:
Address:
Postcode:
Telephone:
Opening Times: All the time

Charges: None

Nearby Locations:
Other Location Pages: Then and Now Locations John Constable Painting Locations John Constables Painting Locations Then and Now Flatford Mill
Other Relevant Pages: Then and Now Photography

Notes: Parking at this point is difficult without getting in your own way.
Please let us know any other information that we can add to the Grid(s) or page and any errors that you discover. Before making a long trip to any location it is always wise to double check the current information, websites like magazines may be correct at the time the information is written, but things change and it is of course impossible to double check all entries on a regular basis. If you have any good photographs that you feel would improve the illustration of this page then please let us have copies. In referring to this page it is helpful if you quote both the Page Ref and Topic or Section references from the Grid below. To print the planning grid select it then right click and print the selected area.
Please submit information on locations you discover so that this system continues to grow.