Chilcompton, The Street, Then and Now

Chilcompton, Somerset

Location Guide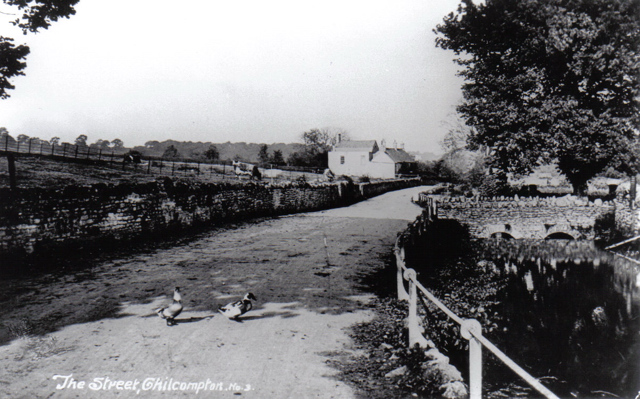 The Street, Chilcompton, probably around 1905, farms, and ducks wander on the road.
Same view autumn 1995, didn't see any ducks, although I did look for them, but there is a red sign saying be aware of them. Houses now occupy the fields, although there is too much hedge growth to see most from the road.
Visiting again now in August 2010, very little appears to have changed, still no ducks in sight, although the sign much faded is still present. If the road markings had not changed you might have even have thought these were at the same time.
Changes have occurred, more infill housing, and only when you get higher so as to see over the hedges can you see what is happening. With a number of cameras on tall stalk on top of a car, the Google Streetview cameras have been along and offers a higher view.
Google Streetview link:-
http://maps.google.co.uk/maps?f=q&source=s_q&hl=en&geocode=&q=Chilcompton,+Radstock&sll=51.287222,-2.817253&sspn=0.002969,0.008234&ie=UTF8&hq=&hnear=Chilcompton,+Radstock,+Avon,+United+Kingdom&ll=51.264095,-2.504864&spn=0,0.004117&z=19&layer=c&cbll=51.26417,-2.504918&panoid=XEk5WrFutzEJogW6MPbnTA&cbp=12,327.78,,0,5

You might from this think that little has changed in the hundred years plus in our story, but if you turn the Streetview camera around and look back up the hill behind, you will see you are very near to both generations of past post offices we have covered in Chilcompton PO Then & Now.

---
| | |
| --- | --- |
| | |
Please let us know any other information that we can add to the Grid(s) or page and any errors that you discover. Before making a long trip to any location it is always wise to double check the current information, websites like magazines may be correct at the time the information is written, but things change and it is of course impossible to double check all entries on a regular basis. If you have any good photographs that you feel would improve the illustration of this page then please let us have copies. In referring to this page it is helpful if you quote both the Page Ref and Topic or Section references from the Grid below. To print the planning grid select it then right click and print the selected area.
Please submit information on locations you discover so that this system continues to grow.