The Cross, Cheddar Then and Now

Cheddar, Somerset

Location Guide
The original photograph was taken in the early 1900's. It is a part of the Photochrome series and you will find an identical colour copy in the Photochrome collection.

I don't know the exact year but it would be between 1903 and 1907. Wikipedia suggests an earlier date band of 1890-1905.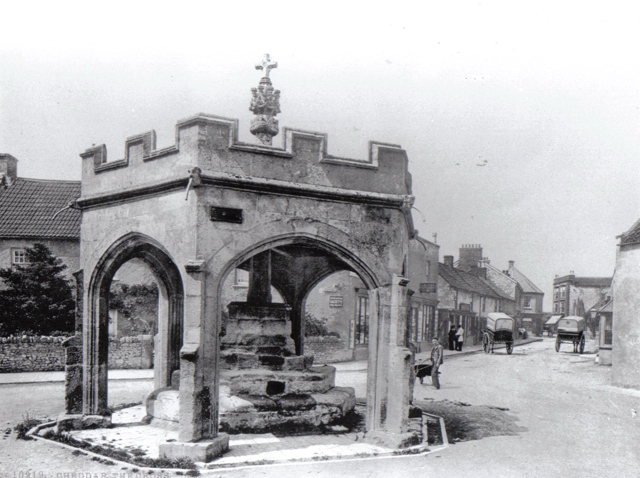 Photochromes

were taken in black and white and then hand coloured on the negative before being colour separated with filters to produce up to around 20 chemically engraved stones used for printing, it was the first good photo printing method.
The same image as a Photochrome, a little cleaned up and coloured.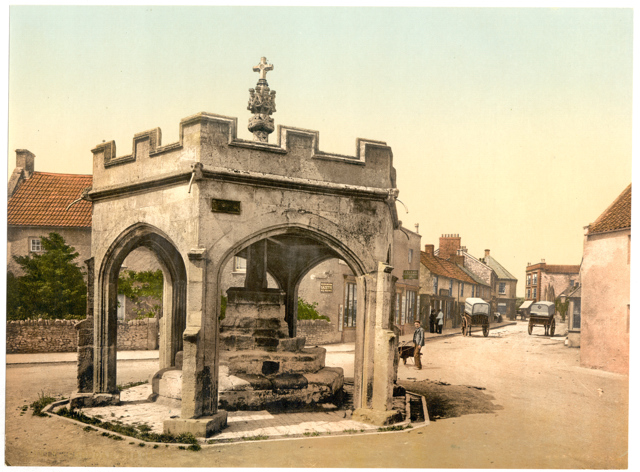 The third photograph below is one I took Autumn 1995 as a commission for a magazine 'then and now' feature. Taken with film and the prints then scanned.
By this point you can see the cross had become rather grubby. Traffic was getting so near and knocking it at times and it was surprising it was still standing.
In 2002 there was a major crash and it got knocked down and had to be rebuilt.
The final picture below I have just taken, in August 2010, and you can see that the cross and background buildings are all still present, but the cross has been cleaned, restored and has a decorative area and bollards to keep traffic a bit further away from it.
You can explore the area around this using the Google Streetview link :-
http://maps.google.co.uk/maps?f=q&source=s_q&hl=en&geocode=&q=Cheddar&sll=52.055446,-2.717802&sspn=0.002919,0.008234&ie=UTF8&hq=&hnear=Cheddar,+United+Kingdom&ll=51.278334,-2.776676&spn=0,0.016469&z=17&layer=c&cbll=51.275222,-2.776611&panoid=XvE7zvn1RC_X9Mf4YULtNw&cbp=12,326.05,,0,5

You can move into any of the three roads and look in any direction.
The Market Cross dates from the 15th century, with the shelter around it added later and the shelter rebuilt in 1834. The cross was badly damaged in a traffic accident in 2002, and had to be rebuilt and the restoration and protected area around it dates from this time.
---
Please let us know any other information that we can add to the Grid(s) or page and any errors that you discover. Before making a long trip to any location it is always wise to double check the current information, websites like magazines may be correct at the time the information is written, but things change and it is of course impossible to double check all entries on a regular basis. If you have any good photographs that you feel would improve the illustration of this page then please let us have copies. In referring to this page it is helpful if you quote both the Page Ref and Topic or Section references from the Grid below. To print the planning grid select it then right click and print the selected area.
Please submit information on locations you discover so that this system continues to grow.