Buxton, The Gardens, Then and Now

Buxton, Derbyshire

Location Guide
See also Buxton Pump Room

then and now, which is very nearby for an introduction to Buxton.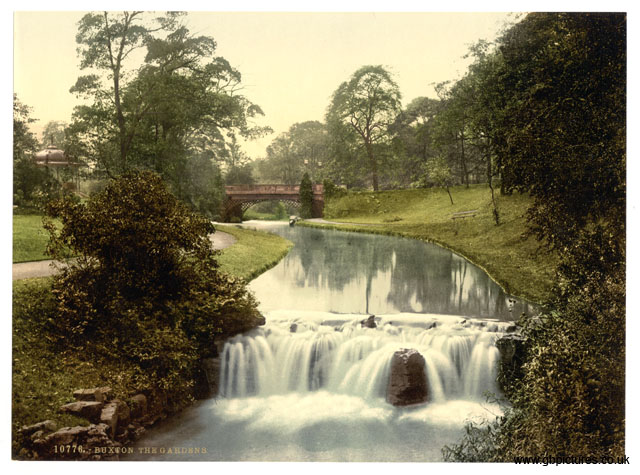 Buxton - The Gardens, is a Photochrome image from around 1905, of the Pavilion Gardens and shows a cascade on the River Wye running through the town.
This image today is difficult to photograph, as its taken from just outside the gardens, and today plant growth and trees have now just about blocked this view. The cascade, large stone and bridge in the background are all still in place.
I followed this river up through the gardens, just in case they had two similar cascades, and this was the only place that this could be.
The white froth effects is obtained by using a time exposure but to get the same effects you would need more water flow than I saw in August 2010, so perhaps a winter or early spring photo would be better, with both more water and hopefully less leaves and plants.
The water coming over this cascade disappears out or sight, and reappears some way away at grid reference SK063735.
---
Please let us know any other information that we can add to the Grid(s) or page and any errors that you discover. Before making a long trip to any location it is always wise to double check the current information, websites like magazines may be correct at the time the information is written, but things change and it is of course impossible to double check all entries on a regular basis. If you have any good photographs that you feel would improve the illustration of this page then please let us have copies. In referring to this page it is helpful if you quote both the Page Ref and Topic or Section references from the Grid below. To print the planning grid select it then right click and print the selected area.
Please submit information on locations you discover so that this system continues to grow.