Article
Delkin Professional Pop-Up Shade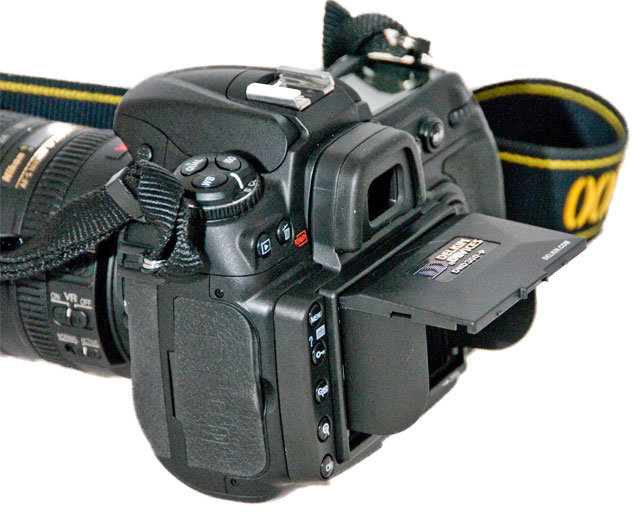 Delkin Professional Pop Up Shade on a Nikon D300
When we are outside it is difficult to see the image, curve and other information on the rear display of our camera, or to set menus. We can try and shade it, turn our backs to the sun and even try to put clothing out to provide a shield, but its still difficult to get a clear view. This is made more difficult by looking through the plastic screen protector, that gets so easily marked particularly when used by men as their shirt buttons mark it over time.
There have been a number of shade solutions over the years, and many have not proved that successful, either because having put them on they cannot be removed or because the fitting is not secure enough and they fall off. Others involve gluing things to the camera. This shade can be put on and taken of in minutes, without anything being glued, is firmly connected when on and the shade part alone can be taken off even faster.
Up to relatively recently I was put off because I use my rear screen a lot, not for chimping,

but to check for burnt out highlights and frequently looking at the curve. Therefore constantly folding away and opening up a sun shield would in many cases just not be practical for me. I decided however to have a go with a Delkin Professional pop up hood as the hood part can be very quickly removed, and when it is removed the image is still far clearer than normal, partly due to the remaining small amount of shielding but more because it has a special glass protector that is far better than the normal plastic shield.
This unit comes in three parts, and replaces two parts on the camera, the screen protector and eyepiece cap.
The Delkin Professional pop up hood, comes apart into three pieces, the back cover, hood and eyepiece cap.
The back cover fits onto the back of the camera, with new buttons lined up over the existing ones, and over the eyepiece. Its held in place by a clip that is above the eyepiece and clips onto the eyepiece when in place.
The Delkin eyepiece replacement cap then fits over the new eyepiece on the back.
The hood fits on with 4 small posts that then slide slightly clicking into position. It as quick to remove the hood as it is the open it.
I think if I had been designing this I would have put in museum glass rather than the optically clear plastic/glass that is in it, and would also have come up with some instructions on how this clear plastic/glass should be cleaned. I am not sure what exactly it has, on the website it says it is optically clear plastic, while in the card with it, it is referred to as special glass.
In practical use it works well and you can see far more with it in place. Opening and closing the hood I find annoying where I want to constantly look at the back, so I tend to slide off the hood, and put it into my shirt pocket. When I am not moving about and exposures are going to stay around the same, then using the hood to just occasionally check is no problem. When I slide off the hood, and shade the back with my hands the view of the rear panel is far better than it was before. When working indoors you can just remove the shield.
There are different models to fit different cameras, and they cost around £30 (03/2009).
I also use a Hoodman Loupe

to enable me to see a good rear image indoors or out. This can be used on its own or in combination with the above, with the hood piece taken off. Images are shown on the Hoodman Loupe

page.
Delkin page on pop up shades

(this is not a full list of models available, as I have a D300 version, that is not listed).
---
Installing the Delkin Professional Pop Up shade on a Nikon D300
You can click on the smaller images to see larger versions.
| | |
| --- | --- |
| | |
| 1. Kit as bought | 2.- Three component pieces |
| | |
| 3 . D300 with two original parts removed | 4. D300 with Delkin back in place, the switch above the eyepiece locks it in place . |
| | |
| 5. Shade fully installed - closed | 6. Shade fully installed - open |
You can click on the smaller images to see larger versions.
It can be taken off again in less than a minute and the hood can be clicked in to and out of place as quick as it can be opened, see picture 4 above, the eyepiece also can be removed to allow a 90 degree viewfinder to be used.
See the Hoodman Loupe

page for images of this used with the loupe.
All images on this page