Ceibwr Bay

Nr Newport, Pembrokeshire

Quick Guide
See below grid for details
Ceibwr is a rocky cove with a small area of pebble beach. Itís not particularly good for bathing, but is surrounded by superb scenery.
The cove is at the mouth of a stream valley carved out by glacial meltwater. The level platform on the western side is an ancient "raised beach", formed about 125,000 years ago.
Grey seals are often seen here, basking on rocks or swimming in the bay, it is also good for porpoise spotting.
From Ceibwr you can walk along some of the most impressive sections of the Pembrokeshire Coastal Path.

About 0.6 miles (1 km) to the south-west is the spectacular Witchesí Cauldron (Pwll-y-Wrach), a blow-hole caused by the collapse of a cave roof.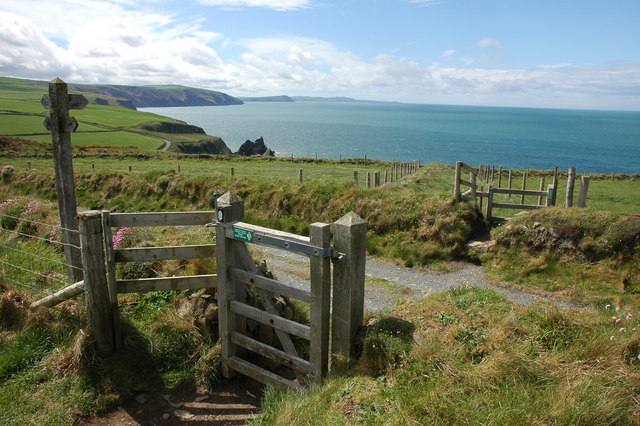 View of bay taken from the Pembrokeshire Coast Path

Philip Halling

---
Location: Ceibwr Bay, Nr Newport, Pembrokeshire

Grid Reference: SN109458
Ceremonial County: Pembrokeshire

Map Link: StreetMap

Aerial photo: Google Aerial

Getting there: From Cardigan take the A487 towards Fishguard and leave onto one of the minor roads leading to Moylegrove. From here, a very narrow road leads to Ceibwr Bay.

Access:
Website: http://www.visitpembrokeshire.co.uk/beaches/Default.aspx?ID=10
Other Useful Websites:
Email:
Address:
Postcode:

SA43

Telephone:
Opening Times: Access at any time.

Charges:

Nearby Locations: Newport
Other Location Pages: Pembrokeshire Coastal Path Pembrokeshire Coast National Park
Other Relevant Pages:

Notes: Limited roadside parking in the very narrow road to the bay. Alternatively you can park in Moylegrove and walk the short distance of 0.7 miles (1.2 km).
---
This page is a Quick Guide, the idea of Quick Guides is to allow very basic information and linking forward information to be added to the system rather than having to wait until a full location guide has been developed. It should therefore be considered a development stage rather than a finished objective. Once more information is known the objective is to create either a Location or Featured Location page which has two grids and far more information.
Please let us know any other information that we can add to the Grid(s) or page and any errors that you discover. Before making a long trip to any location it is always wise to double check the current information, websites like magazines may be correct at the time the information is written, but things change and it is of course impossible to double check all entries on a regular basis. If you have any good photographs that you feel would improve the illustration of this page then please let us have copies. In referring to this page it is helpful if you quote both the Page Ref and Topic or Section references from the Grid below. To print the planning grid select it then right click and print the selected area.
Please submit information on locations you discover so that this system continues to grow.