David Austin Rose Garden

Albrighton, Shropshire

Location Guide
David Austin is a rose breeder and specialist grower, and since 1961 has released nearly 200 English Roses. David Austin Roses was established in 1969 and remains a family business. Next to their Plant Centre, which stocks over 400 different varieties of containerised roses they have created a 2 acre garden which contains over 700 different varieties of roses. The National Collection of English Roses is held here. Providing focal points through the garden are many pieces of sculpture as well as places for visitors to sit. It has been divided into a number of small areas, which are:-
The Long Garden
This is the central core of the garden with the other gardens leading off it. It contains collections of old roses which generally only flower once in early summer, but they have also added modern shrub roses and many English Roses to extend the flower season. It is interlaces with pergolas used to display climbing and rambling roses and later in the season the ramblers produce very small hips.
The Victorian Garden
This garden is planted with English Roses and repeating flowering shurb roses. Many English roses like to grow as climbers so within this garden there is a 8ft tall nearly 100yards long wall which has been built to display them. Many climbers have been planted to grow up this wall but there are also arches and arbours for the same purpose.
The Renaissance Garden
This garden is devoted to English roses and demonstrates their versatility, their range of flowers, fragrances, habits and sizes. Many of these roses start to flower in May and continue right through to the winter months, so always something to see.
The Lion Garden
The central focal point of this garden is the lion sculpture around which are displays of miniature and patio roses. Compact English roses are gown in island beds, where they repeat flower. Along the full length of the this garden are two traditional mixed borders which contains English Roses mingled with blooms of herbaceous perennials. It also has formal beds of floribundas and hybrid teas.
The Species Garden
This garden has truly wild roses and their near hybrids. This is one of the first gardens to flower and after flowering hips develop and leave the garden in full colour by the autumn. Birds can often be found in this garden eating the seeds.
There is a garden map available when you arrive at the plant centre.
The Plant Centre - not only sells roses including over 400 varieties of container roses, but also every type of plant you would want to create a garden including herbaceous perennials, shrubs, trees and climbing plants.
There is also a Garden Shop selling gardening items, items for the conservatory as well as stationary and books, homewares and toiletries many with a gardening or rose theme. While the Tea Room is open from 9.30am-4.30pm with lunches served from 12noon to 2.30pm.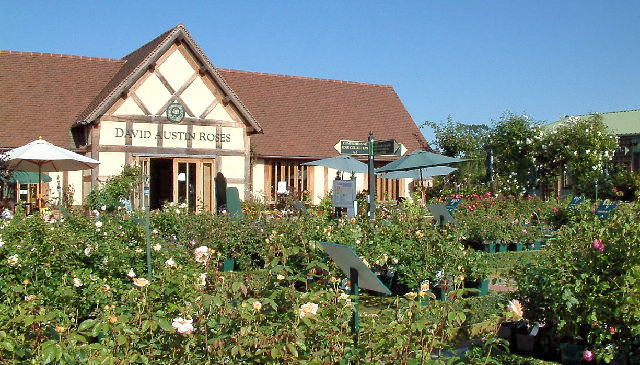 ---
Location: David Austin Roses, Albrighton, Shropshire

Grid Reference:

SJ798042

Ceremonial County: Shropshire

Map Link: StreetMap

Aerial photo: Google

Getting there: From j3 of M54 take the A41 to Albrighton. Follow the brown tourist signs.

Access: Through the plant centre.
Website: Own
Other Useful Websites:
Email: plantcentre@davidaustinroses.com
Address: David Austin Roses Ltd, Bowling Green Lane, Albrighton, Wolverhampton
Postcode: WV7 3HB
Telephone: 01902 376300
Opening Times: Plant Centre, shop and Gardens open Seven days a week 9am-5pm. Tea room open 9.30am-4.30pm daily.

Charges: Free

Nearby Locations:
Other Location Pages: Garden Section

Notes: The garden is accessible to wheelchairs.

Facilities on site include The Plant Centre, Tea Room and Garden Shop.
Please let us know any other information that we can add to the Grid(s) or page and any errors that you discover. Before making a long trip to any location it is always wise to double check the current information, websites like magazines may be correct at the time the information is written, but things change and it is of course impossible to double check all entries on a regular basis. If you have any good photographs that you feel would improve the illustration of this page then please let us have copies. In referring to this page it is helpful if you quote both the Page Ref and Classification from the Grids above. To print the planning grid select it then right click and print the selected area.
Please submit information on locations you discover so that this system continues to grow.