Lost Gardens of Heligan

Pentewan, Cornwall

Featured Location Guide
Heligan has been the seat of the Tremayne family for more than 400 years. At the end of the 19th century its 1000 acres were at their best, but only a few years later bramble and ivy were already drawing a green veil over it. After decades of neglect, the devastating hurricane of 1990 should have consigned the Lost Gardens of Heligan to history, but instead events conspired to bring bring the gardens back to life in every sense and to tell, for the first time, not tales of lords and ladies but of the "ordinary" people who had made these gardens great, before departing for the Great War.

The aim is for Heligan to remain a living and working example of the best of past practice, offering public access into the heart of what they do. Their focus is to work with nature, accepting and respecting it and protecting and enhancing the variety of habitats as well as the wide range of wild flora and fauna ithin the gardens and estate.

The Horsemoor Hide, their Wildlife Interpretation Centre, carries 'Live' images of Heligan wildlife on plasma screens, drawing you into the dramas of life in the natural world in an intimate and unedited manner, as they occur, right here on our site. These close-up views of the life cycles of some of the creatures with who share this countryside can offer valuable insights into the factors accounting for success or failure in the wild.

They have ongoing restoration work and this or adverse weather conditions may restrict access or opening times for safety reasons. Details of specific restrictions will appear in the Daily Notice Board. The Heligan Shop complies with Sunday Trading Regulations throughout the year, and is closed on Easter Sunday.

Pond at Heligan
roger geach
Flora's Green rhododendron tree
So what can you see and do on a visit:
Northern Gardens - In excess of 200 acres of working Victorian gardens with a complex of walled gardens including - pineapple pits, melon, citrus, peach and vine houses, productive gardens which are intensively cultivated together with glasshouses, all a 2 acre productive Kitchen Garden within the walled gardens continue to grow exotic fruits while the vegetable garden shows off traditional varieties.

Pleasure Grounds - have an unusual range of structures and unexpected features including New Zealand and Italian Gardens, summer houses and pools, herbaceous border, rocky ravine, crystal grotto and a wishing well. These are all linked by a network of walks lined with Rhododendrons, Camellias and other flower shrubs which means it is in bloom for six months of every year.

Glasshouse Within Walled Garden
Robin Lucas
The Jungle - is the 22-acre subtropical garden and hosts tress and luxuriant foliage much of which was collected from around the world by Victorian plant hunters. it is set in a steep sided valley and they have a broadwalk which snakes down through bamboo tunnels, palm lined avenues, around 4 ponds and a cascading stream, through the largest collection of Tasmanian tree ferns in Britain, exotic plants,. Look out for the banana palms and giant rhubarb, giant trees and over sixty varieties of bamboo.
Lost Valley and Ancient Woodland - A 18th century woodland which stills runs by a series of lakes, leats and a mill stream. 30-acres of natural woodland setting rich in wild flowers, ferns and ancient trees, where the lakeside air is frequently heavy with the scent of charcoal burning;
Horsemoor Hide and Wildlife - View 'live' images of the secret lives of some of Heligans wildlife via large plasma screens. These are connected to a network of miniature cameras in areas such as a number of bird, owl and bat boxes. It is located a short distance beyond the Northern Gardens and is accessible to all visitors, a ramp leads into the building for wheelchair users. Through open shutters and one-way glass windows you can see activity on a bird feeding area, a wildlife pond, a meadow and a small woodland. There is a lot of interactive features within the hide including being able to experience3 the 'snoring' of barn owls and the sounds of pipistrelle bats, control over pan, tilt and zoom cameras and push button displays.
Look out for kingfishers, bramblings, flocks of long-tailed tits, fieldfares and redwings in the winter and pipits, swallows, yellowhammers and linnets if you visit during the summer months.
Heligan Home Farm invites visitors to witness the outer estate being brought back to life with grazing South Devon Cattle and Dorset Poll Sheep, a poultry orchard and Wiltshire Horn Sheep.
DURATION OF VISIT -
Ideally a whole day, but don't expect to see everything on a single trip!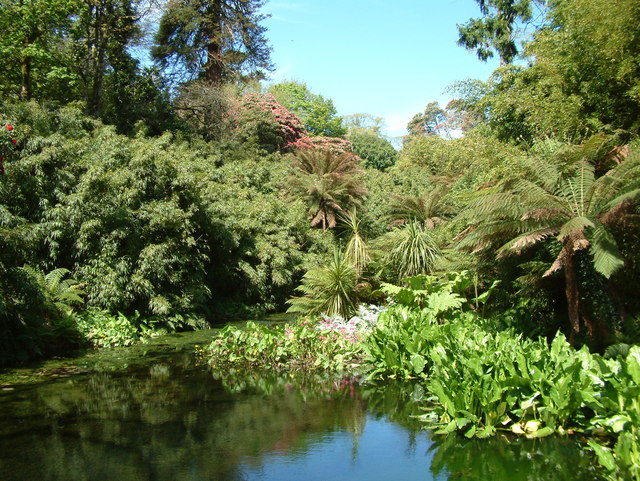 Pond View at Heligan

Ian Knox

---
Further information Grid
| | |
| --- | --- |
| Location: | The Lost Gardens of Heligan, Pentewan, Cornwall |
| Ceremonial County: | Cornwall |
| Grid Reference: | SX001463 |
| Map Link: | StreetMap |
| Aerial photo: | Google Aerial Photo |
| Route(s): | |
| Best Times to Visit: | |
| E-mail: | info@heligan.com |
| Website: | Own |
| Other useful websites: | |
| Nearby Locations: | |
| Other Relevant pages: | |
.
---
Planning Grid

Location:

The Lost Gardens of Heligan, Pentewan, Cornwall

Grid Reference:

SX001463

Getting there:

From St Austell take the B3273 towards Mevagissey and follow the brown tourist signs to "The Lost Gardens of Heligan".

Access:

Via pathways and walkways all over the site.

Parking:

Free large car park, disabled parking bays occupy 10% of total parking areas.

Facilities:

Tearooms, shop, plant sales area

Things To Do, See and Photograph:

Lots of plants, insects, wildlife, structures and buildings

What to take:

polarizer, reflector, macro lens, flash

Nature highlights:

Barn Owls, Badgers and lots of wildlife via their many cameras.

Winter: kingfishers, bramblings, flocks of long-tailed tits, fieldfares and redwings -Summer: pipits, swallows, yellowhammers and linnets

Address:

THE LOST GARDENS OF HELIGAN

Pentewan

St.Austell

Cornwall

Postcode:

PL26 6EN

Telephone:

01726 845100

Opening times:

Every Day except 24th and 25th December

April–September: 10am–6pm (last tickets 4.30pm)

October–March: 10am–5pm (last tickets 3.30pm)

Charges:

Adults £10; Seniors £9; Children (5-16) £6; Under 5's FREE; Family (2+3) £27

Photo Restrictions:

Other Restrictions:
Special Needs Access:

See their access guide for full details on accessibility of gardens and buildings for disabled visitors. Click Here

Most of the 13 acre Northern Gardens is accessible and there is full access to Horsemoor Hide (indoor wildlife centre), and the Steward's House. They lie on a gentle downhill gradient. The Jungle and Wider Estate are not easily accessible to everyone. The gradients of the pathways to these areas are very steep.

Special Needs Facilities:
3 dedicated Disabled toilets for wheelchair users at the entrance and one half way down at the Stewards House. Manual wheelchairs are available to borrow.
Children Facilities:
Baby changing facilities
Dogs Allowed:

Assistance dogs allowed all year.

1st April-30th September - No Dogs allowed in gardens.

Between October and March well behaved dogs on short leads can go into the gardens.
Please let us know any other information that we can add to the Further information and Planning Grids or page and any errors that you discover. Before making a long trip to any location it is always wise to double check the current information, websites like magazines may be correct at the time the information is written, but things change and it is of course impossible to double check all entries on a regular basis. If you have any good photographs that you feel would improve the illustration of this page then please let us have copies. In referring to this page it is helpful if you quote both the Page Ref and Topic or Section references from the Grid below. To print the planning grid select it then right click and print the selected area.
Please submit information on locations you discover so that this system continues to grow.