National Botanic Gardens of Wales

Llanarthne, Carmarthenshire

Featured Location Guide
The National Botanic Garden of Wales is a centre of world significance dedicated to horticulture, conservation, science, education, leisure and the arts. The 568-acre Garden and its centrepiece, the Great Glasshouse, opened fully in 2000.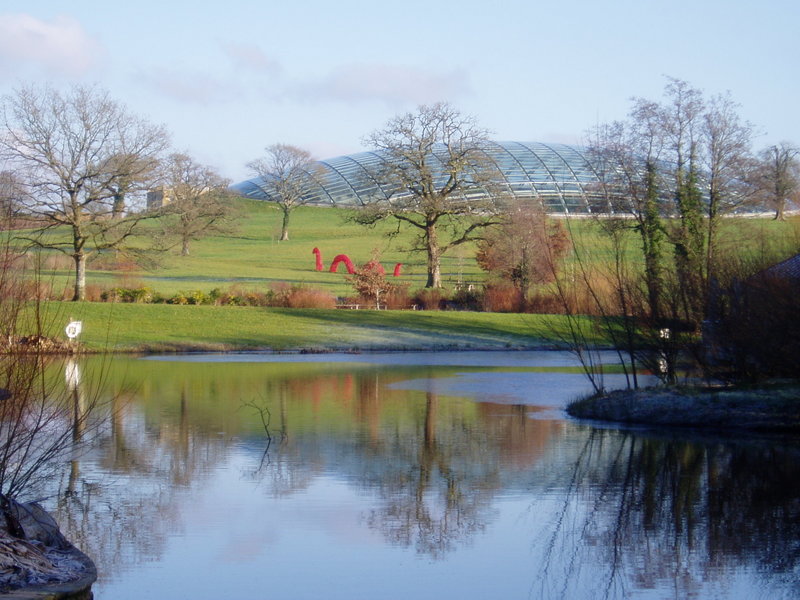 National Botanic Garden of Wales. General view showing lakes, dragon and the Mediterranean dome.
The Garden of Wales is a £43.3 million project that has attracted a £21.7 million investment from the Millennium Commission.
The Garden has a wealth of wild plant and animal life across it's mosaic of lakes, streams, marsh, woodland, meadows and formal gardens. Some of the wildlife that can be seen on a visit includes 100 types of butterfly and moth, 56 varieties of birds, frogs, toads and newts, common lizards, grass snakes and slow works as well as 20 species of mammal. Wild plant life includes 180 types of lichen, rare types of fungi and 92 varieties of moss.
On a visit some of the Garden Features you will come across includes:
Gatehouse - inspired by the Welsh roundhouses

The Broadwalk - a long avenue of herbaceous borders from which a network of small paths thread.

Garden Lakes - a long necklace of lakes and streams which take you from the formal to the informal parts of the garden.

Dipping Ponds - used for children to join in on special pond dipping sessions to see what tiny life lies beneath

Ice House

Scaladaqua Tonda - a water sculpture

The Circle of Decision & The Rill - a water fountain feature

Rock of Ages - tells the story of Welsh geology through the use of stones from all over Wales

Bluestone - this was the stone used in the TV reconstruction to move it from the Preseli Hills to Stonehenge.

Bog Garden

Japanese Garden

Bee Garden

Springwoods - Spring and autumn brings the best out of this east-facing wood. In spring it is carpeted with a sea of celandines, primroses, violets and bluebells, also an impressive variety of snowdrops and the green flowered Derwydd Daffodil.

Auricula Theatre - an arrangement of tiered staging, like in a theatre. Varieties of Auricula, colourful multi-headed flowers on a single stem, which flower from the middle of March to the end of May, are on display. This structure is used for Fuschias and Beonias during the summer months, and holly varieties through winter and early spring.

Double Walled Garden

Tropical House

Mini Farm

Millennium Square

The Stable Block

Theatr Botanica - 360o cinema

Welsh Rare Plants

Physicians of Myddfai - showing the plants used to treat illnesses

Apothecaries' Garden - showcasing the plants used by apothecaries in their day

'Ready Steady Grow' Children's Activity Centre

Nursery Glasshouses

Living Machine - see how the gardens recyle their own waste water.

Biomass Furnace - used to heat the gardens greenhouses

Welsh Country Walk - a 1km walk taking in a woodland, hay meadow and country lane

Roots & Shoots Adventure Zone - play area for children

Mirror Pool

Wallace Garden

Mediterranean Garden

The Great Glasshouse - The dome is the largest single span glasshouse in the world. The plants contained within this large glasshouse comes from six areas of the world California, Australia, the Canary Islands, South Africa, Chile and the Mediterranean Basin.

Principality House - the only part of the large mansion house that remains today.

Paxton's View & Echo Spot - a panoramic vantage point across the Tywi Valley.

Nelson's Tower or Paxtons Tower . Built as a tribute to Lord Nelson.

Wild Garden

Slate Beds

Waun Las Fields

The Old Stable Block

Dragon Fly Sculpture
---
Further information Grid
.
---
Planning Grid

Location:

National Botanic Gardens of Wales Llanarthne, Carmarthenshire

Grid Reference:

SN522181

Getting there:

From M4 continue on the A48 towards Carmarthen. After about 4 miles take B4310 to Nantgaredig. Follow the brown leisure signs

Access:

From car park via hardcore pathways and sometimes over country paths to get to some of the out viewpoints.

Parking:

Free parking on site.

Facilities:

Restaurant, Cafe, shop, Garden Plant Shop, coffee shop

Things To Do, See and Photograph:

Lots of plants, structures, views

What to take:

tripod, polarizer, macro lens, flash, reflectors

Nature highlights:

see description above

Address:

The National Botanic Garden of Wales
Llanarthne
Carmarthenshire

Postcode:

SA32 8HG

Telephone:

01558 668768

Opening times:

Every Day except Christmas Day.

Apr-Sept 10am to 6pm; Oct-Mar 10am to 4.30pm

Charges:

Adults £8.50; Seniors £7; Child (5-16) £4.50; Family (2+4) £21

Children under 5 FREE

Photo Restrictions:

Other Restrictions:
Special Needs Access:
It is wheelchair friendly and the paths and Great Glasshouse have been re-surfaced to improve wheelchair access.
Special Needs Facilities:
Motor and manual wheelchairs are available. Shuttle buggy to take visitors to most parts of the garden. Disabled toilets in the Great Glasshouse and The Stable Block area as well as the main entrance.
Children Facilities:
Wild bunch Club, activities and fact sheets created especially for children, activity centres and play areas
Dogs Allowed:
Only guide dogs allowed.
Please let us know any other information that we can add to the Further information and Planning Grids or page and any errors that you discover. Before making a long trip to any location it is always wise to double check the current information, websites like magazines may be correct at the time the information is written, but things change and it is of course impossible to double check all entries on a regular basis. If you have any good photographs that you feel would improve the illustration of this page then please let us have copies. In referring to this page it is helpful if you quote both the Page Ref and Topic or Section references from the Grid below. To print the planning grid select it then right click and print the selected area.
Please submit information on locations you discover so that this system continues to grow.