Coton Manor Garden

Coton, Northamptonshire

Location Guide
A ten acre garden occupying a hillside position extending down from the 17th century manor house, constructed of mellow Northamptonshire stone. Originally laid out in the 1920's by the grandparents of the present owner it has been developed and extended by successive generations. It is landscaped on different levels, it comprises of a series of distinctive smaller gardens, providing variety and interest throughout the season, and also incorporating flowing streams, fountains and ponds.
The Manor House acts as a central focus for the garden with it's walls supporting roses and shrubs, whilst the surrounding terraces are populated with colourful pots and containers. The gardens include:
Old Rose Garden

Woodland Garden

Water Garden

Herb Gardens

and different borders
Beyond the confines of the garden, there is also a 5 acre bluebell wood in flower around the beginning of May. The lime green leaves of the beech trees give a canopy for the carpet of English native bluebells. They are usually out in flower and at their best around the last week in April and first week of May. They have meandering paths which take you through the woodland to see the blue carpet. Because the season can fluctuate a bit their website keeps you updated with the latest position. There are a nice set of photographs, including a panorama, on their website

showing you what you can see and could achieve if you take your camera along. No tripods are allowed.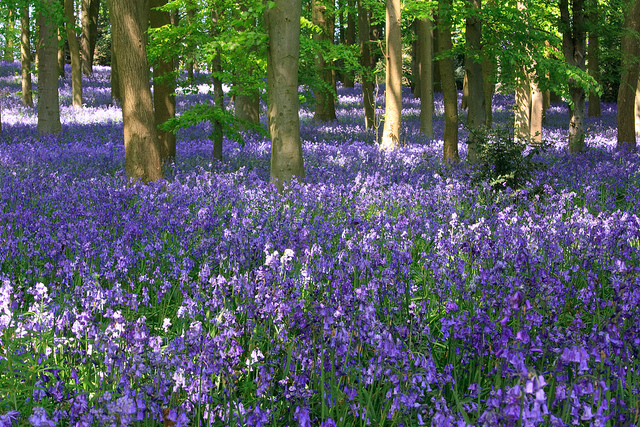 Bluebell Wood

Jason Bowler

A colourful wildflower meadow which is at its best in June and July. A visit in May will see a vista of yellow from the Buttercups, or in June you can see Ox-eye Daisies, Meadow Cranes' Bill, Ragged Robin, Common Vetch and Yellow Rattle. While in July it is the turn of the Knapweeds, Birds-foot Trefoil, Wild Carrot, yarrow and Lady's Straw. Of course this abundance of wild flowers does draw in the wildlife and butterflies which have been seen here include the Common Blue and the Six Spot Burnet Moth. It is cut for hay in late July and grazed by sheep during the autumn months.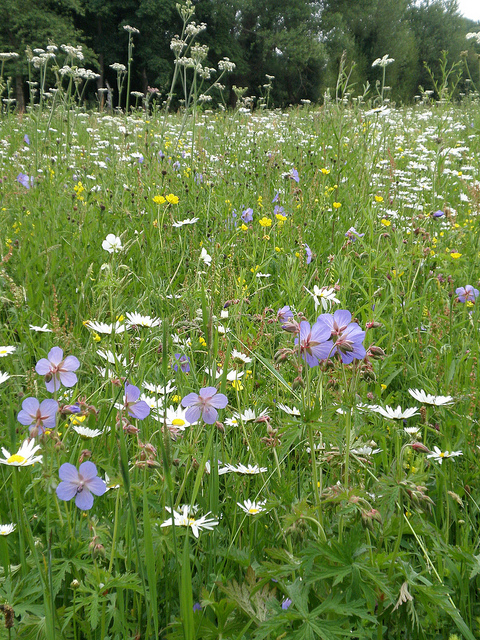 Wildflower Meadow

Amanda Slater

Adjacent to the Car Park and the Woodland Garden are the orchards, these are worth a visit during late spring when the bulbs, cowslips and snakeshead fritillaries are on shows amongst the 70 different varieties of apple trees and pear trees. The apples and pears are used for making jams and chutneys and are used in the cafe. There is also a water feature in here and the grasses are mown in summer.
To compliment this they also have a collection of Ornamental Birds which include:

Flamingos

Black Necked Swans

Various different types of ducks including:

Fulvous,

Mandarin,

Puna Teal,

Bahama Pintail,

Shelduck,

Carolina,

Red Crested Pochard,

Mallard

Black East Indian

as well as some

As well as all this for the visitor to see there is also a plant nursery and they also run a Garden School with gardening courses for the amateur gardener.

This is a large garden with both a woodland and meadow and makes an interesting place to visit, to get an idea of the layout take a look at the Garden Map on the website.

Rodney the MacCaw Barney Leith
NOTE: Due to the high number of photographers now visiting the gardens and bluebell woods, they have introduced a NO TRIPOD policy within the gardens. So you cannot take a tripod into the woodland and so will have to manage to take your photo's freehand. Of course if you have a Lytcos Lightfield camera,

that allows you to focus when you get back to your editing computer, or you could use the 'slicing'

technique and see what you can achieve.
---
Further information Grid
| | |
| --- | --- |
| Location: | Coton Manor Garden, Coton, Northants |
| Ceremonial County: | Northamptonshire |
| Grid Reference: | SP674715 |
| Map Link: | StreetMap |
| Aerial photo: | Google Aerial Map |
| Route(s): | |
| Best Times to Visit: | April-July when the garden and meadow is in full colour and the bluebells are out in the woodlands. |
| E-mail: | pasleytyler@cotonmanor.co.uk |
| Website: | www.cotonmanor.co.uk |
| Other useful websites: | |
| Nearby Locations: | |
| Other Relevant pages: | |
.
---
Planning Grid

Location:

Coton Manor Garden, Coton, Northants

Grid Reference:

SP674715

Getting there:

Between Northampton and Rugby. Use M1 Junctions 16 or 18. Off the A428 take exist to Ravensthorpe and then on through to Coton. Signposted from A5199 and A428.

Access:

Parking:

Free Car Park

Facilities:

Cafe, Garden Shop

Things To Do, See and Photograph:

Garden, plants, woodland, Bluebells, meadows, butterflies, ornamental birds

What to take:

macro kit, poloriser, reflectors NO TRIPODS

Nature highlights:

Bluebells end of April beginning of May

Address:

Coton Manor

Coton

Northamptonshire

Postcode:

NN6 8RQ

Telephone:

01604 740219

Opening times:

April-September 12noon to 5.30pm Tues-Sat

Also open Bank Holiday weekends and Sundays in April & May

Check their website for exact dates and times.

Charges:

Adults £6; concession £5.50; Child £2

Photo Restrictions:

No Tripods or Monopods allowed in the gardens

Other Restrictions:
Special Needs Access:
The garden is on a slope and steep in places, terrain is difficult in places for wheelchairs, there are a number of seats around the garden.
Special Needs Facilities:
Children Facilities:
Dogs Allowed:
Not in the gardens, can be exercised in the grassy area of the car park.
Please let us know any other information that we can add to the Further information and Planning Grids or page and any errors that you discover. Before making a long trip to any location it is always wise to double check the current information, websites like magazines may be correct at the time the information is written, but things change and it is of course impossible to double check all entries on a regular basis. If you have any good photographs that you feel would improve the illustration of this page then please let us have copies. In referring to this page it is helpful if you quote both the Page Ref and Topic or Section references from the Grid below. To print the planning grid select it then right click and print the selected area.
Please submit information on locations you discover so that this system continues to grow.