Sandy Mouth Bay

nr Bude, Devon

Quick Guide
See below grid for details
With its eroded rock ledges going out into the sea, as you can see on the Google Aerial Photo it can give an otherwise uneventful seascape some foreground detail and depth. At low tide a stretch of golden sand is revealed with numerous small rock pools.
Located north of Bude near the village of Stibb, it has it's own car park and can also be accessed by walkers from the South West Coast Path.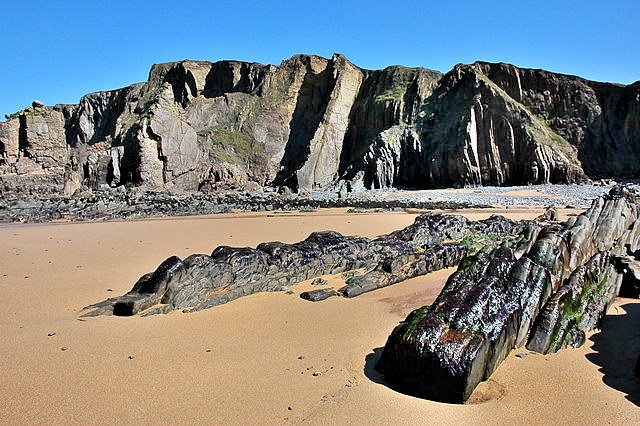 Stowe Cliffs viewed from the Sandy Mouth Beach at low tide.
---
Location: Sandy Mouth Bay, nr Bude, Devon

Grid Reference: SS202100
Ceremonial County: Devon

Map Link: Multimap

Aerial photo: Google Aerial Photo

Getting there: Off the A39 take the road to Stibb and then from Stibb towards Coombe, follow the signs to Sandy Mouth Bay car park.

Access: Car park at end of road from Stibb. Also can be accessed from the South West Coastal path.
Website:
Other Useful Websites:
Email:
Address:
Postcode:
Telephone:
Opening Times:

Charges:

Nearby Locations:
Other Location Pages:

Notes:

---

| | | |
| --- | --- | --- |
| CIN Page Ref: sandy_mouth_bay | Classification: Beach | Date Updated: 08/2008 |
---
This page is a Quick Guide, the idea of Quick Guides is to allow very basic information and linking forward information to be added to the system rather than having to wait until a full location guide has been developed. It should therefore be considered a development stage rather than a finished objective. Once more information is known the objective is to create either a Location or Featured Location page which has two grids and far more information.
Please let us know any other information that we can add to the Further information and Planning Grids or page and any errors that you discover. Before making a long trip to any location it is always wise to double check the current information, websites like magazines may be correct at the time the information is written, but things change and it is of course impossible to double check all entries on a regular basis. If you have any good photographs that you feel would improve the illustration of this page then please let us have copies. In referring to this page it is helpful if you quote the CIN Page Ref at the bottom of the Planning Grid above. To print the planning grid select it then right click and print the selected area.
Please submit information on locations you discover so that this system continues to grow.