Mousehole Lights

Mousehole, Cornwall

Location Guide
Since the 1960's the Cornish fishing village of Mousehole in Cornwall have been putting on a Christmas lights spectacle in their harbour. From the Saturday in the middle of December the lights are on from 5pm-11pm each day until the end of the first week of January, except for December the 19th when the lights are switched off for an hour (between 8pm and 9pm) to remember the victims of a lifeboat disaster which hit the village back in 1981.
The lights range from static displays in and around the harbour, the boats moored in the harbour and the houses and cottages within the village are also lit up. As well as familiar Christmas themes, the lights are also based on old Mousehole stories and legends. On the harbour wall below the Ship Inn there is usually replica of a Stargazey Pie. This is a pie which is cooked on the 23rd December, which locally is known as Tom Bawcocks Eve. Tom was a local fisherman who is said to have braved persistent storms to land seven different types of fish and used them to make a pie for all the villagers.
The first night is the Switch-On when the village is closed off for the evening, Santa visits, and local bands and a choir sing carols to accompany. This display attracts many visitors every year and is a fund raising event for local charities.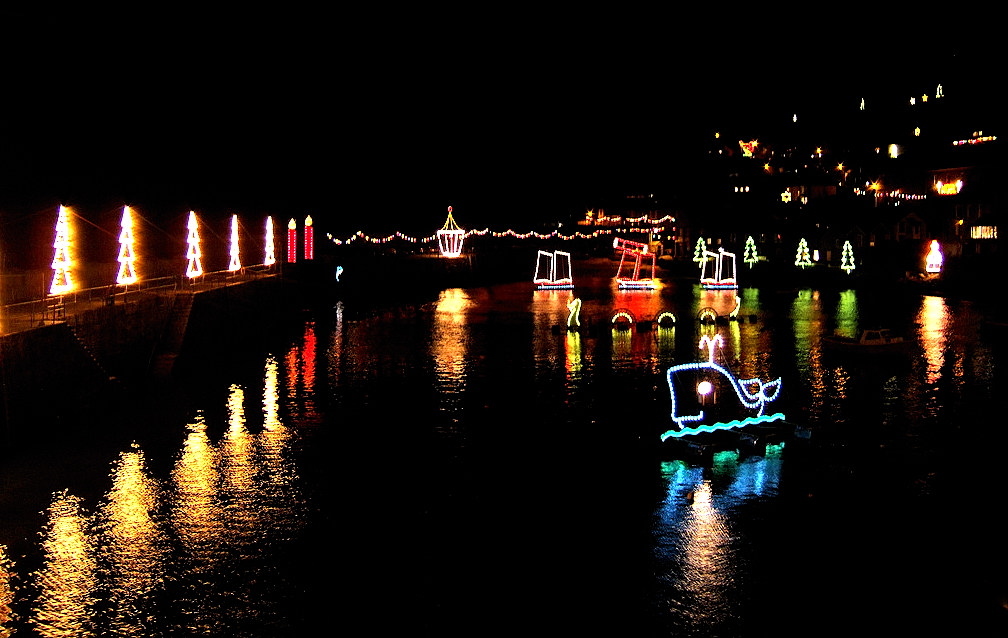 ---
Location: Mousehole Christmas Lights, Mousehole, Cornwall

Grid Reference: SW469264
Ceremonial County: Cornwall

Map Link: Multimap

Aerial photo:

Getting there: From M5 take the A30 towards Penzance, follow the coastal road through Newlyn and then onto Mousehole.

Access: No vehicle access to town on the switch-on night.
Website: www.mouseholelights.org.uk
Other Useful Websites: Panorama of the 2007 lights
Email: MHxmaslights@aol.com
Address: The Harbour, Mousehole, Nr Newlyn, Cornwall
Postcode: TR19
Telephone:
Opening Times: 5pm-11pm each night they are on

Charges: None

Nearby Locations: Tater Du Lighthouse, nr Mousehole, Cornwall
Other Location Pages: Illuminated Events

Notes:
Please let us know any other information that we can add to the Further information and Planning Grids or page and any errors that you discover. Before making a long trip to any location it is always wise to double check the current information, websites like magazines may be correct at the time the information is written, but things change and it is of course impossible to double check all entries on a regular basis. If you have any good photographs that you feel would improve the illustration of this page then please let us have copies. In referring to this page it is helpful if you quote both the Page Ref and Topic or Section references from the Grid below. To print the planning grid select it then right click and print the selected area.
Please submit information on locations you discover so that this system continues to grow.