Castell Coch translated is Red Castle, and is a 19th century fairytale castle built on the remains of a 13th century fortification. The building you see today is a full reconstruction, nothing of the original castle remains as the site was completed cleared of vegetation and debris by the Marquess of Bute, of Cardiff Castle and his architect William Burges for this new build. Most refer to it as a romantic folly.
It stands upon a platform overlooking the gorge of the Taff and was protected towards the higher ground by a deep dry moat from the bottom of which the walls rise with a very broadly battered base. It is surrounded by woodland on approach its three towers peep out of the trees and is a magical site when you first arrive.
This is a stone keep castle, full of beautiful features and definitely something that looks like it came out of a fairytale book. It has 3 conical roofs to its towers and the interior of the rooms are decorated to the same standard and lavishness of Cardiff Castle, with dazzling ceilings, over-the-top furnishings and lots of it.
The three towers, of the Keep, Well Tower and Kitchen Tower, incorporate a sumptuous, series of apartments of which the Castellan's Rooms, lie within the Keep. The Hall, the Drawing Room, Lord Bute's Bedroom and Lady Bute's bedroom comprise, in total, one of the most exhilarating suite of rooms in the High Victorian Gothic style. The ceilings and wall paintings are dazzling in their richness and almost equal the best achieved at Cardiff Castle. Work on the interiors was not complete by the time of Lord Bute's death in fact it carried on 10 years beyond being finally completed in 1891. It was never intended to be the main residence of the family, however in 1900 the Marchioness and her daughter, Lady Margaret did reside it for a period following the death of the Marquess. The army sided it during the Second World Ware and in 1950 it was placed in the care of the Ministry of Works and is now administered by CADW as a national treasure.
There are many rooms to explore including the lavish bedrooms of its designer, at the top of one of towers is a chapel highly decorated with painted glass. Some of the rooms are overwhelming with design and it is a place to stop and admire. You can also go into a small room to see the mechanism of the castle gates and how they are put into place. The rooms at ground level include a cafe and exhibition rooms, toilets all very narrow and tiny, but quaint. Most of the rooms are on the first level. However you can also walk around the top of one of the towers outside. All rooms are accessed via stone staircases, which are narrow and in some cases steep.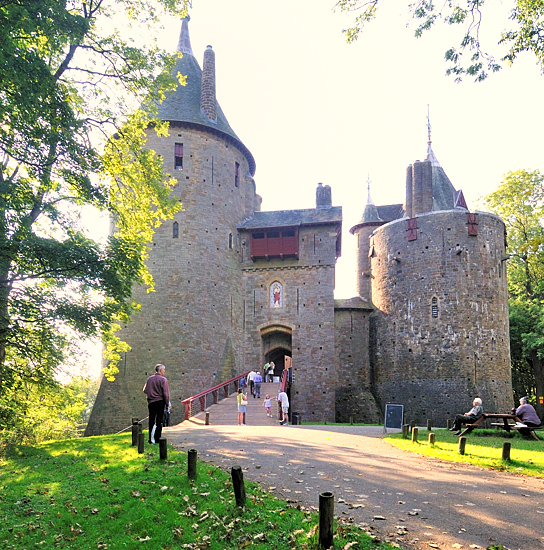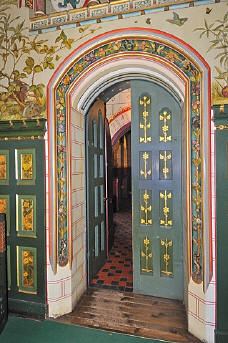 Highly decorated Doorway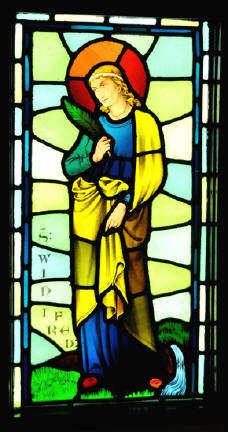 One of the Chapel Windows