Natureland Seal Sanctuary

Skegness, Lincolnshire

Location Guide
The main purpose of Natureland, which first open its doors in 1965 is to entertain, educate and conserve. They have seals, penguins, a pets corner, an aquarium, tropical house and floral palace for the visitor to admire. Through it's conservation work it has returned many seals back to the wild, but has also in the past returned dolphins, whales, a lost walrus and pelican and many oiled seabirds. The most popular visitor attraction is feeding time for the resident seals and penguins.
Seals - the resident seals a Common (Harbour) seals, some of the residents were the original babies rescued and reared in the late 1960's so have been a permanent fixture. At feeding time you not only see them in action, but are also educated via the feeders in their habits and wild cousins.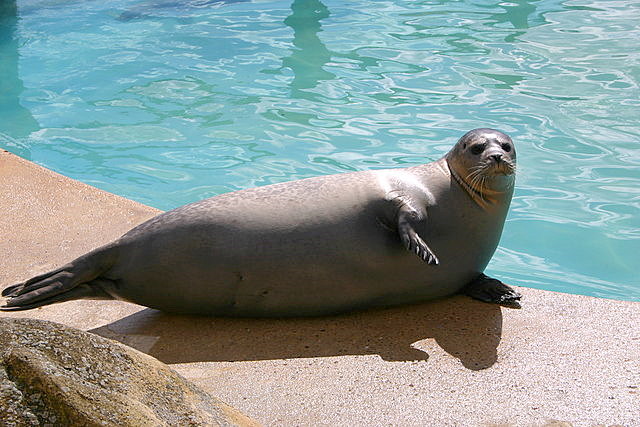 Penguins - there are 17 species of penguin, but those found at Natureland are Black-footed or Jackass Penguins, so called because of the noise they make. In the wild they live in rookeries of hundreds of thousands on the islands of Cape Town in South Africa.
Feeding times for the seals and penguins are announced of the public address system, but you can verify the time before your visit by contacting the information line.
In the Aquarium you will find examples of fish and invertebrates that can be found in tropical freshwater, tropical marine and coldwater marine environments. Here you will see piranhas, cichlids and livebearers such as guppies and swordtails, Clownfish amongst the stinging tentacles of the anemone. While in the large Sea Life tank you can see species that can be found off our coastline in the North Sea, such as rays (thornback), British sharks (tope, spotted dogfish), bass and whiting, and you might see lobsters and crabs. Examples of invertebrates include, starfish, anemones, crabs and shrimps.
Pets Corner has on display two types of tortoise, the Spur-thighed and the Hermanns. They originate from countries around the Mediterranean such as Greece, Turkey and North Africa, but are now an endangered species. There is also Koi Carp, which you can feed, and a collection of really tame domestic animals such as goats, turkeys, rabbits and guinea pigs.

The Tropical House is home to mainly reptiles and creepy crawlies like crocodiles, royal pythons, spiders and scorpions.

Floral Palace is in three sections and displays a wide range of plant life from cacti found in the deserts of Arizona and California through to flowers and shrubs typical of the Mediterranean lands and the orchids and food plants of the moist tropics. Within here you will also come across the Chilean Flamingos and free flying tropical birds in a vast array of colours. Within the rainforest section you will come across many butterflies. The types of butterfly on display vary week by week as they live for different periods, for example the average lifespan of a butterfly is 3 weeks, but some, which can eat both pollen as well as nectar can live up to 3 months. However the Atlas moth has no mouth once it's in its adult state so only lives 10-14 days.

Dave Kurley
As well as all this wildlife there is also a restaurant which serves up hot meals during the summer months, and hot drinks and light snacks during the winter.
---
Location: Natureland Seal Sanctuary, Skegness, Lincs

Grid Reference:

TF570638

Ceremonial County: Lincolnshire

Map Link: StreetMap

Aerial photo: Google Map

Getting there: Northern end of Skegness seafront next to the Suncastle and bowling greens.

Access: On mainly level site with slopes/handrails/ramps to all exhibits. In the tropical house wheelchair users need to turn around at the bridge and return to the entrance.
Website: www.skegnessnatureland.co.uk
Other Useful Websites:
Email: info@skegnessnatureland.co.uk
Address: Natureland Seal Sanctuary, North Parade, Skegness, Lincolnshire,
Postcode: PE25 1DB
Telephone: 01754 764345
Opening Times: 10am every day except for Christmas Day, Boxing Day and New Year's Day. Closing times vary throughout the year.

Charges: Adults £6.80; Seniors £5.60; Child (3-15) £4.40; Family (2+2) £20.20; Under 3's FREE
Also concessions to students and special needs visitors.

Nearby Locations:
Other Location Pages: Lincolnshire's Top Attractions

Notes: Parking - Roadside parking opposite or Pay & Display 100 metres north

Toilets for disabled next to restaurant and near the aquarium.

Dogs on leads - however not allowed in Floral Palace or restaurant.
Please let us know any other information that we can add to the Further information and Planning Grids or page and any errors that you discover. Before making a long trip to any location it is always wise to double check the current information, websites like magazines may be correct at the time the information is written, but things change and it is of course impossible to double check all entries on a regular basis. If you have any good photographs that you feel would improve the illustration of this page then please let us have copies. In referring to this page it is helpful if you quote both the Page Ref and Topic or Section references from the Grid below. To print the planning grid select it then right click and print the selected area.
Please submit information on locations you discover so that this system continues to grow.