Watford Flight (Locks)

Watford, Northamptonshire

Location Guide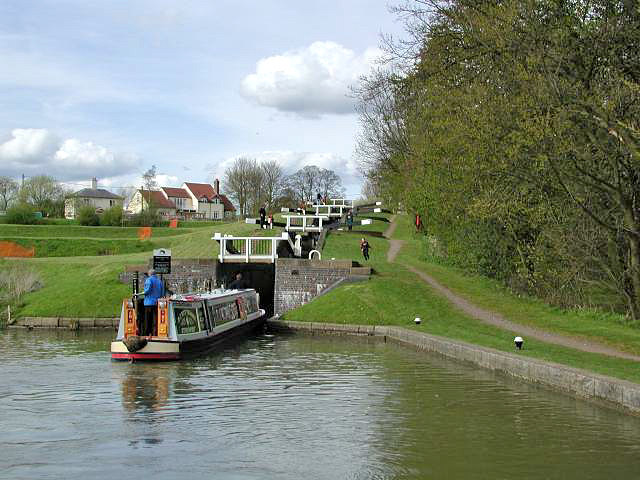 Photo by David Stowell


They are one end of a high level or summit canal that runs from near Foxton to another similar flight at the other end known as the Watford Flight. The Foxton end is better known with 2 staircases each of 5 locks and the remains of an inclined plane with plans to restore it. See Foxton inclined plane and locks

for more information on these and the history of the canals.
The Watford Flight is near the village of Watford in Northamptonshire. It consists of two single locks, a staircase of 4, and a single lock, a distance up of just over 52ft.
The locks were built to carry narrowboats, and the system was opened in 1814. Later in the early 20th century there were plans to build an inclined plane similar to that at Foxton as part of a scheme to allow the passage of barges, but the plan was abandoned and the inclined plane at Foxton then became uneconomic.
When the Grand Union Canal was formed in 1929, there were further proposals to widen the flight as part of the modernisation going on elsewhere on the Grand Union's network, but these plans did not develop further.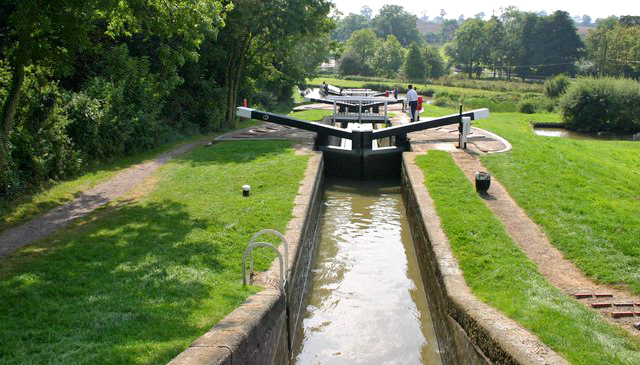 Down the locks by Bill Sibley


---
Location: Watford Staircase Flight, Daventry, Northamptonshire

Grid Reference: SP592688
Ceremonial County: Northamptonshire

Map Link: Multimap

Aerial photo: Multimap

Getting there: Situated between the A5 and M1. Going northbound along the A5, parking can be found on a hard standing outside a large Caravan sales shop situated on public land, between two turnings that are signposted as going to Watford. The locks can be found by walking across a frontage following signposts for the Jurassic Way Footpath.

Access: The locks can be reached by crossing over a stile.
Website:
Other Useful Websites: Wikipedia Geograph Canal Guide
Email:
Address: Watford Staircase Flight, Daventry, Northamptonshire
Postcode:
Telephone:
Opening Times: Open at all times

Charges: FREE

Nearby Locations:
Other Location Pages: Foxton Inclined Plane and locks
Other Relevant Pages: Canals Canals for photographers

Notes:
Please let us know any other information that we can add to the Grid(s) or page and any errors that you discover. Before making a long trip to any location it is always wise to double check the current information, websites like magazines may be correct at the time the information is written, but things change and it is of course impossible to double check all entries on a regular basis. If you have any good photographs that you feel would improve the illustration of this page then please let us have copies. In referring to this page it is helpful if you quote both the Page Ref and Topic or Section references from the Grid below. To print the planning grid select it then right click and print the selected area.
Please submit information on locations you discover so that this system continues to grow.