Falkirk Wheel

Falkirk, Stirlingshire

Location Guide
A unique rotary boat lift.
The Falkirk wheel is a unique piece of engineering that provides a 35m, 115 foot lift between two canal levels completing a gap that had been previously serviced by 11 locks and a 1.5 mile route. These had been dismantled in 1933.
Opened in May 2002, it was built as a part of a £84.5million project with the objective of restoring navigability across Scotland on the historic Forth & Clyde Canal and Union Canal, providing a corridor of regenerative activity through central Scotland.
It works because it has two equally balanced sections of canal with water in. When a boat enters one part it displaces the equal weight of water to the boat, so the two containers are still the same weight. The canal sections are kept upright by a wheel in a grove but as a secondary safeguard there are a series of linked gear wheels.
You can see the top position, and walk along both sections of canal without going in, if you have liveview or can just aim fairly accurately you can photograph the wheel from outside its enclosure which is surrounded by a wire fence. You would get additional views by paying to go in.
The Boat Ride
Boat trips begin in the basin outside The Falkirk Wheel Visitor Centre, by boarding one of the specially designed boats. The journey takes about 50 minutes in total and starts by sailing into the bottom gondola of The Wheel, which then makes a graceful sweep, lifting the boat up to join the Union Canal 35m above. The ascent takes approximately 15 minutes, allowing plenty of time to enjoy the views of the surrounding scenery.
Once lifted, the boat sails smoothly from The Wheel onto the Union Canal. This passes along the aqueduct, through the 180 metre Roughcastle Tunnel and under the historic - World Heritage site - Antonine Wall

(Roman). The boat will then return for an effortless descent that gently carries the boat down over the Visitor Centre, and safely back into the basin by the boardwalk.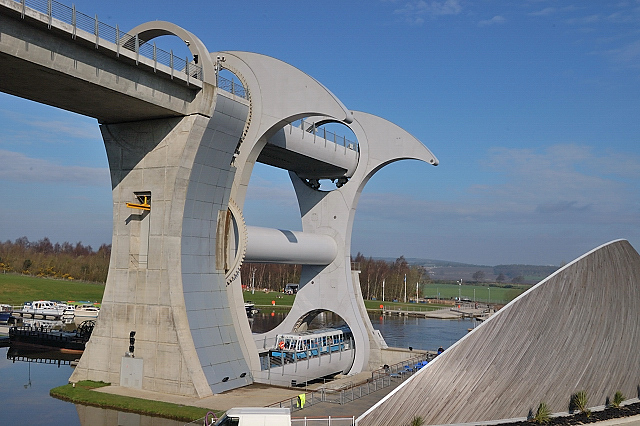 There are 9 images in this rotator and it shows the
sequence of getting the boat from the bottom to the top.

See our Gallery for more stunning images of this magnificent structure.
---
Location: Falkirk Wheel, Stirlingshire

Grid Reference:

NS852801

Ceremonial County: Stirlingshire

Map Link: Google

Aerial photo: Google

Getting there: Located in Falkirk, around 23 miles from both Glasgow and Edinburgh, not far from Falkirk Grahamston and Falkirk High Rail Stations.

Access: Main car park is about a 10 minute walk away, but there are special disabled parking facilities near the visitor centre that are signposted. Wheelchairs and mobility scooters are allowed on the boat trips, just say you want to use on when booking.
Website: www.thefalkirkwheel.co.uk
Other Useful Websites: Wikipedia Geograph
Email:

TFW_info@scottishcanals.co.uk
Address: The Falkirk Wheel, Lime Road, Tamfourhill, Falkirk
Postcode: FK1 4RS
Telephone: 08700 500 208

Opening Times: Winter Wed-Sun: 11am-4pm Boat Trips: 11:30am, 12:30pm and 2pm.

Summer Open Dailey 9:30am-6pm; Water Playpark and Kids Climbing Park close for the winter months (Nov-Mar/Apr). Access to footpaths around the site is possible after closing (times vary).

Charges: ENTRY IS FREE to the visitor centre, café, gift shops, Water Activity Zone, Children's Activity Zone, Woodland Walks and Antonine Wall heritage site.

Boat trip prices- Adult £8.95; Child (3-15) £4.95; Under 3's FREE; Concessions £7.95;
Family of 2 adults and 2 or more children get a 10% discount. Disabled visitors pay full price but essential carer goes free.

Nearby Locations: Antonine Wall Heritage Site
Other Location Pages: Falkirk Wheel Gallery
Other Relevant Pages: Canals Canals for photographers

Notes:
Please let us know any other information that we can add to the Grid(s) or page and any errors that you discover. Before making a long trip to any location it is always wise to double check the current information, websites like magazines may be correct at the time the information is written, but things change and it is of course impossible to double check all entries on a regular basis. If you have any good photographs that you feel would improve the illustration of this page then please let us have copies. In referring to this page it is helpful if you quote both the Page Ref and Topic or Section references from the Grid below. To print the planning grid select it then right click and print the selected area.
Please submit information on locations you discover so that this system continues to grow.