Nine Stones Stone Circle
Winterbourne Abbas, Dorset
The Nine Stones Also known as Nine Ladies or the Devils Nine Stones
This is a small nine stone circle near Winterbourne Abbas in a wooded glade.
This elliptical prehistoric (Bronze age) stone circle is believed to have been constructed around 4,000 years ago. It stands beneath a canopy of trees in dappled shade right next to the main A35 road. I have read (2008) on a couple of other sites that the top of the large Beech tree has been removed so more light now enters the site.
It is only a small circle - it measures around 9m by 7.8m and consists of 7 stones that measure less than a metre in height, with an entrance at the northwest flanked by 2 much larger stones. One is a thin pillar that stands over 2m high whilst the other is a square block around 1.8m high. The 2 smallest stones in the circle lie opposite the entrance.
The 17th century antiquarian John Aubrey described another circle about half a mile to the west but this has since been destroyed, although a fallen 2m stone, known as the Broad Stone, lies semi-buried beside the road about a mile to the west.
Nearby are the Winterbourne Poor Lot Barrows. This is a cemetery of 44 Bronze Age burial mounds of varying types and sizes, straddling the main A35 road. See this link for details.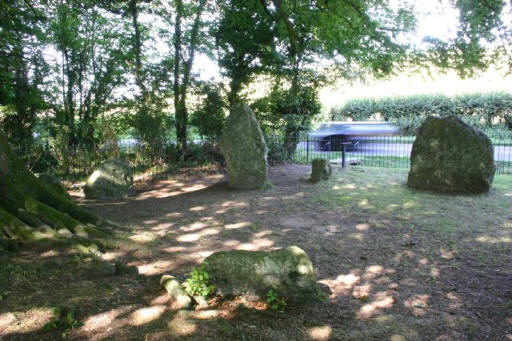 See here for Picture Details
Click on Images to see a larger version
Site is in the care of English Heritage. Nearby is Kingston Russell Stone Circle.
See also
The discussion on the purpose of stone circles
---
Planning Grid
Location:

The Nine Stones of Winterbourne Abbas, Dorset

Grid Reference

SY611903 OS Landranger Map 194

Map Link:

Getting there:

One and half miles SW of Winterbourne Abbas on the A35

Access:

On the roadside of the A35 in Winterbourne Abbas. Walking along the road is dangerous so take care. Through a gate in the iron railings.

Parking:

A small layby opposite, next to the barn. Cross the road with care.

Facilities:

None

Things To Do, See and Photograph:

Small stones overlooked by a large Beech tree.

What to take:

Nature highlights:

Best Times to Visit:

Address:

Winterbourne Abbas

Nr Dorchester

Dorset

Postcode:

DT2

Telephone:

E-mail:

Website:

Opening times:

All year - any reasonable time

Charges:

None

Photo Restrictions:

None

Other Restrictions:
None
Special Needs Access:
Special Needs Facilities:
None
Children Facilities:
Layby by busy road
Dogs Allowed:
Allowed

Other useful websites:

CIN Page Ref:

nine_stones_stone_circle

Date Updated: 03/08
Please let us know any other information that we can add to this Planning Grid or page and any errors that you discover. Before making a long trip to any location it is always wise to double check the current information, websites like magazines may be correct at the time the information is written, but things change and it is of course impossible to double check all entries on a regular basis. If you have any good photographs that you feel would improve the illustration of this page then please let us have copies. In referring to this page it is helpful if you quote the CIN Page Ref at the bottom of the Planning Grid above. To print the planning grid select it then right click and print the selected area.
Please submit information on locations you discover so that this system continues to grow.