Kingston Russell Stone Circle
Dorset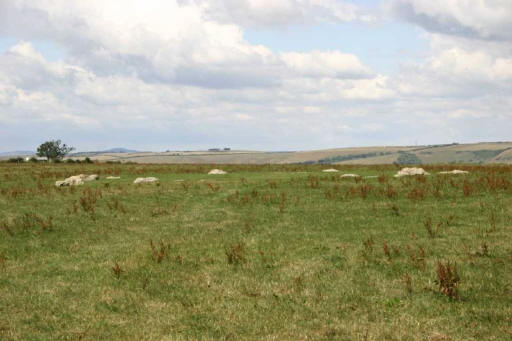 See here for Picture Details
Click on Image to see a larger version
An 18 or 19 stone Bronze age circle near Abbotsbury, roughly 30 metres in diameter.
We visited this site many years back, mid summer, and its was waist high with weeds, thistles etc. I am told it is kept clearer now.
The picture above shows it clear, but this may be at a different time of the year.
Flat top of a chalk ridge, overlooking the Bride Valley to the north, and with views westwards to Abbotsbury Castle and the sea. The 18 stones are arranged in a near-circular formation, and are of sarsen or conglomerate. The longest being about 8ft.
On the way from the road using the direction below, you will come across:-
The Grey Mare & Her Colts (SY584871 / Sheet: 194) - the remains of a once-mighty Neolithic long barrow, large entry/blocking stones and some others.
The opposite way from the road you reach:-
Another smaller stone circle known as the Hampton circle/Hampton Down SY596865. Some OS maps refer to it as simply Hampton Stone Circle. 10 stones in a small ellipse of 19ft by 20ft.
Take a look at the map multimap at this point the Kingston Russell stone circle is top left. The stone circle lower left quarter is the Hampton circle. Between these two you will see the long borrow.
See also
The discussion on the purpose of stone circles
---
Planning Grid
Location:

Kingston Russell Stone Circle, Dorset

Grid Reference

SY577878 OS Map 194

Map Link:

Getting there:

On the road to Abbotsbury from the A35 at Winterbourne Abbas, after a signpost right for Littlebredy and before you get to Portesham (see parking notes for Hell Stone), there is a left turn signposted for the Hardy Monument. At this junction take the (very) minor road to the right (west). After about a mile the road bends sharply to the left and follows the valley round. At that point there is a layby to park.

Access:

Return back up the road to the footpath that heads NW up the hill. Shortly up this path you are faced with a 3-way split. The Public Footpath heads through a Private Farm. Take the Bridleway that heads straight on and hug the hedge to your left. After about 400 yards there's a footpath through the hedge on the left. Follow this for about a hundred yards and the barrow is over another hedge. Return to bridleway and follow for another 3/4 mile and just before the large clump of trees Kingston Russell Stone Circle is in a field on the left.

Parking:

lay-by on road

Facilities:

None

Things To Do, See and Photograph:

Stone circle, long barrow, wildlife probably, views

What to take:

Map or good notes, you wont find it without. Good walking footwear as you are walking across fields.

Nature highlights:

Best Times to Visit:

Address:

Postcode:

Telephone:

E-mail:

Website:

Opening times:

Ppen all the time

Charges:

none

Photo Restrictions:

none

Other Restrictions:
None. Some people have tried to get to this location by another route going up a farm drive, not sure where, but not had a good reception.
Special Needs Access:
probably difficult
Special Needs Facilities:
none
Children Facilities:
Dogs Allowed:
No known restrictions

Other useful websites:

CIN Page Ref:

kingston_russell_stone_circle

Date Updated:03/08
Please let us know any other information that we can add to this Planning Grid or page and any errors that you discover. Before making a long trip to any location it is always wise to double check the current information, websites like magazines may be correct at the time the information is written, but things change and it is of course impossible to double check all entries on a regular basis. If you have any good photographs that you feel would improve the illustration of this page then please let us have copies. In referring to this page it is helpful if you quote the CIN Page Ref at the bottom of the Planning Grid above. To print the planning grid select it then right click and print the selected area.
Please submit information on locations you discover so that this system continues to grow.