Long Meg & Her Daughters

Also known as Maughanby Circle

Langwathby, Cumbria

Featured Location Guide
The largest stone circle in the north of England. The third largest stone circle in England.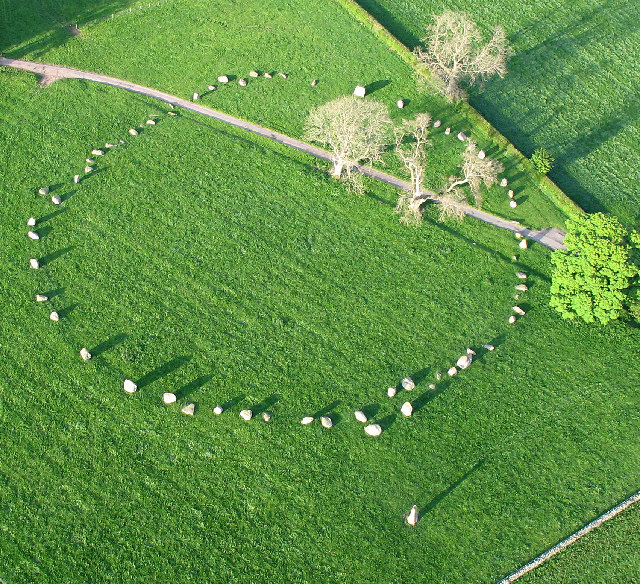 It primarily consists of 59 stones (of which 27 remain upright) set in an oval shape measuring 100m by 93m There may originally have been as many as 70 or more stones. Long Meg herself is a 3.6m high monolith of red sandstone 18m to the southwest of the circle made by her Daughters. Long Meg is marked with examples of megalithic art including a cup and ring mark, a spiral and rings of concentric circles.
Records from the early 17th century suggest that there were as many as 77 megaliths then.
| | |
| --- | --- |
| | |
| Long Meg the largest of the stones | An offering left on one of the nearby trees |
Long Meg is composed of local red sandstone, whereas her daughters are boulders of rhyolite, a form of granite, some of them weighing as much as thirty tonnes. Two of the biggest stones stand opposite each other to the east and west, and two huge stones mark a southwest entrance.
The setting midwinter sun is aligned with the column stone of Long Meg.
Aubrey Burl has argued that Meg is from an earlier period than the stone circle and is possibly an unrelated Neolithic menhir (single tall stone).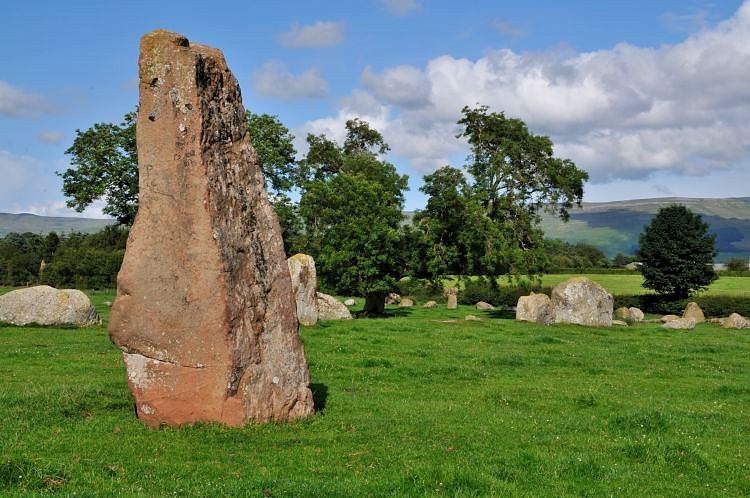 Long Meg and her Daughters
Tradition states that Long Meg and Her Daughters were a coven of witches who were holding their sabbat, some time in the thirteenth century. Michael Scot, a wizard from Scotland, found them so engaged and cast a spell over the assembled company, turning them all into stones.
Another legend states that if you walk around the circles and count the number of stones correctly, then put your ear to Long Meg, you will hear her whisper.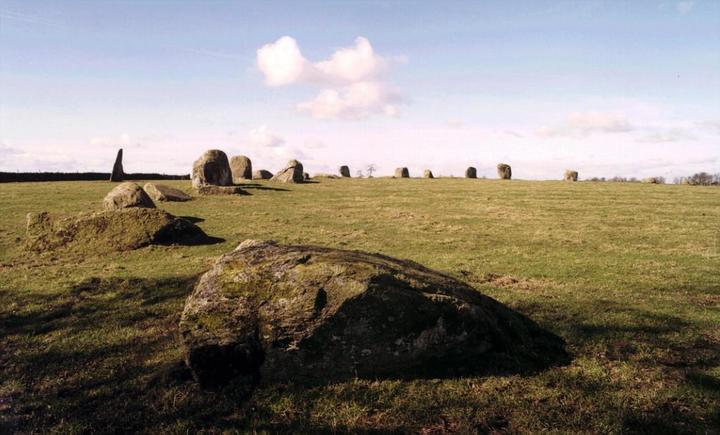 The name itself it said to come from a local witch, Meg of Meldon, who was alive in the early 17th century. Another theory suggests that the stone was named after another 17th century legend about Long Meg of Westminster, a giantess who was traditionally buried under a large blue gravestone at Westminster Abbey. The stone actually marks the burial place of monks who died during the Black Death. Another snippet of folklore tells how the standing stone will bleed if it is damaged.
On the trees within the circle small gifts and offerings can be found.
| | |
| --- | --- |
| | |
| A view of Long Meg and her Daughters as you approach from the lane. | |
Another circle Little Meg

is 640 metres away. Look at the StreetMap link below to the east just under half a mile.

Click on Images to see a larger version

---
See Also:
Our Stone Circles Section

Stone Circles of Britain

---
.
---
Planning Grid

Location:

Long Meg and Daughters, nr Little Salkeld, Cumbria

Grid Reference:

NY570372

Getting there:

6.5 kilometres north-east of Penrith off the A686. Come off the A686 at Langwathby, go through little Salkeld, about 0.5 km or quarter of a mile beyond Little Salkeld a track off to the left leads directly to the site.

Access:

Follow above directly to site.

Parking:

There is room to park alongside the track.

Facilities:

None

Things To Do, See and Photograph:

Circle, countryside

What to take:

Wide angle lens to get in full circle

Nature highlights:

Address:

Near Little Salkeld

Penrith

Cumbria

Postcode:

CA10 1NW

Telephone:

Opening times:

All Year Round

Charges:

None

Photo Restrictions:

None

Other Restrictions:
None
Special Needs Access:
Although you can see the stones from the trackway and where you park if you want to get up close it is in a field, which is uneven so those with difficulty walking would probably struggle to walk around it. It is not really suitable for wheelchairs.
Special Needs Facilities:
Children Facilities:
Dogs Allowed:
keep on a lead
Please let us know any other information that we can add to the Further information and Planning Grids or page and any errors that you discover. Before making a long trip to any location it is always wise to double check the current information, websites like magazines may be correct at the time the information is written, but things change and it is of course impossible to double check all entries on a regular basis. If you have any good photographs that you feel would improve the illustration of this page then please let us have copies. In referring to this page it is helpful if you quote both the Page Ref and Topic or Section references from the Grid below. To print the planning grid select it then right click and print the selected area.
Please submit information on locations you discover so that this system continues to grow.