Lytham Windmill
Lytham St Annes, Lancashire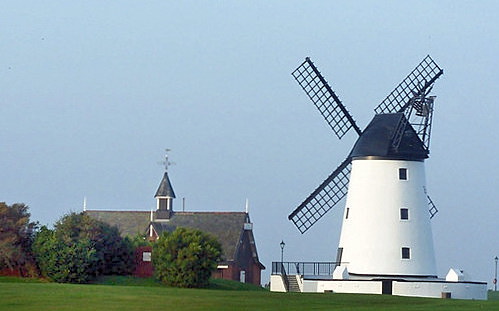 Lytham Windmill
By R Lee 2005
This Tower mill was built in 1805, on what is now Lytham Green, the Windmill is a prominent landmark that everyone sees when they visit Lytham.
One of several mills on the Fylde, Lytham Mill was worked until 1919 when a fire destroyed most of the machinery. It has been rebuilt and renovated several times since.
The Mill now houses a permanent exhibition of the history of the Mill and of Bread-making, tableaux of Lytham life during the last 100 years, various memorabilia and models.
---
Further information Grid
Location:

Lytham windmill, Lytham St Annes, Lancashire

Ceremonial County:
Lancashire

Grid Reference:

SD 370270 OS Sheet - 102.

Map Link:

Aerial photo:

Route(s):

Best Times to Visit:

E-mail:

touristinformation@fylde.gov.uk

or suziej@fylde.gov.uk

Website:

www.lythamheritage.fsnet.co.uk/lytham_windmill.htm

Other useful websites:

mills open

WW

LB

Nearby Locations:
Other Relevant pages:

Classification:

Date Updated: 05/2008
---
Planning Grid
Location:

Lytham Windmill, Lytham St Annes, Lancashire

Grid Reference:

SD 370270

Getting there:

On Lytham Green, 2 minutes from Town centre, off A584 Preston to Lytham road.

Access:

Parking:

Facilities:

Things To Do, See and Photograph:

What to take:

Nature highlights:

Address:

Postcode:

Telephone:

Peter Williamson, Visitor Information Centre - 01253 725610

or Suzie Joyce - 01253 658499

Opening times:

2 weeks at Easter, then mid-May to September, 10.30 - 13.00 & 14.00-16.00. Closed Monday & Tuesday.
National Mills Weekend opening times

Saturday and Sunday 10.30-16.30 with an hour closure for lunch between 13.00 and 14.00

Charges:

Free admission

Photo Restrictions:

Other Restrictions:
Special Needs Access:
Special Needs Facilities:
Children Facilities:
Dogs Allowed:

CIN Page Ref:

lytham

Date Updated: 05/2008
Please let us know any other information that we can add to the Further information and Planning Grids or page and any errors that you discover. Before making a long trip to any location it is always wise to double check the current information, websites like magazines may be correct at the time the information is written, but things change and it is of course impossible to double check all entries on a regular basis. If you have any good photographs that you feel would improve the illustration of this page then please let us have copies. In referring to this page it is helpful if you quote the CIN Page Ref at the bottom of the Planning Grid above. To print the planning grid select it then right click and print the selected area.
Please submit information on locations you discover so that this system continues to grow.