Great North Museum

Newcastle upon Tyne

Location Guide
This museum contains several collections combined and has many partners. It was opened by the Queen in November 2009 after a £26 million refurbishment and extension programme.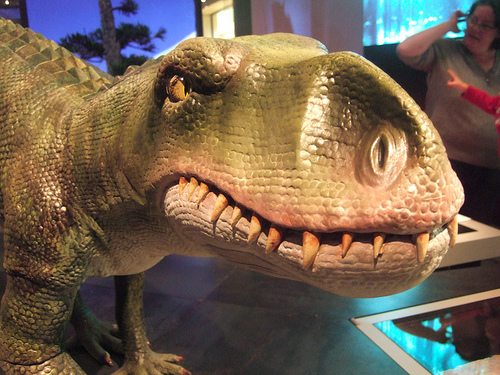 Photo from Ficker

It is the principal museum of archaeology in North East England. Its visitors are those who wish to know more about the history of the region, especially Hadrian's Wall

and the Roman Frontiers.

It has a renowned collection of artefacts, models and archives relating to the Wall, and a full-scale reconstruction of the Temple of Mithras

at Carrawburgh. Other displays illustrate the variety of life in the region from early prehistory to the 17th century. Interactive model of Hadrian's Wall. Located on Newcastle University's campus.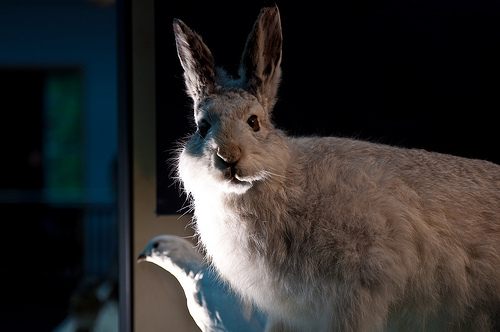 Photo by Craig Rodwey

But this is much wider, you will discover mummies to dinosaurs.
Highlights of this museum are:-
A large-scale, interactive model of Hadrian's Wall.

Displays showing the wonder and diversity of the animal and plant kingdoms.

Spectacular objects from the Ancient Greeks and mummies from Ancient Egypt.

A Planetarium.

A life-size T-Rex dinosaur skeleton.

The Living Planet display houses hundreds of creatures and by using a mixture of touch screen technology and hands-on investigations, you can investigate these animals and find out where they live and how they survive in such extreme places as the arctic and desert.

Live animal tanks and aquaria are integrated into this major display where you can see wolf fish, pythons and lizards to name a few.

A full size model of an elephant, a great white shark, a virtual aquarium, live animal displays, a polar bear, a giraffe and moa skeleton.
The main part we have explained above used to be called the Hancock Museum and was established in 1884.
There is a second location that contains at least 3,500 works of art, not all of which is on permanent show, that was the Hatton Gallery, that is now a part of the Great North Museum. Items in the permanent collection within the Hatton Gallery is not always available and you need to call them to make an appointment to see it.
There is also a large library open to the public above the Hancock section of the museum.
NOTE:- I have not visited this museum yet, but its on my list of places I must visit. If you have and have any photos please let us see a selection.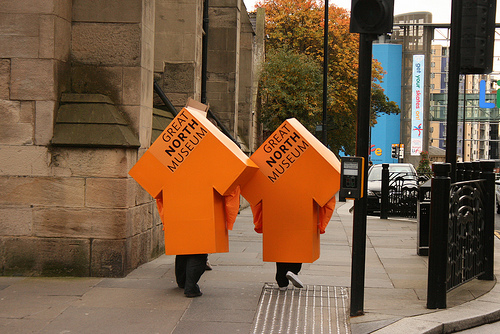 Mobile Signs - Photo from Flicker

---
.
---
Planning Grid

Location:

Great North Museum, Newcastle Upon Tyne

Grid Reference:

NZ246651

Getting there:

The main museum can be found just off the Great North Road (B1318).

The Hatton Gallery is based just off King's Walk within the Newcastle University campus.

Access:

There is said to be signposting in the area. See the links to Multimap by postcode above.

Parking:

Claremont Road car park is a five minute walk from the Museum.

Limited parking for blue badge holders is available outside the Museum.

The Hatton Gallery is close to city centre parking facilities, and public parking is available in the University grounds on Saturdays.

Facilities:

Things To Do, See and Photograph:

What to take:

Nature highlights:

City location in buildings

Address:

Great North Museum

Barras Bridge

Newcastle upon Tyne

NE2 4PT

and

Hatton Gallery, The Quadrangle, Newcastle University, Newcastle upon Tyne, NE1 7RU

Postcode:

NE2 4PT

Telephone:

0191 222 6765 Hatton Gallery 0191 222 6059

Opening times:

Open: Monday to Saturday 10am-5pm, Sunday 2pm-5pm
Closed: 25 & 26 December & 1 January.

Charges:

FREE

Photo Restrictions:

No restriction on photography - I did email and check this with them.

Other Restrictions:
None known
Special Needs Access:
I would think this site would be fully suitable for anyone, but call to check.
Special Needs Facilities:
Children Facilities:
This appears to be a great place to take children.
Dogs Allowed:
Would not expect they would be allowed in here.
Please let us know any other information that we can add to the Further information and Planning Grids or page and any errors that you discover. Before making a long trip to any location it is always wise to double check the current information, websites like magazines may be correct at the time the information is written, but things change and it is of course impossible to double check all entries on a regular basis. If you have any good photographs that you feel would improve the illustration of this page then please let us have copies. In referring to this page it is helpful if you quote both the Page Ref and Topic or Section references from the Grid below. To print the planning grid select it then right click and print the selected area.
Please submit information on locations you discover so that this system continues to grow.