McCaigs Folly

Oban, Argyllshire

Featured Location Guide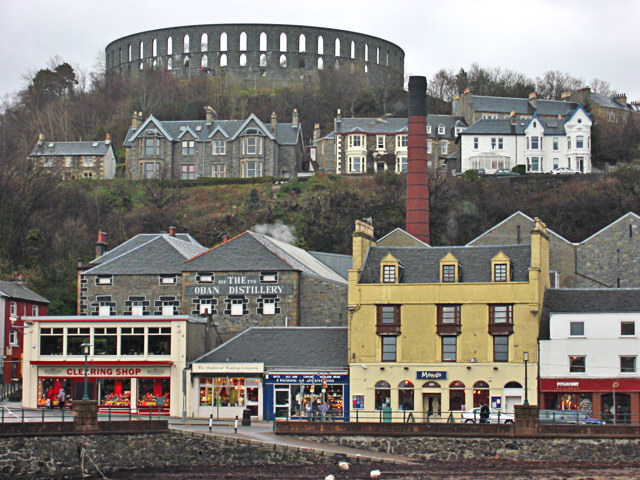 McCaigs Folly - A view from the harbour
McCaigs Folly or Tower as it's sometimes referred to is a prominent feature of Oban in Argyllshire, Scotland. When you get to the centre of Oban you cannot overlook it as it is a prominent feature on the skyline up above the main harbour in the town. Today it is a major feature of Oban and sits on top the hill overlooking the town, harbour and gives great views of the islands of Kerrera, Lismore and Mull with the ferries arriving and leaving below. From the town it is a trek up the hill around the narrow roads with a car park nearby. Once parked you walk up a little to the interior of it where there is a public garden and through the many archways is where you get the magnificent view.

So where did it come from. Well it was the idea of an Oban banker, John Sturt McCaig, who had an interest in Roman and Greek architecture and had travelled widely in Italy. He decided to spend £5000 of his own money to build his own coliseum and work began in 1897. It is round instead of the customary oval and his original idea was to incorporate a museum, central tower and statues of himself and his family in the windows overlooking the city. However before it could be completed McCaig died and the funds dried up as his surviving sister challenged his will. So the folly which took three years to build with only the outer walls completed stood as an empty shell and a folly.

It is 200 metres in circumference with two-tiers of 94 lancet arches standing forty feet high, (44 are on the bottom and 50 on the top). It is built of Bonawe granite and the walls are two feet thick.

After a ten minute uphill walk from the centre of the town you arrive at a peaceful walled garden and it is a great place from which to take the sea/island/sunset/aerial views of the Oban and panoramic photographs that feature on all the postcards you'll see for sale in Oban, apart from those that feature the tower of course. For those who cannot manage the walk there you can drive up to it and park in the car park and the path to the centre is suitable for people who may have walking difficulties.

It is illuminated by night.

A view from the Car Park

From the folly the harbour and islands

The Folly Garden

McCaigs Folly above Oban

Click on the smaller images
to see larger versions
---
Further information Grid

Location:

McCaigs Folly, Oban, Argyllshire

Ceremonial County:
Argyllshire

Grid Reference:

NM861302

Map Link:

Multimap

Aerial photo:

Route(s):

Best Times to Visit:

Any time different views and perspectives will be seen on different visits.

E-mail:

Website:

Wiki

Other useful websites:

Nearby Locations:
Other Relevant pages:
List of Follies in the UK

Classification:

Date Updated: 10/2008
.
---
Planning Grid

Location:

McCaigs Folly, Oban, Argyllshire

Grid Reference:

NM861302

Getting there:

From the centre of Oban follow the road on foot up the hill towards the folly, you can't miss is.

Access:

From the car park the path is slightly up hill into the centre of the folly

Parking:

Car park right outside

Facilities:

Seats to admire the garden.

Things To Do, See and Photograph:

Fabulous views of Oban, the harbour, railway, islands including the Isle of Mull in the distance and the ferries continually leaving the and arriving in the harbour below.

What to take:

Long lenses and wide angle, grads might be useful for the skyline.

Nature highlights:

butterflies and plants within the garden

Address:

Postcode:

PA34

Telephone:

Opening times:

All year round, its now a walled garden with fantastic views

Charges:

None

Photo Restrictions:

None

Other Restrictions:
Special Needs Access:
The path from the car park is uphill, but is suitable for wheelchair users
Special Needs Facilities:
Children Facilities:
Dogs Allowed:
Yes

Page Ref:

mccaigs_folly

Date Updated: 10/2008
Please let us know any other information that we can add to the Further information and Planning Grids or page and any errors that you discover. Before making a long trip to any location it is always wise to double check the current information, websites like magazines may be correct at the time the information is written, but things change and it is of course impossible to double check all entries on a regular basis. If you have any good photographs that you feel would improve the illustration of this page then please let us have copies. In referring to this page it is helpful if you quote both the Page Ref and Classification from the Grids above. To print the planning grid select it then right click and print the selected area.
Please submit information on locations you discover so that this system continues to grow.