Wroxton Follies

Banbury, Oxfordshire

Quick Guide
See below grid for details
3 follies and an impressive house and grounds that are now a College. The follies can be visited on a foot path.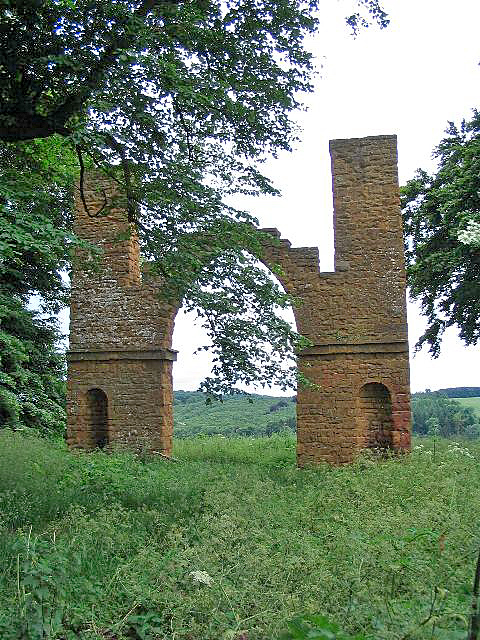 Picture by E Gammie


Wroxton follies are near Wroxton Abbey, they can be seen by following a footpath. The following table gives details of what you will see along the route.
Grid ref
Item
Description
SP414417
Wroxton Abbey
Wroxton Abbey is a 17th century Jacobean mansion, built in ochre Horton stone, with slate-roofed gables and at least twelve chimneys, with 45 bedrooms, a chapel, a great hall and a library. It is built on the foundations of a 13th century Augustinian monastery and is thought to have been erected in the 1600's, by William Pope.

It has a landscaped garden by Tilleman Bobart, created in 1728. Between 1731-1751, the garden was partly converted into a Serpentine style, possibly to the design of Lord North, later to become the Earl of Guildford. This centred upon 2 lakes, these being divided by a cascade and rocaille, and a twisting serpentine river. There is also a routine, Roman Doric Temple, with a classic 4 column portico. In the twentieth century, a pretty knot garden was also added.

The Abbey is now converted into a Fairleigh Dickinson College, where American students study.

Footpath start
Dark Lane, 100 yards up the road from the Abbey's front gates.
SP415416
Wroxton Dovecote
The Wroxton Dovecote is a somewhat dumpy, octagonal tower in a Gothic style, with battlements. It is sometimes referred to as the Wroxton Castle.

Built by Sanderson Miller, a local architect 1716-1780, he was a pioneer of Gothic Revival architecture. He had inherited Radway Grange a few miles away. Miller is noted as being one of the great folly builders, his many other works include the mock sham castles at Hagley Hall, and at Wimpole Hall in Cambridgeshire. Finished in 1745, this little neo-Gothic Dovecote folly tower overlooks the front drive of the Abbey. Mr. Miller constructed it from large bricks of varying sizes in sandstone, the structure rising about 35ft to a viewing platform.

SP419412
Wroxton Obelisk
The Wroxton Obelisk, is around 50ft high. It is square, and tapers off to a pyramid. It was commissioned by Francis North, the Earl of Guildford, to commemorate the visit to Wroxton and the Banbury races, by the Prince of Wales, Frederick of Hanover in 1739.
SP428410
Wroxton Arch or Drayton Arch
The Wroxton Arch or Drayton Arch, as it is also known, 2 40ft towers with an arch between. It is said to be one of the finest eye catchers, or "notable object", follies in England. It is positioned in a clearing placed at the summit of a hill, It allows the visitor commanding views back across the fields to the Obelisk and, probably before the trees grew up, a view to the Abbey.
---
---

| | | |
| --- | --- | --- |
| Page Ref: Wroxton_Follies | Classification: Follies | Date Updated: 10/2008 |
---
This page is a Quick Guide, the idea of Quick Guides is to allow very basic information and linking forward information to be added to the system rather than having to wait until a full location guide has been developed. It should therefore be considered a development stage rather than a finished objective. Once more information is known the objective is to create either a Location or Featured Location page which has two grids and far more information.
Please let us know any other information that we can add to the Grid(s) or page and any errors that you discover. Before making a long trip to any location it is always wise to double check the current information, websites like magazines may be correct at the time the information is written, but things change and it is of course impossible to double check all entries on a regular basis. If you have any good photographs that you feel would improve the illustration of this page then please let us have copies. In referring to this page it is helpful if you quote both the Page Ref and Classification from the Grids above. To print the planning grid select it then right click and print the selected area.
Please submit information on locations you discover so that this system continues to grow.