Druids Temple

Swinton, Yorkshire

Location Guide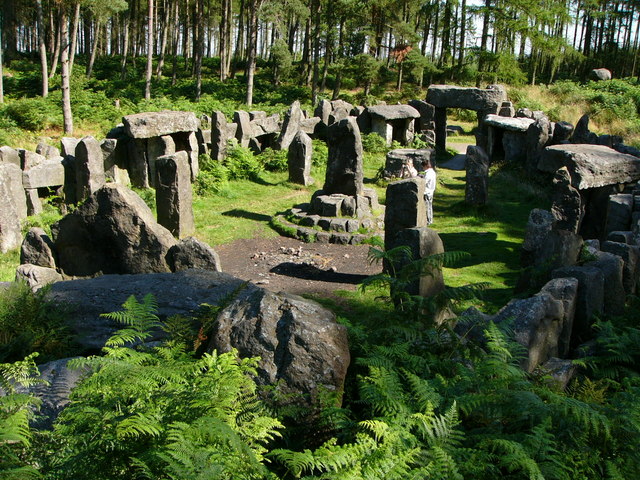 Photo by Chris Gunns


William Danby (1752-1833), together with friends James Wyatt, John Foss, and Robert Lugar, built a fine mansion for Danby named New Swinton Hall near Ilton. These building works went on for some 50 years and only ended a few years before Danby's death in 1833.
Unemployment became high in the area, around the turn of the century, and Danby decided to build a labour intensive recreation of Stonehenge in Wiltshire. He paid his workers a shilling per day.
The great henge, Danby created was very similar to Stonehenge. A huge elliptical ring of stones perhaps 75ft in length was constructed on the moor. Danby's henge, complete with both a heel and altar stone, is constructed from menhirs, dolmens, sarsens, monoliths and trilithons, some 12ft high.
As a centrepiece was a central monolith set on a ring of 3 rounded steps, all flanked by a tall monolith at each corner. Beyond the central monolith lies a second elliptical ring of stones, and finishing off to an enclosure, a little dark cave in the hillside. There are several standing stones which line the path on the approach to the temple.
The temple itself now stands on Forestry Commission land and is a popular spot for picnickers. In 1973 many conifers were planted around the site, although a view has been left to the west down towards Leighton reservoir.
The Druid's temple included the following features:
altars
menhirs
dolmens
sarsens
plus several Obelisks
During William Danby's later years, he wrote four books of thoughts. "Travelling Thoughts", "Thoughts on various subjects and ideas and realities", "Thoughts chiefly on serious subjects", and finally, published only a year before his death, "Extracts from Young's night thoughts, with observations upon them".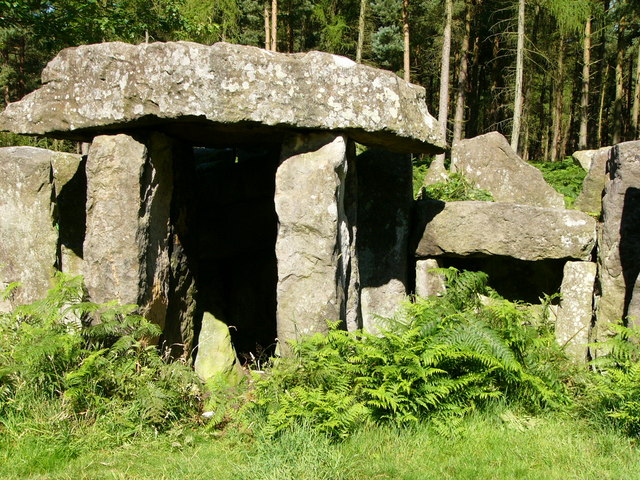 Photo by Chris Gunns


---
Location: Swinton Druids Temple, Swinton, Yorkshire

Grid Reference:

SE175787

Ceremonial County: Yorkshire

Map Link: OS getamap

multimap

Aerial photo: multimap

Getting there: From Ilton take the road going due North, then, turn left down the long straight lane (Knowles Lane) in the middle of the wood and park at the end. The temple is a couple of hundred yards into the wood.

Another person found a small car park within the plantation and amongst the trees various other stone structures as well, yet another reported the route from the car park now has signs.

Access: Although it may be on private property (Forestry Commission I think), very many people say they have picnicked there and it appears that there are paths and possibly a car park provided now. OS map appears to show a footpath.
Website: council

Other Useful Websites: Yorkshire Guide Folley Towers Heritage A hotels site

Email:
Address:
Postcode:
Telephone:
Opening Times: All the time

Charges: none

Nearby Locations:
Other Location Pages: List of Follies in the UK

Notes:

---

| | | |
| --- | --- | --- |
| Page Ref: Swinton_Druids_Temple | Classification: Follies | Date Updated: 10/2008 |
---
Please let us know any other information that we can add to the Grid(s) or page and any errors that you discover. Before making a long trip to any location it is always wise to double check the current information, websites like magazines may be correct at the time the information is written, but things change and it is of course impossible to double check all entries on a regular basis. If you have any good photographs that you feel would improve the illustration of this page then please let us have copies. In referring to this page it is helpful if you quote both the Page Ref and Classification from the Grids above. To print the planning grid select it then right click and print the selected area.
Please submit information on locations you discover so that this system continues to grow.