Museum of Kent Life

Sandling, Kent

Quick Guide
See below grid for details
The Museum of Kent Life is an open air museum located at Sandling, next to Allington Locks on the east bank of the River Medway.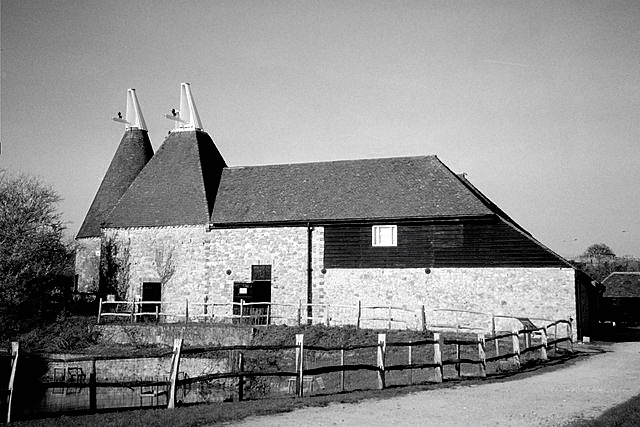 Oast House at Meusium of Kent life
picture by N Edmonston
Converted to B&W by us using Capture NX2
The museum has a variety of buildings, most of which have been dismantled and re-erected at the museum. These include 2 farmhouses, a barn, cottages, granary, forge, chapel, hopper huts, Oast, shepherds hut, tack room, village hall and wagon store.
At the museum, various aspects of farming are recreated. There are two small hop gardens, growing Fuggles and Goldings hops. Apple and plum orchards, a herb garden, a soft fruit garden and various livestock.
If you live nearby or feel you would be likely to visit several times, it would appear that if you buy a ticket by Gift Aid, you get a ticket valid for a year (excluding events). You have to be a UK taxpayer to qualify.
---
Location: Museum of Kent Life, Sandling, Kent

Grid Reference:

TQ749582

Ceremonial County: Kent

Map Link: multimap

Aerial photo: multimap

Getting there: The Museum is located next to the M20, five minutes from the centre of Maidstone. It is one hour from London and 30 minutes from the Channel Tunnel and ports.

M20 Coast bound: Exit at Junction 6. Take the 3rd exit at the first roundabout and 3rd exit on the second roundabout towards Aylesford. The Museum is on the left past The Village Hotel.

M20 London bound: Get into the Maidstone/Chatham filter lane and exit at Junction 6. Then take the 4th exit off the large roundabout towards Aylesford. The Museum is on the left past The Village Hotel.

By River Boat: The Kentish Lady sails from outside the Archbishop's Palace opposite the Court House in the centre of Maidstone, just five minutes walk from Maidstone West, 10 minutes from Maidstone East and a few minutes from the Fremlin Walk Shopping Centre. Please call 01622 753740 to check sailing times.

Access:
Website: own museum map
Other Useful Websites: wiki
Email: enquiries@museum-kentlife.co.uk
Address: The Museum of Kent Life, Cobtree, Lock Lane, Sandling, Maidstone, Kent
Postcode: ME14 3AU
Telephone: 01622 763936
Opening Times: Mid Feb to early Nov, open every day, 10am to 5pm, open at other times for groups. Event List

Charges: Adults £7.50; Children £5.20; under 3 free; concessions £6;

Special events £1 per head more.

Nearby Locations:

Notes: Their website is not the easiest to find information on, to find information on different buildings go to the site museums map page and take the hyperlinks in the list under the map.

---

| | | |
| --- | --- | --- |
| CIN Page Ref: kent_life | Classification: Living History | Date Updated: 07/2008 |
---
This page is a Quick Guide, the idea of Quick Guides is to allow very basic information and linking forward information to be added to the system rather than having to wait until a full location guide has been developed. It should therefore be considered a development stage rather than a finished objective. Once more information is known the objective is to create either a Location or Featured Location page which has two grids and far more information.
Please let us know any other information that we can add to the Further information and Planning Grids or page and any errors that you discover. Before making a long trip to any location it is always wise to double check the current information, websites like magazines may be correct at the time the information is written, but things change and it is of course impossible to double check all entries on a regular basis. If you have any good photographs that you feel would improve the illustration of this page then please let us have copies. In referring to this page it is helpful if you quote the CIN Page Ref at the bottom of the Planning Grid above. To print the planning grid select it then right click and print the selected area.
Please submit information on locations you discover so that this system continues to grow.