La Corbiere Lighthouse

Jersey

Featured Location Guide
Completed in 1874, Corbière Lighthouse was the first such structure in the British Isles to be built entirely from concrete, rather than traditional stone, blockwork. Sir John Coode, designed the lighthouse, and he was assisted by an engineer, Imre Bell, who turned the plans into the structure we see today.
It is situated on a rock which is a tidal island and in the 130 years it has been standing, with the worst winter gales throwing spray high over the lantern and the rock, the light itself seems never to have been seriously threatened by the power of the sea.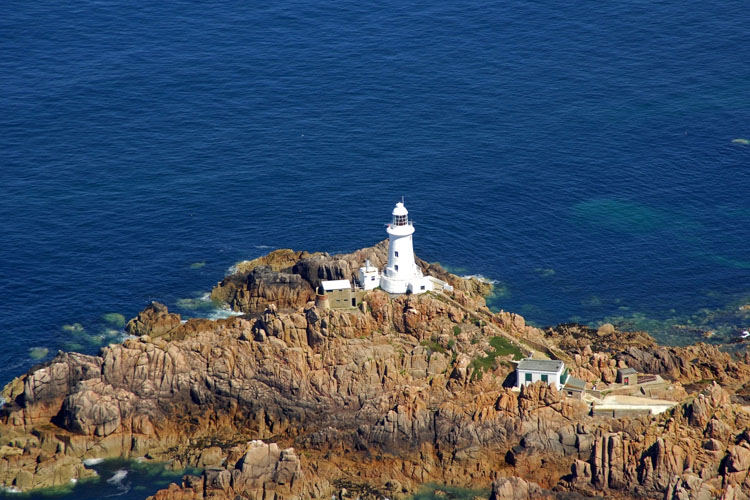 Aerial Photo Marinas.com

(more images available)
The lighthouse is perched on a rock just off the south west tip of Jersey. Originally, the lantern was fired by paraffin and required the constant attention of keepers who lived in the tower. Now it is powered by electricity and, since the late 1970s, has required no permanent staff on site. It has a powerful foghorn at the foot of the tower.
It is accessed via a concrete causeway, at low tide, which links the light's rock with the coast at Corbière, this means that it is easy enough to see the structure in close-up at low tide.
A klaxon warns the unwary that it is time to make tracks after the tide has turned, but the area is potentially very dangerous. If the light itself has survived without major incident, the same cannot be said of the keepers. In one such incident on 28 May 1946, one of them, Peter Edwin Larbalestier, was drowned while trying to rescue a holidaymaker who had been cut off by the rising water.
---
Lighthouse information Grid

Name:

La Corbiere Lighthouse, Jersey

Current status:

Currently in use

Geographic Position:

49° 10'8" N - 002° 14' 9" W

Grid Reference:

Ceremonial County:

Jersey

Appearance:

concrete tower painted white with lantern and gallery

Map Link:

Aerial photo:

Marinas

Other photos:

photo

Originally built:

1874

Current lighthouse built:

Height of Tower:

62 feet

Height of light above mean sea level:

135 feet

Character of light:

white or red light, depending on direction, 5 s on, 5 s off.

Character of fog signal:

4 blasts, long-short-long-short, every 60 s

Range of light:

18 miles

Owned / run by:

Jersey Harbours

Getting there:

Access:

Via a causeway at low tide, but visitors must take care not to be stranded when the tide returns. Site open, tower closed.

Website:

Other Useful Websites:

Wikipedia

Routes:
Other Relevant pages:

For more articles, lists and other information see the Lighthouses Section

Featured list of Lighthouses - Channel Islands

Notes:
Please let us know any other information that we can add to the Grid or page and any errors that you discover. Before making a long trip to any location it is always wise to double check the current information, websites like magazines may be correct at the time the information is written, but things change and it is of course impossible to double check all entries on a regular basis. If you have any good photographs that you feel would improve the illustration of this page then please let us have copies. In referring to this page it is helpful if you quote both the Page Ref and Topic or Section references from the Grid below. To print the planning grid select it then right click and print the selected area.
Please submit information on locations you discover so that this system continues to grow.