Casquets Lighthouse

Alderney, Channel Islands

Featured Location Guide
The Triple Towers at Casquets lies about 7 miles west off of Alderney.
In about 1722, the owner of the rocks, Thomas Le Cocq, was approached by the owners of ships passing the dangerous rocks called the Casketts off Alderney, to build a lighthouse and offered him ½d. per ton when vessels passed the light. He approached Trinity House and was granted a patent in 1723.
Trinity House decided that a light of particular character, to distinguish it from those on the opposite shores of England and France, was needed. So they decided to build 3 separate lights/towers in the form of a horizontal triangle containing closed fires, coal fires burning in glazed lanterns, and these were erected and came into operation in 1724. They were known as St Peter, St Thomas and Dungeon.
The lease granted to Le Cocq by Trinity House lasted for 61 years at a rent of £50 per annum. The 3 lights then reverting to Trinity House in 1785 and they were converted to metal reflectors in 1790. A revolving apparatus was fitted to each tower in 1818, and they were raised by 30ft in 1854. It was converted to automatic operation in 1990.
The three original towers at the Casquets are still in use, although only the North West Tower still exhibits a light. The East Tower contains fog-signal equipment and a helideck is mounted on the third tower.
During World War II the Germans used the light station as an observation post and transmitter site, which attracted commando raids by British forces in 1942 and 1943.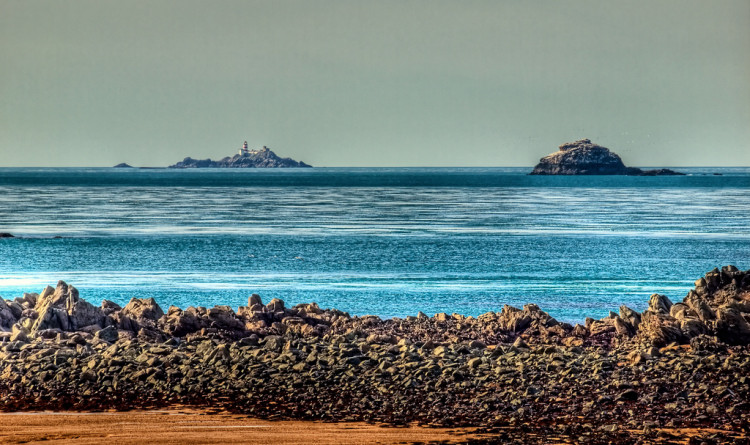 The rocks of Les Casquets with it's lighthouse, seen from the beach on Alderney 13km away.
Photo by Neil Howard

---
Lighthouse information Grid

Name:

Casquets Lighthouse (Triple Towers), Alderney, Channel Islands

Current status:

Currently in use

Geographic Position:

49 43'.4 N 02 22'.7 W

Grid Reference:

Ceremonial County:

Alderney

Appearance:

Map Link:

cylindrical stone tower with lantern and gallery, painted with red and white horizontal bands; lantern painted red.

Aerial photo:

Other photos:

distant view

Originally built:

1724

Current lighthouse built:

Height of Tower:

23 Metres

Height of light above mean sea level:

37 Metres

Character of light:

White Group Flashing 5 Every 30 Seconds

Character of fog signal:

2 Blasts Every 60 Seconds and its range is 3 nautical miles.

Range of light:

24 nautical miles

Owned / run by:

Trinity House

Getting there:

Access:

Site and towers closed. Only accessible by helicopter

Website:

TH

Other Useful Websites:

more info

Routes:
Other Relevant pages:

For more articles, lists and other information see the Lighthouses Section

Featured list of Lighthouses - Channel Islands

Notes:
Please let us know any other information that we can add to the Grid or page and any errors that you discover. Before making a long trip to any location it is always wise to double check the current information, websites like magazines may be correct at the time the information is written, but things change and it is of course impossible to double check all entries on a regular basis. If you have any good photographs that you feel would improve the illustration of this page then please let us have copies. In referring to this page it is helpful if you quote both the Page Ref and Topic or Section references from the Grid below. To print the planning grid select it then right click and print the selected area.
Please submit information on locations you discover so that this system continues to grow.