Tayport High Light

aka Tayport West Light

Fife

Location Guide
This location guide is partly done, we are currently working on it and it should be completed in the next month.
This High Light, also known as Tayport West Light, is a private light operated and constructed by the city of Dundee. On the southern entrance to the Firth of Tay. It is still active.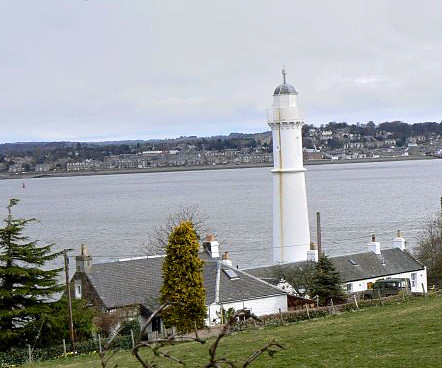 Photo by James Allan

There is a second lighthouse Tayport Low (aka Tayport East) which is usually referred to as the Eastern Lighthouse. Both low and high lighthouses are on the town's Lighthouse Walk, off Albert Street.
Tayport Pile Light

There is also a third light located in the Tay Estuary about 500 metres from Tayport Harbour, it is one of only a few surviving pile lighthouses in the UK, known as Tayport Pile Light. It was built in 1845 and is a lantern on a small, square wooden building on top of wooden piles. It is no longer operational being deactivated around 1960.
---
Lighthouse information Grid

Name:

Tayport High Light, Fife

Current status:

Working

Geographic Position:

56° 27" 13' -2° 53" 55'

Grid Reference:

NO447293

Ceremonial County:

Fife

Appearance:

white conical tower

Map Link:

Get A Map

Aerial photo:

Marinas.com

Other photos:

Tayport Low Light (Tayport East Light)

Tayport Pile Light (Old Larick Beacon)

Geograph (West Light)

Originally built:

Current lighthouse built:

Height of Tower:

75 metres

Height of light above mean sea level:

79 metres

Character of light:

Iso W.R.G., 3 seconds (sector light).

Character of fog signal:

Range of light:

Owned / run by:

Getting there:

Access:

Website:

Other Useful Websites:

Routes:
Other Relevant pages:

Notes:
Please let us know any other information that we can add to the Grid or page and any errors that you discover. Before making a long trip to any location it is always wise to double check the current information, websites like magazines may be correct at the time the information is written, but things change and it is of course impossible to double check all entries on a regular basis. If you have any good photographs that you feel would improve the illustration of this page then please let us have copies. In referring to this page it is helpful if you quote both the Page Ref and Topic or Section references from the Grid below. To print the planning grid select it then right click and print the selected area.
Please submit information on locations you discover so that this system continues to grow.