Sule Skerry Lighthouse

Sutherland

Location Guide
Situated 40 miles west of Orkney and 35 miles north of the Scottish mainland is the island of Slue Skerry, at the entrance to the Pentland Firth. It is a remote island that has a surface area of 35 acres and rising in the centre to just 45ft above water, which means it is almost out of sight of all land. Here the most isolated lighthouse in the British Isles was built, it is at the northern end of the island.
Sule Skerry Lighthouse had the distinction, acknowledged by the Guinness Book of Records, of being the remotest manned lighthouse in Scotland (in fact in the British Isles), from it's first operation in 1895 until 1982 when it was automated and the light keepers were no longer needed.
In fact it is so remote that it took from 1892-94 to build as it's construction could only take place during the summer months. Winter working was ruled out because of short daylight hours and stormy weather. It was built by David Stevenson and his brother Charles and it stands 88ft high and had a huge lantern (16ft in diameter), the normal was 12ft. This light was observed from Cape Wrath Lighthouse,

35 miles away, on 60 evenings during the first 3 months of operation.
The first permanent radio beacons in Scotland were installed here and at Kinnaird Head Lighthouse

in 1929.
The lighthouse was visited monthly with supplies, but on occasions it was cut off for days by heavy seas, preventing landing. But from 1973 until it was automated in 1982 supplies were delivered fortnightly by helicopter as long as the weather allowed.
It is not a family station as it is classified as a Rock Relieving Lighthouse. The keepers worked 4 weeks on and 4 weeks off. The families of the lighthouse keepers lived in Stromness on the Orkney mainland from 1895 until 1982. When the light keepers were not working they would return to their dwelling houses and families, where they were joined by keepers and their families from the other Pentland Rock Stations of Stroma Lighthouse

, Copinsay Lighthouse

and Pentland Skerries Lighthouse

.
It is only accessible by boat or helicopter.
It was also visited twice during the Second World War, when in 1942 a twin engine enemy bomber dropped 3 HE bombs on the island, about 60 yards north of the lighthouse, no one was injured and damage was minimal. Then again in 1944 a floating mine drifted ashore and exploded.
Today an automated weather station stands near the lighthouse.
The island is now an important nesting site for birds, especially during the breeding season when it is home to thousands of puffins and gannets. An annual count is carried out of the puffins. It is also home to a large population of seals and it has a variety of fauna and flora.
In Scottish folklore it was also the home of the Great Silkie, a sea monster.
About 4 miles away rises The stack, 140ft high, and 15 miles farther south is the sunken Nun Rock, 13ft below water.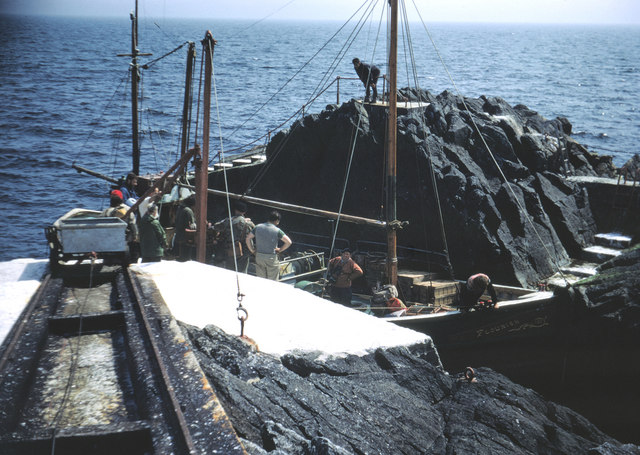 Sule Skerry South Landing

Photo by David Glass

The photo above (taken 1967) shows the South landing place. The railway was used for transporting stores to the lighthouse. The bogie shown was hauled by a winch powered by a stationary engine. The lighthouse was manned when this photo was taken but is now automatic.
---
Lighthouse information Grid

| | |
| --- | --- |
| Name: | Sule Skerry Lighthouse, Sutherland |
| Current status: | Working |
| Geographic Position: | 059° 05.099'N 004° 24.356'W |
| Grid Reference: | HX622244 |
| Ceremonial County: | Sutherland |
| Appearance: | round masonry tower with lantern and gallery, painted white, lantern painted black. |
| Map Link: | Get A Map |
| Aerial photo: | |
| Other photos: | |
| Originally built: | 1895 |
| Current lighthouse built: | |
| Height of Tower: | 27 metres |
| Height of light above mean sea level: | 34 metres |
| Character of light: | Flashing (2) White every 15 secs |
| Character of fog signal: | |
| Range of light: | 21 nautical miles |
| Owned / run by: | Northern Lighthouse Board |
| Getting there: | |
| Access: | |
| Website: | NLB |
| Other Useful Websites: | Wikipedia |
| Routes: | |
| Other Relevant pages: | |
| Notes: | |
Please let us know any other information that we can add to the Grid or page and any errors that you discover. Before making a long trip to any location it is always wise to double check the current information, websites like magazines may be correct at the time the information is written, but things change and it is of course impossible to double check all entries on a regular basis. If you have any good photographs that you feel would improve the illustration of this page then please let us have copies. In referring to this page it is helpful if you quote both the Page Ref and Topic or Section references from the Grid below. To print the planning grid select it then right click and print the selected area.
Please submit information on locations you discover so that this system continues to grow.