North Ronaldsay Lighthouse

Orkney Isles

Featured Location Guide
North Ronaldsay is the most northerly island in Orkney and is small at only three miles by one. A unique feature of the island is the drystone sheep dyke that surrounds it. It was built to keep the famous North Ronaldsay Sheep, those that eat seaweed, on the narrow strip of beach and foreshore and off the agricultural land. Some of the buildings by the lighthouse have been converted to provide workshops for the processing of the wool from the sheep. The island is accessible by air and ferries operate once a week on Friday's (May-September), from Kirkwall.
For such a small island it has another unique feature. There are two lighthouses on North Ronaldsay, although only one is now active. The first lighthouse here was the third to be built by the Northern Lighthouse Board after Mull of Kintyre Lighthouse

and Kinnaird Head Lighthouse.

The first lighthouse on North Ronaldsay was built in 1789 by Thomas Smith and his son-in-law Robert Stevenson, at the most easterly point of Dennis Head. It is a 70ft round stone tower which today is unpainted and has no lantern.

In fact it has been inactive since 1809 and what is left today is the remains of the tower and the foundations of the original keepers house.

It was deactivated in 1809 after the first Start Point Lighthouse was completed. The lantern was replaced by a masonry cap and the great ball off the original beacon at Start Point, and it tower was retained as a day beacon.

It still survives today as a beacon and is Scotland's oldest intact lighthouse. It is looked after by the North Ronaldsay Trust and in 2008 they received a grant from the Heritage Lottery Fund and Orkney Islands council to carry out work to make it safe. Once the ball on the top was made safe, the next task was to dig out a century and half's worth of guano, which was rising to 25ft up the walls, from inside the tower. It took 5 days to dig it out.

It is located at the most easterly point of Dennis Head at the north eastern tip of the island.

It is possible to get close to this lighthouse and keepers cottage remains, but understandably the tower is currently closed and not accessible, although according to the North Ronaldsay Trust website in 2010, they are

The Old Beacon Photo by John Tustin
hoping to renovate and restore it so that visitors will be able to climb to the top via a staircase. They are also hoping to restore the cottage and turn it into self catering accommodation.
After a while it became obvious that the island did still need it's own lighthouse, a survey was carried out and it was decided to still place it on Dennis Head, but on higher ground and this means it is a little further north than the old beacon. The current active lighthouse was built by Alan Stevenson, who also built Ardnamurchan Lighthouse,

amongst others, and it became operational in 1854.
North Ronaldsay possesses what is still the highest land based lighthouse in the British Isles at a height of 139ft. The red brick tower must have been a source of wonder to the inhabitants of the island. It dominated the low lying crofts, its revolving beam sweeping over and lighting up the land as well as the sea, to the benefit of night visitors allowing them to miss the many ditches and dykes on the island. In 1889 two white bands were painted on it to identify it as a day mark. It was automated in 1998.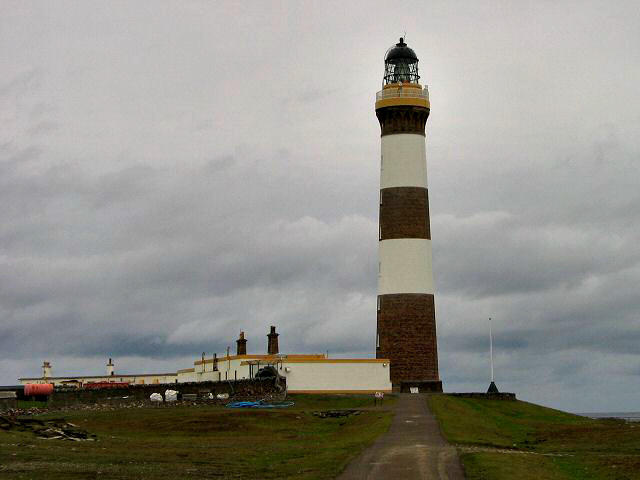 Current lighthouse.

Photo by Rob Burke

After its automation the NLB wanted the surrounding buildings to be transferred to the possession of the island, and so the North Ronaldsay Trust

was formed. The keeper's houses and other light station buildings were passed over and one of the buildings houses the island's wool mill, spinning fleece from the native sheep. One of the cottages is an interpretation centre with a cafe and shop selling craft work from the island and many items made from the North Ronaldsay wool. The other two cottages are being refurbished as holiday accommodation.
The tower is open for tours on Sunday sailing days from May to September from 12noon to 5.30pm and at other times by arrangement. The view from the top on a fine day allows you to see the other north islands of Orkney and north to Fair Isle in Shetland. On not such a good day then surging seas and a good look around the workings of the lighthouse can still be had.
---
Lighthouse information Grid

| | |
| --- | --- |
| Name: | North Ronaldsay Lighthouse, Orkney Isles |
| Current status: | Working |
| Geographic Position: | 59° 23.359'N 002° 22.890'W |
| Grid Reference: | HY784560 Old Beacon at HY790553 |
| Ceremonial County: | Orkney Isles |
| Appearance: | Red brick tower with 2 white horizontal bands with 176 steps to the top of the tower. |
| Map Link: | |
| Aerial photo: | Marinas.com |
| Other photos: | view |
| Originally built: | 1789 |
| Current lighthouse built: | 1854 |
| Height of Tower: | 42 metres |
| Height of light above mean sea level: | 43 metres |
| Character of light: | Flashing White every 10 secs |
| Character of fog signal: | Horn blasts every 60 seconds |
| Range of light: | 24 nautical miles |
| How powered: | |
| Owned / run by: | Northern Lighthouse Board |
| Website: | |
| Other Useful Websites: | |
| Routes: | |
| Notes: | |
.
---
Lighthouse Visit Planning Grid

| | |
| --- | --- |
| Location: | North Ronaldsay Lighthouse, Orkney Isles |
| Grid Reference: | HY784560 |
| Getting there: | Return flights by Loganaire, to North Ronaldsay from Kirkwall Airport cost £12 if staying overnight. Or Orkney Ferries operate a ferry service on Sunday's from May-September. |
| Access: | to island via ferry then on foot when on island |
| Parking: | |
| Address: | |
| Postcode: | |
| Telephone: | Lighthouse Keeper 01857 633257 or 07703 112 224 |
| Email: | |
| Opening times: | Lighthouse open to guided tours by arrangement and on Sunday sailing days during the summer (May-September). Old Beacon open all the time. |
| Charges: | Adult £4, child £2 |
| Best Times to Visit: | |
| Facilities: | cafe, shop, visitor centre |
| Things To Do, See and Photograph: | Lighthouse and surrounding buildings, Old Beacon, island life, exhibitions, wool mill |
| What to take: | |
| Nature highlights: | North Ronaldsay sheep, seabirds over the little loch by the Old Beacon. |
| Photo Restrictions: | |
| Other Restrictions: | |
| Nearby Locations: | |
| Other Relevant pages: | |
Please let us know any other information that we can add to the Further information and Planning Grids or page and any errors that you discover. Before making a long trip to any location it is always wise to double check the current information, websites like magazines may be correct at the time the information is written, but things change and it is of course impossible to double check all entries on a regular basis. If you have any good photographs that you feel would improve the illustration of this page then please let us have copies. In referring to this page it is helpful if you quote both the Page Ref and Topic or Section references from the Grid below. To print the planning grid select it then right click and print the selected area.
Please submit information on locations you discover so that this system continues to grow.