Muckle Flugga Lighthouse

Shetland Isles

Location Guide
Originally this lighthouse was called the North Unst Lighthouse, it was renamed to it's current name in 1964. This is the northern most light in Scotland.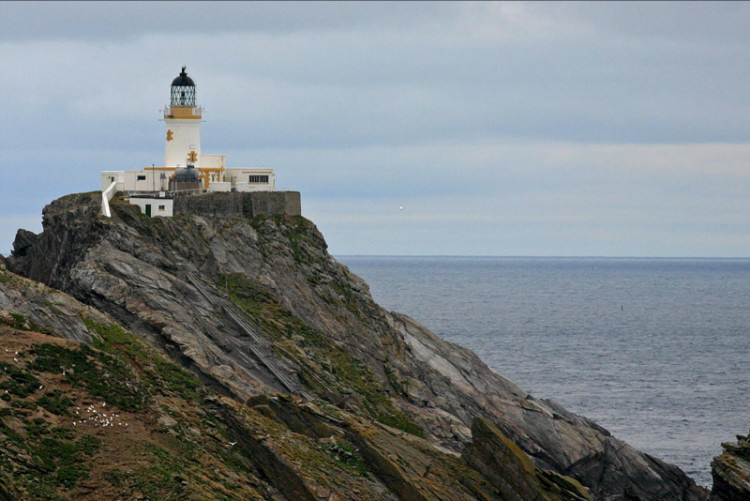 Photo by Keane Beamish

During the Crimean War the government urged the commissioners of the Northern Lighthouse Board to set up a light on this rock to protect Her Majesty's ships. A temporary lighthouse 50ft high and 200ft above sea level was made and it was brought into operation in 1854. It was thought to be high and safe enough, but when winter storms began, waves broke heavily on the tower and burst open the door to the living quarters. The principal keeper reported that 40ft of stone dyke had broken down, and they had no dry place to sit or sleep. Plans were made for a higher and more permanent lighthouse, but there were still disagreements about where to locate it, Muckle Flugga or Lamba Ness. The orders to start the work on the new Muckle Flugga tower were finally given in 1855.
It was designed and built by Robert Louis Stevenson's father and uncle, Thomas and David Stevenson, in 1854, and as a result Unst became Robert's inspiration for the map of his well known book Treasure Island.
It is one of the few lighthouses in Scotland which had a separate shore station that served as accommodation for the keepers when they were off duty. When the lighthouse was automated it was sold off and is now divided into 4 flats, 3 private dwellings and the Hermaness Visitor Centre at the entrance to the Hermaness Nature Reserve.

The rest of the land inside the stone walls is owned by a charter boat tour company that operates tours around the island.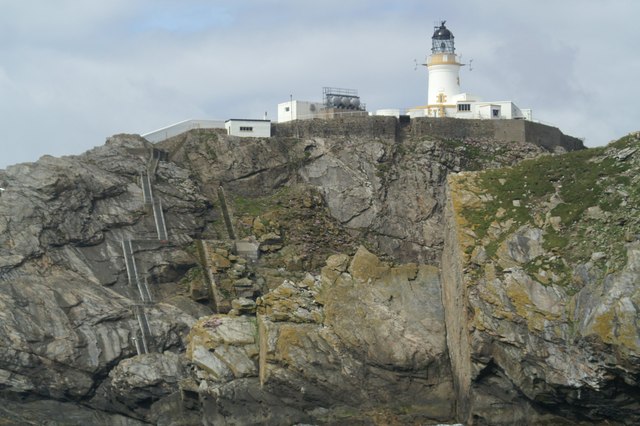 The metal steps to the left are the current way up to the lighthouse, just to the right
you can see the older steps carved from the rock.

Photo by Mike Pennington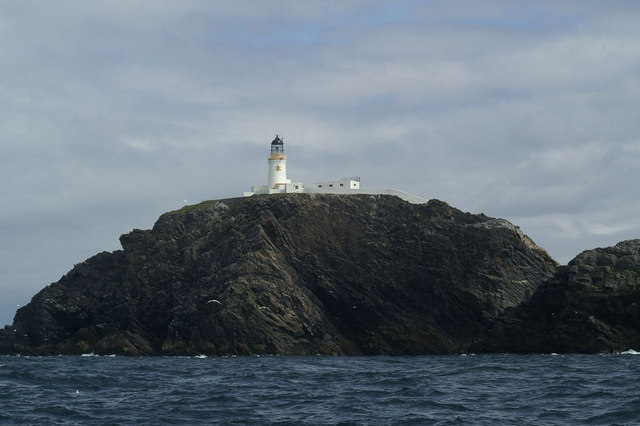 A view from the other side

Photo by Mike Pennington

---
Lighthouse information Grid

| | |
| --- | --- |
| Name: | Muckle Flugga, Shetland Isles |
| Current status: | Working |
| Geographic Position: | 60° 51.326'N 000° 53.146'W |
| Grid Reference: | HP606197 |
| Ceremonial County: | Shetland Isles |
| Appearance: | White tower with 71 steps to top of tower also with lantern and gallery, rising from the 1 storey keeper's house |
| Map Link: | Multimap |
| Aerial photo: | Google Satellite view |
| Other photos: | |
| Originally built: | 1854 |
| Current lighthouse built: | |
| Height of Tower: | 20 metres |
| Height of light above mean sea level: | 66 metres |
| Character of light: | Flashing (2) White every 20 secs |
| Character of fog signal: | |
| Range of light: | 22 nautical miles |
| Owned / run by: | Northern Lighthouse Board |
| Getting there: | You can take a ferry to Lerwick on mainland Shetland, then proceed to Unst. The trip includes 2 ferry crossings. Once reaching Herma Nest, you still have a long walk to the shore where there is a good view of the lighthouse. |
| Access: | Site and tower closed, accessible only by helicopter |
| Website: | NLB |
| Other Useful Websites: | Wikipedia |
| Routes: | |
| Other Relevant pages: | |
| Notes: | |
Please let us know any other information that we can add to the Grid or page and any errors that you discover. Before making a long trip to any location it is always wise to double check the current information, websites like magazines may be correct at the time the information is written, but things change and it is of course impossible to double check all entries on a regular basis. If you have any good photographs that you feel would improve the illustration of this page then please let us have copies. In referring to this page it is helpful if you quote both the Page Ref and Topic or Section references from the Grid below. To print the planning grid select it then right click and print the selected area.
Please submit information on locations you discover so that this system continues to grow.