Holburn Head Lighthouse

Thurso Bay, Caithness

Location Guide
Holburn Lighthouse is not actually on Holborn Head, a headland facing the Atlantic coast, but 1km south nestled into the hillside of Thurso Bay, on the north side of Scrabster. It is said to be one of the simplest lights to see.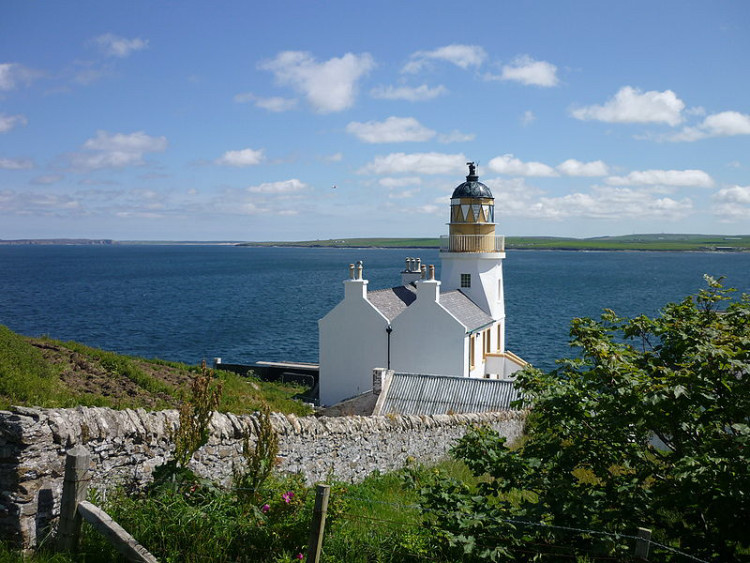 It was designed and built in 1862 by David and Thomas Stevenson. There is the light tower and a keepers' house joined to it, this is unusual as most Scottish lighthouses are separate from the house. There were two Lightkeepers houses and the Tower within the main building and there was a separate building that was the Principal Keeper's House. It was automated in 1988 and the lightkeepers withdrawn, however it was discontinued in August 2003 following alterations to the port facility.
The Lighthouse is the building in the background, behind the ferry.

Photo by Dorcas Sinclair

You can see it from the town of Thurso, or from Scrabster pier or from the one of the ferries that travel between Scrabster and Stromness in the Orkneys.
---
Lighthouse information Grid

| | |
| --- | --- |
| Name: | Holborn Head Lighthouse, Scrabster Harbour, Thurso Bay Caithness |
| Current status: | discontinued August 2003 |
| Geographic Position: | 58° 36.9'N 03° 32.4'W |
| Grid Reference: | ND106707 |
| Ceremonial County: | Caithness |
| Appearance: | octagonal cylindrical masonry white tower rising from one end of a 2-storey keeper's house. |
| Map Link: | Multimap |
| Aerial photo: | Marinas.com |
| Other photos: | |
| Originally built: | 1862 |
| Current lighthouse built: | |
| Height of Tower: | 17 metres |
| Height of light above mean sea level: | 23 metres |
| Character of light: | Flashing White/Red every 10 Secs |
| Character of fog signal: | |
| Range of light: | 15 nautical miles |
| Owned / run by: | Northern Lighthouse Board |
| Getting there: | |
| Access: | Site open, tower closed |
| Website: | NLB |
| Other Useful Websites: | Wikipedia |
| Routes: | |
| Other Relevant pages: | |
| Notes: | |
Please let us know any other information that we can add to the Grid or page and any errors that you discover. Before making a long trip to any location it is always wise to double check the current information, websites like magazines may be correct at the time the information is written, but things change and it is of course impossible to double check all entries on a regular basis. If you have any good photographs that you feel would improve the illustration of this page then please let us have copies. In referring to this page it is helpful if you quote both the Page Ref and Topic or Section references from the Grid below. To print the planning grid select it then right click and print the selected area.
Please submit information on locations you discover so that this system continues to grow.