Flannan Island Lighthouse

Ross-shire

Location Guide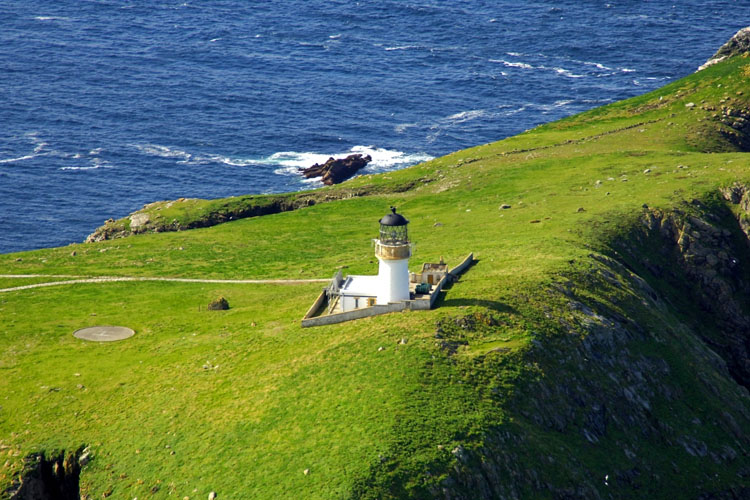 Aerial Photo Marinas.com

(more images available)
The Flannan Isles are a group of islands in the Outer Hebrides of Scotland, lying several miles west of the Isle of Lewis.
Before the establishment of the lighthouse on the Flannan Isles, which consists of seven rocky, uninhabited islands called the Seven Hunters, the island of Eilean Mor on which the lighthouse stands had two other dwellings, which are now just ruins, one of which seems to have been a chapel. They were described by the Ancient Monuments Commission as "The Bothies of the Clan McPhail".
The lighthouse, designed by Alan Stevenson, was built in 1899, together with landing places, stairs, etc on Elean Mor and the lightkeppers dwellings at the shore station at Breascelete, on the Isle of Lewis, by George Lawson of Rutherglen. Breascelete was chosen because is was close to Loch Roag and provided safe anchorage and shelter for the tender when taking things on and off the island.
As there was no radio communication between the Flannans and Lewis at that time, a gamekeeper at Gallan Head, Lewis, Mr Roderick MacKenzie, was appointed to observe the light for which he received payment of £8 per annum. His duties involved watching for any signals from the lighthouse, 18 miles north west of his viewing point and to observe and report any failure of the light.
Just a year after the light was switched on, a disaster occurred on the island, but to this day nobody really knows what happened. There were three lightkeepers on the island manning the station, and the last entry in their log book is dated 15th December, but they seem to have just disappeared. Various reports from people who visited the island at the time, such as the master of the Lighthouse Tender who visited on the 26th December, report back that there is no sign of any of them.
The masters telegram read:
"A dreadful accident has happened at Flannans. The three Keepers, Ducat, Marshall and the occasional have disappeared from the island. On our arrival there this afternoon no sign of life was to be seen on the Island. Fired a rocket but, as no response was made, managed to land Moore, who went up to the Station but found no Keepers there. The clocks were stopped and other signs indicated that the accident must have happened about a week ago. Poor fellows they must been blown over the cliffs or drowned trying to secure a crane or something like that. Night coming on, we could not wait to make something as to their fate. I have left Moore, MacDonald, Buoymaster and two Seamen on the island to keep the light burning until you make other arrangements. Will not return to Oban until I hear from you. I have repeated this wire to Muirhead in case you are not at home. I will remain at the telegraph office tonight until it closes, if you wish to wire me.
For more details on this mystery and more accounts from those who reported back what they did or didn't see, see the Mystery of Flannan Isle

page on the Northern Light Board website.
The lighthouse remained manned until 1971 when it became a major automatic light.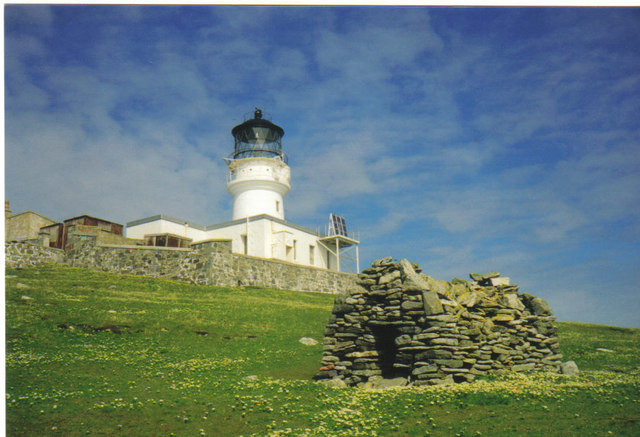 Photo by JJM

---
Lighthouse information Grid

| | |
| --- | --- |
| Name: | Flannan Island Lighthouse, Ross-shire |
| Current status: | Working |
| Geographic Position: | 58° 17.294'N 007° 35.394'W 58° 17" 17' -7° 35" 19' |
| Grid Reference: | NA726468 |
| Ceremonial County: | Ross & Cromarty |
| Appearance: | White tower |
| Map Link: | Multimap |
| Aerial photo: | Marinas.com |
| Other photos: | Geograph |
| Originally built: | 1899 |
| Current lighthouse built: | |
| Height of Tower: | 23 metres |
| Height of light above mean sea level: | 101 metres |
| Character of light: | Flashing 2 White every 30 secs |
| Character of fog signal: | |
| Range of light: | 20 nautical miles |
| Owned / run by: | Northern Lighthouse Board |
| Getting there: | |
| Access: | |
| Website: | NLB |
| Other Useful Websites: | Mystery of Flannan Isle |
| Routes: | |
| Other Relevant pages: | |
| Notes: | |
Please let us know any other information that we can add to the Grid or page and any errors that you discover. Before making a long trip to any location it is always wise to double check the current information, websites like magazines may be correct at the time the information is written, but things change and it is of course impossible to double check all entries on a regular basis. If you have any good photographs that you feel would improve the illustration of this page then please let us have copies. In referring to this page it is helpful if you quote both the Page Ref and Topic or Section references from the Grid below. To print the planning grid select it then right click and print the selected area.
Please submit information on locations you discover so that this system continues to grow.