Fair Isle South Lighthouse

Shetland Isles

Location Guide
Located at the south west tip of the island. There are two lighthouses on Fair Isle, this one and the Fair Isle North Lighthouse.

A noticeable difference to the visitor, between the two, is that the height of the light from the ground, at this lighthouse it is 73 feet, which equates to another 26 feet of stair-climbing against that required at the North Light.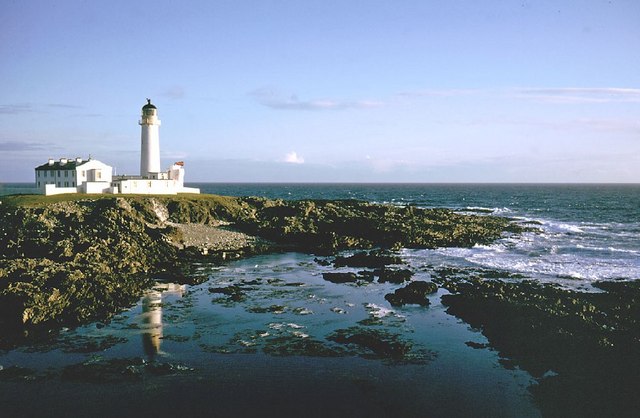 Photo by Dr Julian Paren

Three members of keepers' families were killed at this station during during World War II, during German air raids in 1941-42, and the buildings suffered significant damage. During the first raid the wife of the assistant keeper and her infant daughter was slightly hurt. Six weeks later a second attack took place and this time the wife and daughter of the Principal Lightkeeper were killed, when a bomb struck the main building. A second bomb destroyed the west gable. At this time the lighthouse keeper and his daughter from the Fair Isle North Lighthouse,

trekked 3 miles, through snowdrifts and gale force winds, to help restore the light back to operational order.
There is no mains electricity supply on Fair Isle apart from a local wind generator, so the lights are driven by diesel generators. The fog horn used compressed air until it was replaced with an electric emitter during automation.
In March 1998, the keepers left this lighthouse and it was the last Scottish lighthouse to be automated.
Fair Isle

has a permanent bird observatory founded in 1948, and as well as providing a watch point for bird migration it also provides most of the accommodation on the island. It is unusual in that it provides catered accommodation rather than hostel-style. Many rare species have been found on the island.
Fair isle is an isolated island 30 miles south of the Shetland mainland. It is accessible by air from Lerwick, twice a week in the summer and once in winter, or by Ferry from Sumburgh Head, near the Sumburgh Head Lighthouse,

3 times a week in summer and once a week in winter. The permanent population is less than 100.
---
Lighthouse information Grid

| | |
| --- | --- |
| Name: | Fair Isle South Lighthouse, Shetland |
| Current status: | Working |
| Geographic Position: | 59° 30.858'N 001° 39.206'W |
| Grid Reference: | HZ198698 |
| Ceremonial County: | Shetland Isles |
| Appearance: | White tower with 96 steps to the top of tower. 2-storey keeper's quarters and other buildings enclosed by a stone wall. |
| Map Link: | Multimap |
| Aerial photo: | |
| Other photos: | |
| Originally built: | 1892 |
| Current lighthouse built: | |
| Height of Tower: | 26 metres |
| Height of light above mean sea level: | 32 metres |
| Character of light: | Flashing (4) White every 30 Secs |
| Character of fog signal: | Horn (2) every 60 seconds |
| Range of light: | 22 nautical miles |
| Owned / run by: | Northern Lighthouse Board |
| Getting there: | Fair Isle can be reached from the Shetland mainland either by the island mailboat or by 8-seater 'Islander' aircraft. |
| Access: | accessible by road. Site open, tower closed. |
| Website: | NLB |
| Other Useful Websites: | Wikipedia |
| Routes: | |
| Other Relevant pages: | |
| Notes: | |
Please let us know any other information that we can add to the Grid or page and any errors that you discover. Before making a long trip to any location it is always wise to double check the current information, websites like magazines may be correct at the time the information is written, but things change and it is of course impossible to double check all entries on a regular basis. If you have any good photographs that you feel would improve the illustration of this page then please let us have copies. In referring to this page it is helpful if you quote both the Page Ref and Topic or Section references from the Grid below. To print the planning grid select it then right click and print the selected area.
Please submit information on locations you discover so that this system continues to grow.