Start Point Lighthouse

Hellsands, Devon

Featured Location Guide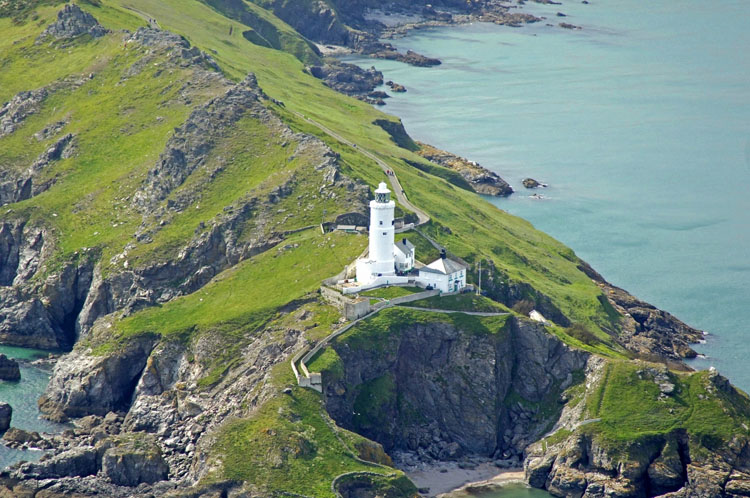 Aerial photo By Marinas.com

(more images are available)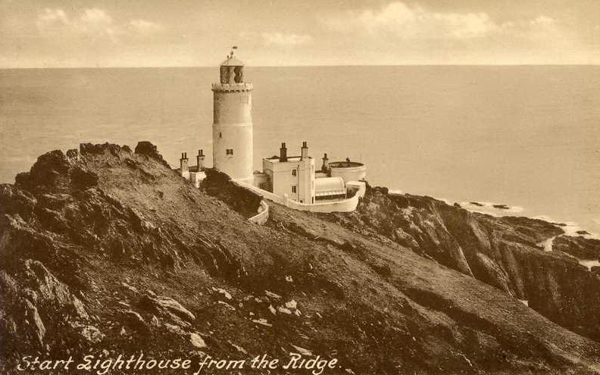 Since this old postcard photo was taken erosion has caused some parts to fall away, including the
1860's fog signal building which collapsed in 1989 after being undermined by erosion.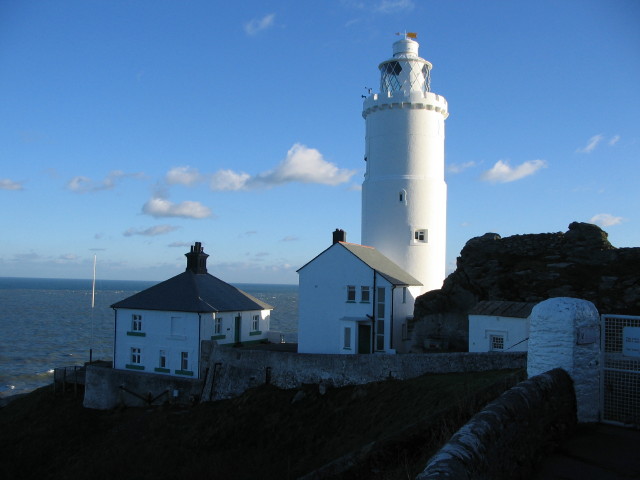 Photo from Geograph

Start Point is one of the most exposed peninsulas on the English Coast, running sharply almost a mile into the sea on the South side of Start Bay near Dartmouth. The Lighthouse, sited at the very end of the headland, has guided vessels in passage along the English Channel for over 150 years.
James Walker designed Start Point Lighthouse in 1836 and it owes much to the "gothic" movement in architecture of the time, with its battlemented parapet. Two white lights were originally exhibited, one revolving and one fixed to mark the Skerries Bank. A fixed red subsidiary light still marks this hazard. The optic used was the first of its kind in the Trinity House Service, being an approved form of Dioptric apparatus designed by Alan Stevenson, whose major work was the optic at the Skerryvore Lighthouse

of 1844. Even so, the light was found to be inadequate in fog, and a bell was installed in the 1860's.
The machinery was housed in a small building on the cliff face and operated by a weight which fell in a tube running down the sheer cliff. A siren replaced the bell after only fifteen years because the new steam ships could not hear the bell.
In 1871, the intermediate floors of the tower of 1836 were removed and new keepers' houses were built nearby, common with all Trinity House Stations. An insight into the Lighthouse and the life of its keepers in the nineteenth century is given in a travelogue by Walter White:-
A substantial house, connected with the tall circular tower, in a walled enclosure, all nicely whitened, is the residence of the light-keepers. The buildings stand within a few yards of the verge of the cliff, the wall serving as a parapet, from which you look down on the craggy slope outside and the jutting rocks beyond - the outermost point. You may descend by the narrow path, protected also by a low white wall, and stride and scramble from rock to rock with but little risk of slipping, so rough are the surfaces with minute shells. A rude steep stair, chipped in the rock, leads down still lower to a little cove and a narrow strip of beach at the foot of the cliffs. It is the landing place for the lighthouse keepers when they go fishing, but can only be used in calm weather.
The light was powered by oil until 1959 when it was electrified
In recent years the ground under the fog signal house has become insecure finally resulting in the collapse of the building in December 1989. Since then the site has been levelled, a new retaining wall built and a free standing fog signal stack put in place. However some think that the station is somewhat endangered by erosion of the cliff on which it stands.
Work began on the automation of Start Point Lighthouse in August 1992, this was carried out by LEC Marine at a cost of £82,754 and was completed in early 1993. The station is now monitored and controlled from the Trinity House Centre at Harwich in Essex.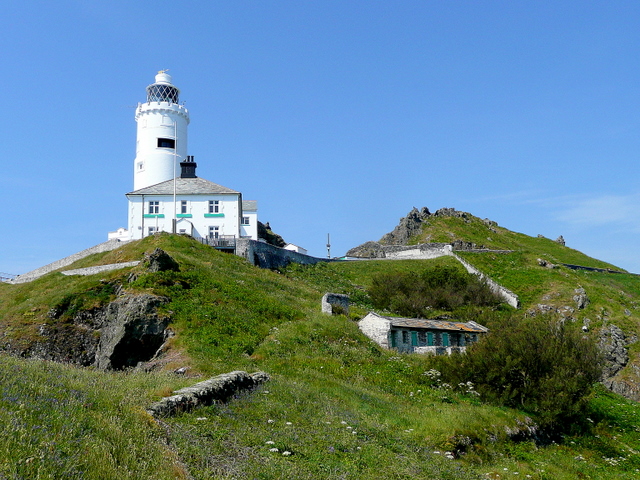 Photo by Jonathan Billinger

The building lower down to the right is a block of old pig sties dating back to when the lighthouse keepers tended their own smallholding on the steep northern side of the headland.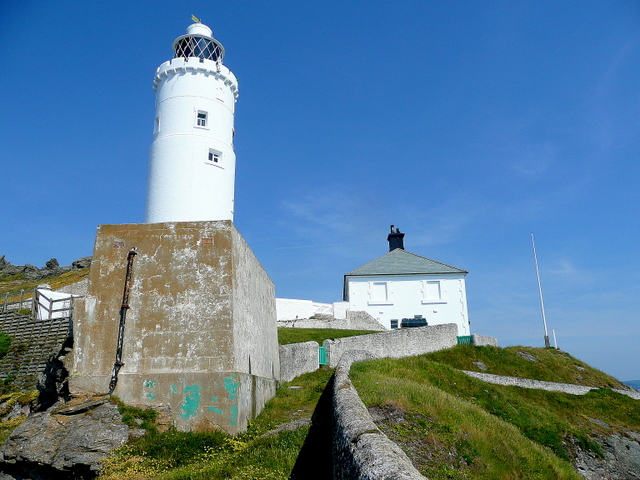 Getting the near impossible shot from the cliff edge


Photo by Jonathan Billinger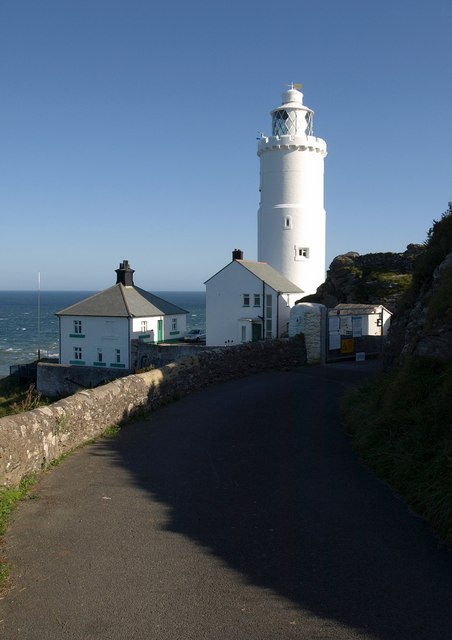 Photo by Derek Harper

An architectural description
Tarred and white-painted granite ashlar with cast iron lantern roofed in copper. Tall circular tower of about 28 metres high with moulded plinth and pedestal stage and 2 diminishing stages above that, the top stage with a corbelled embattled parapet and a cast iron lattice lantern with a copper canopy surrounded by weathervane. Rectangular and small round-headed window openings with plain raised architraves and blind panel on west side under the parapet .
Visiting
The lighthouse is open for visits, see the grids below for information on cost, links to find out when its open and other information. Each tour is approximately 45 minutes.
---
Lighthouse information Grid

Name:

Start Point Lighthouse, Devon

Current status:

Lighthouse is in use. Open to visitors - see below

Geographic Position:

50° 13'.30 N 03° 38'.47 W .

Grid Reference:

SX829371

Ceremonial County:

Devon

Appearance:

Round cylindrical masonry tower attached to a keeper's house, buildings painted white. Three assistant keeper's cottages.

Map Link:

Aerial photo:

Marinas.com Google satellite view

Other photos:

Geograph

Originally built:

1836

Current lighthouse built:

Height of Tower:

28m 92ft

Height of light above mean sea level:

62m 203ft

Character of light:

White Group Flashing 3 Times Every 10 Seconds

In addition, a continuous red light is shown north eastward over the Skerries Bank from a window of the tower.

Character of fog signal:

Sounds Once Every 60 Seconds

Range of light:

25 nautical miles

Owned / run by:

Trinity House

Website:

Other Useful Websites:

Routes:

Notes:

Three of the keeper's houses are available for overnight rental.
.
---
Lighthouse Visit Planning Grid

Name:
Start Point Lighthouse, Devon
Grid Reference:

SX829371

Location:

At the end of a sharp promontory that juts eastward into the English Channel about 20km (13 mi) south of Dartmouth.

Getting there:
Accessible by car from the A379 at Stokenham.
Access:
walk from car park

Parking:

There is a private car park at the top of the approach road to the lighthouse.

Address:

Postcode:

Telephone:

01803 771802

Email:

Opening times:

See also Trinity House page of when this is open and

Trinity house Lighthouse closure page

Charges:

Adults £3, child (5-16) £1.60, Family (2+2) £8

Best Times to Visit:
Check opening, access and tide times.

Facilities:

Things To Do, See and Photograph:

Lighthouse, coastal, wildlife, plants, possibly ships.

What to take:

Shoes suitable for climbing many steps, small bag with necessary items, Camera, selected lenses and filters.

Nature highlights:

Coastal birds

Photo Restrictions:

None Known

Other Restrictions:
None Known
Nearby Locations:
Other Relevant pages:
Please let us know any other information that we can add to the Further information and Planning Grids or page and any errors that you discover. Before making a long trip to any location it is always wise to double check the current information, websites like magazines may be correct at the time the information is written, but things change and it is of course impossible to double check all entries on a regular basis. If you have any good photographs that you feel would improve the illustration of this page then please let us have copies. In referring to this page it is helpful if you quote both the Page Ref and Topic or Section references from the Grid below. To print the planning grid select it then right click and print the selected area.
Please submit information on locations you discover so that this system continues to grow.