Pendeen Lighthouse

Pendeen, Cornwall

Location Guide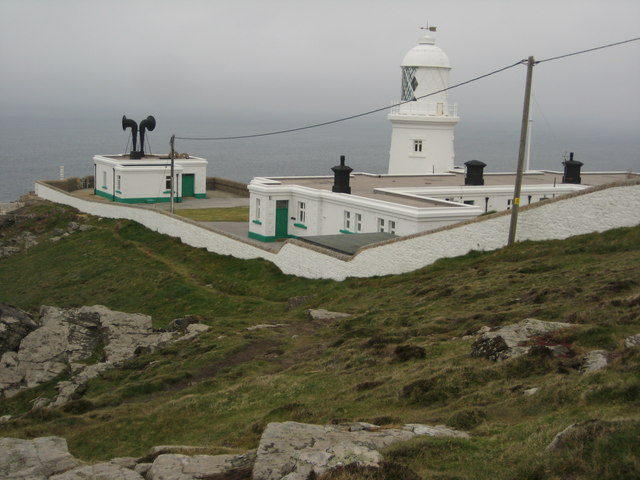 Pendeen Lighthouse - Photo by Philip Halling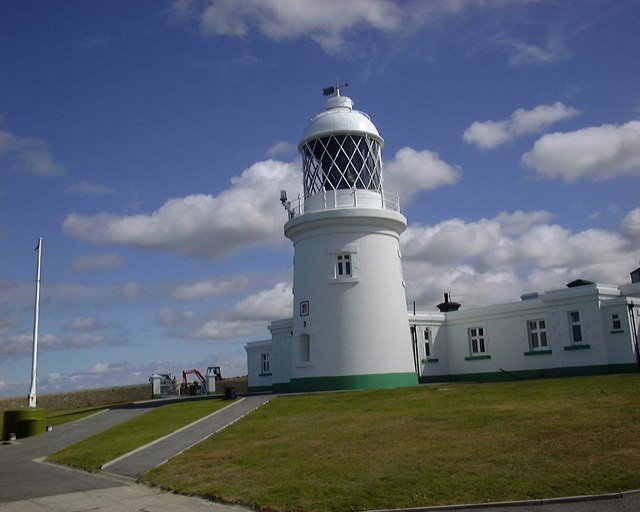 Photo By Mega Monty

Towards the end of the 19th century, Trinity house was becoming concerned at the numbers of ships being lost on a group of submerged and some visible rocks near Pendeen Watch, not far from St Ives in Cornwall.

One of the problems with this piece of coast is that ships could loose sight of both Trevose Head to the East or the Longships to the West, due to the high cliffs.

Until 1891 maritime safety off Pendeen depended more on activity after a wreck rather than prevention, the "Admiralty Sailing Directions" for that year being only able to report a "Coastguard Station where a rocket apparatus is kept".

From Cape Cornwall the coast runs NE by E towards the Wra, or Three Stone Oar, off Pendeen. From here
the inhospitable shore continues for a further eight miles or so, to the Western entrance of St. Ives Bay, the principal feature here being the Gurnards Head, on which many ships have come to grief.
Trinity House decided to erect a lighthouse and fog signal at Pendeen as a guide to passing vessels and warning of the dangerous waters around Pendeen Watch.
Designs for the building were prepared by Sir Thomas Matthews, a Trinity House Engineer, their construction being undertaken by Arthur Carkeek, of Redruth, with Messrs. Chance, of Birmingham supplying the lantern.
The buildings occupy a large area and before work could begin the cap of the Point had to be removed and the whole headland flattened, and the building of a huge retaining wall on the seaward side. By the beginning of 1900, Carkeeks men had only reached the half-way mark, although the lantern makers were ready to go ahead. Work thereafter progressed more rapidly and the light was commissioned on 26th September 1900. Some reports say the light was first lit on the 26th of January 1900, so perhaps there was a temporary light at first.
Within the tower itself are two rooms, one over the other, and above them the lantern which originally contained a five-wick Argand lamp, to which oil was pumped from the room below.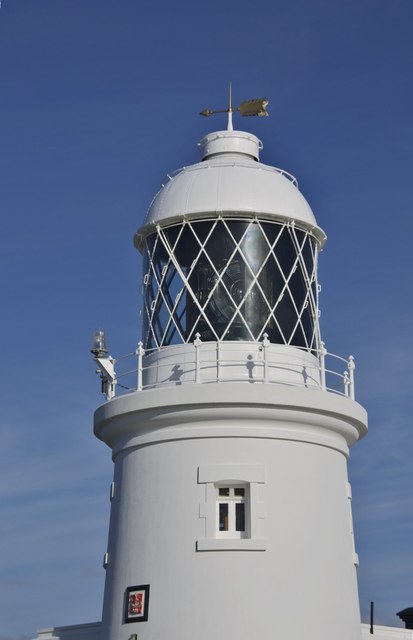 Photo by Paul Buckingham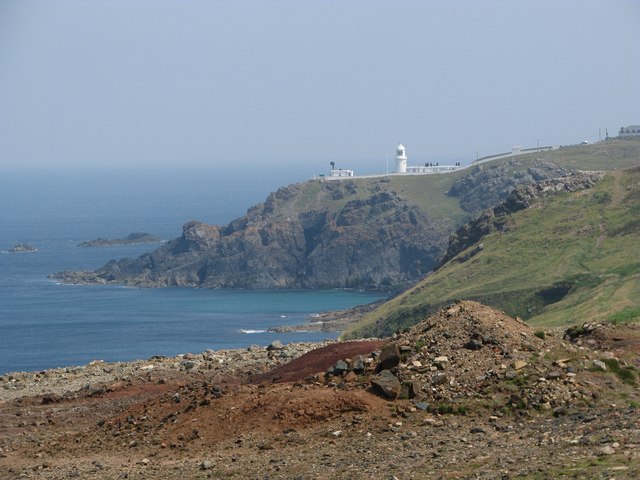 Photo by Sarah Charlesworth

The other buildings are in an E shape and make up 3 complete keepers cottages and a forth smaller unit originally used for an office and space for the keeper on duty. The three cottages are now available as holiday homes. Behind the cottages there were three kitchen gardens but these soon fell into disuse as nothing would grow in such an exposed position. Originally the water supply for the homes was limited, water was collected on the flay roof of the accommodation units and fed into an underground tank.
One report says that at one point during the early 1900s the population of the site rose to four keepers, three wives, ten children, two dogs, three cats, five pigs, three goats, two ponies, about thirty chickens, and three geese. The geese apparently felt they owned the place, and refused to let the visiting local Superintendent, Lieutenant Harold Reading, get off his horse.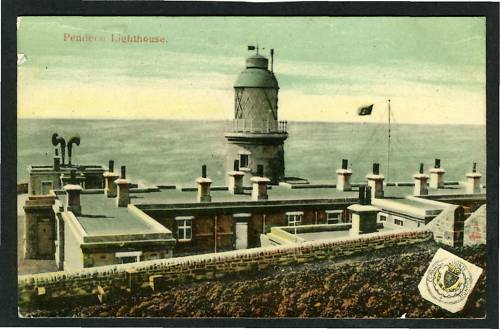 an old postcard of Pendeen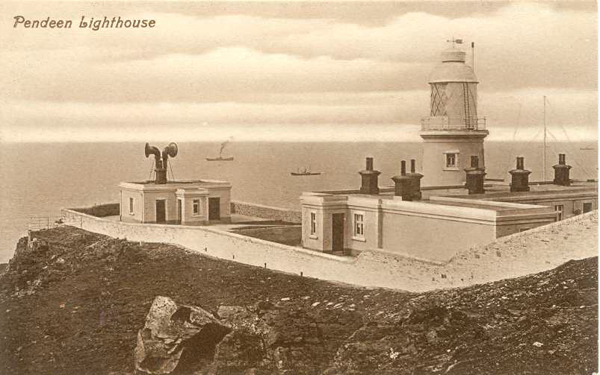 old postcard - date not known, but later then the other 2 old photos
as the buildings are now plastered.
The lamp was replaced by an electric one in 1926. Around the lamp revolves an apparatus containing the lenses. This optic is very heavy, weighing 2½ tons, but as it floats in a trough containing 0.75 tons of mercury it can be set in motion by the smallest touch.
Pendeen Lighthouse was automated in 1995 with the keepers leaving the station on 3rd May. The original optic has been retained but a new lamp plinth with two position lamp changer has been installed along with an emergency light and a new fog signal with fog detector. The old fog signal building still displays the two diaphone horns, even though it is now a electronic fog horn
The lighthouse is now monitored and controlled from the Trinity House Centre at Harwich in Essex.
---
Lighthouse information Grid

Name:

Pendeen Lighthouse, Cornwall

Current status:

Currently in use

Geographic Position:

50° 9'.85 N 05° 40'.20 W

Grid Reference:

SW378358

Ceremonial County:

Cornwall

Appearance:

Concrete-clad rubblestone tower, attached to 1 storey keeper's houses. Entire building painted white.

Original fog signal building with two diaphone horns

Map Link:

Aerial photo:

Google satellite view

Other photos:

Geograph

Originally built:

1900

Current lighthouse built:

Height of Tower:

56ft 17m

Height of light above mean sea level:

195ft 59m

Character of light:

White Group Flashing 4 Times Every 15 Seconds (Light 5 Seconds, Eclipse 5 Seconds)

Character of fog signal:

Sounds Once Every 20 Seconds - Range not known

Range of light:

16 nautical miles

Owned / run by:

Trinity House

Getting there:

Located on the piece of land sticking out into the sea called Pendeen Watch, about 1.2 miles (2 km) north of the B3306 at Pendeen. The lighthouse is easy to reach by car with parking nearby. It is on St. Ives Road in Pendeen Village.

Access:

Not open to the public now, but was at one point relatively recently, and still listed on one of the PDF document on the Trinity House website as open to visitors, so maybe it will be again at some time. When open it was accessible by road, parking provided. Site open, buildings and tower open to guided tours daily, except Saturdays during July and August and during holiday periods in the spring.

Website:

TH

Other Useful Websites:

Routes:
Other Relevant pages:

Notes:

Three cottages at the lighthouse site are available for rental. Email info@ruralretreats.co.uk
Please let us know any other information that we can add to the Grid or page and any errors that you discover. Before making a long trip to any location it is always wise to double check the current information, websites like magazines may be correct at the time the information is written, but things change and it is of course impossible to double check all entries on a regular basis. If you have any good photographs that you feel would improve the illustration of this page then please let us have copies. In referring to this page it is helpful if you quote both the Page Ref and Topic or Section references from the Grid below. To print the planning grid select it then right click and print the selected area.
Please submit information on locations you discover so that this system continues to grow.