New Brighton Lighthouse

aka Perch Rock Lighthouse

New Brighton, Cheshire

Location Guide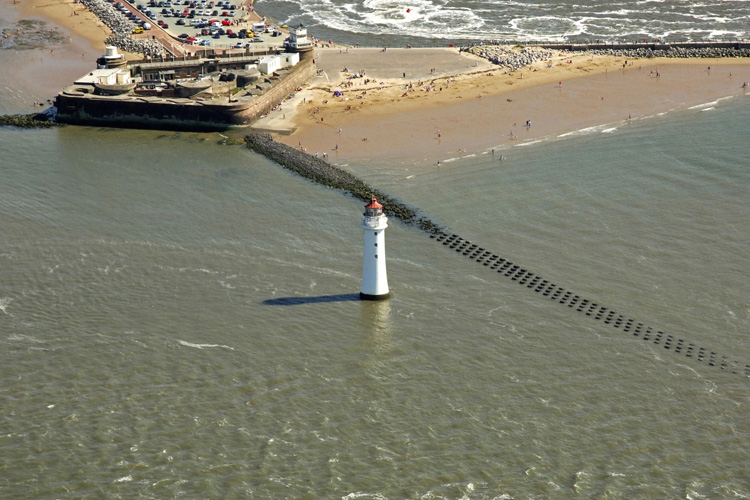 Aerial photo by Marinas.com

more images are available
Morse code signal tower

Photo by Bob Abell

from Fort Perch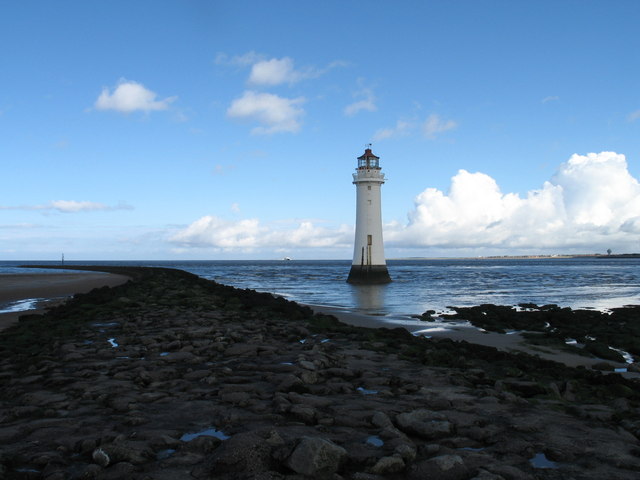 This view is from New Brighton beach, along a stone groin (foreground)
towards the main channel into Liverpool.

Photo by Ian Petticrew

New Brighton Lighthouse, originally known as Perch Rock Lighthouse after the navigation hazard that it marks, came into operation in 1830 and continued as a navigation beacon until 1st October 1973, when it became a victim of modern navigation technology. The tower rises 90ft above the rock, the first half of which is solid. To gain access when the tide is out a ladder is needed to reach the first of the 15 iron rungs built in to the side of the tower that lead up to the door. A spiral staircase leads to the keepers' accommodation consisting of a galley/kitchen, a bathroom, a living room and a bedroom and then up to the lamp room.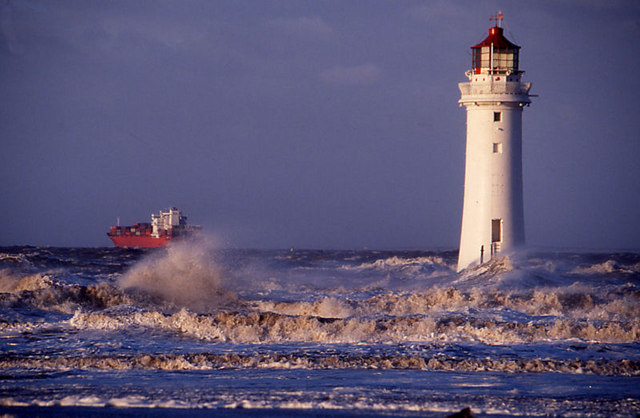 Photo Mike Pennington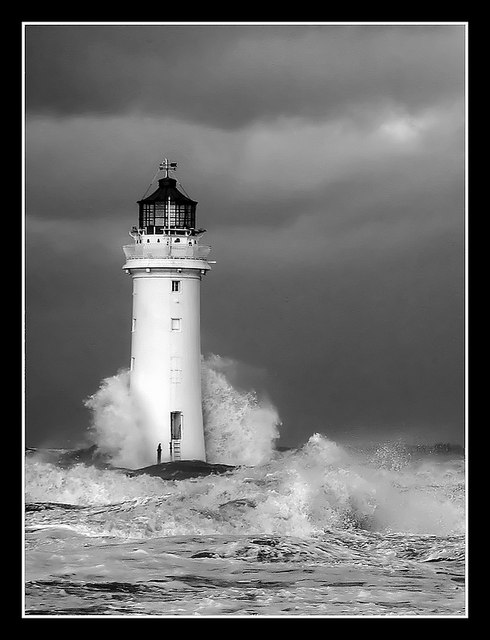 Photo by Ron Franklin

Perch Rock Lighthouse, situated where the river Mersey merges into Liverpool Bay. It sits on a rock that was previously called Black Rock which in 1683 had a 'perch' erected on it by the city of Liverpool to try to stop ships from floundering upon it. On 8th June 1827 construction started with the foundation stone being laid by the then Mayor of Liverpool, Thomas Littledale. Using a similar design to the Eddystone Lighthouse,

Tomkinson and Company, used interlocking granite stones fused together with a cement called 'Puzzellani' which is derived from volcanic ash.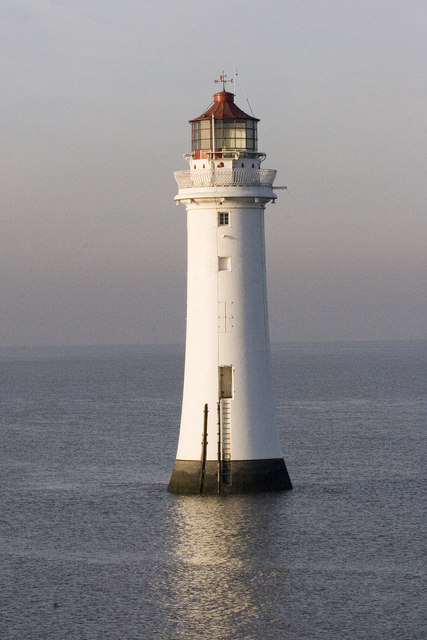 Photo by John Harding

The lighthouse foundation was laid on 8th June 1827.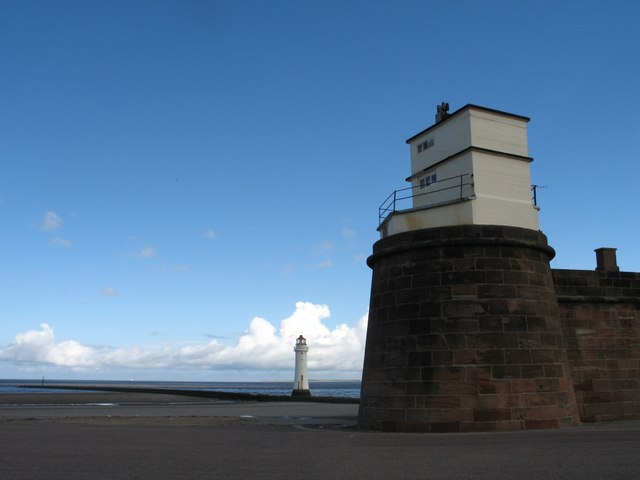 View from near boating lake showing lighthouse and part of the fort


Photo Ian Petticrew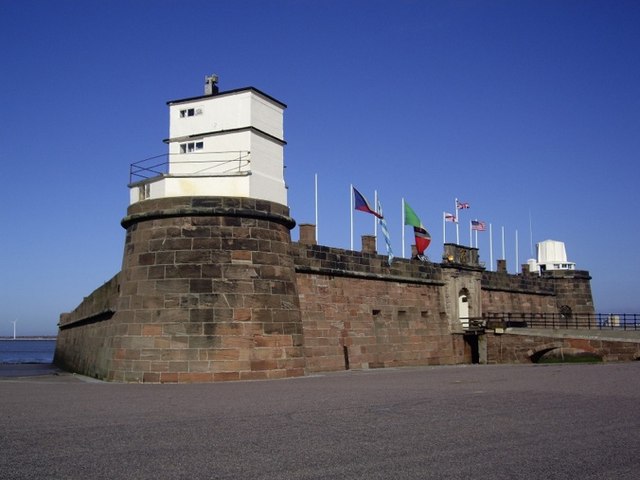 Fort Perch Rock, New Brighton

Photo by Tom Pennington

New Brighton had the tallest tower

in the country at 567ft high, but this fell into disuse and was demolished in 1921, at the same time Blackpool Tower (518ft) was also nearly demolished, under the tower was a ballroom but this was destroyed by fire in 1969.
---
Lighthouse information Grid

Name:

New Brighton Lighthouse, Cheshire

Current status:

Not in use as a lighthouse since October 1973

Geographic Position:

53° 26" 43' -3° 2" 32'

Wirral Peninsula, Mouth of River Mersey

Grid Reference:

SJ308946

Ceremonial County:

Cheshire

Appearance:

White tower with red top, on beech not far from a fort.

Map Link:

Aerial photo:

Other photos:

Geograph

Originally built:

1827

Current lighthouse built:

1827

Height of Tower:

90ft

Height of light above mean sea level:

77ft above water

Character of light:

was Signal tower (Morse Code)

Character of fog signal:

Range of light:

Owned / run by:

Maintained by the Kingham family

Getting there:

On beach you can get up close when the tide is out or see it with water at other times.

Access:

No internal access as far as I am aware.

Website:

Other Useful Websites:

Wiki (New Brighton)

Routes:
Other Relevant pages:

Notes:
Please let us know any other information that we can add to the Grid or page and any errors that you discover. Before making a long trip to any location it is always wise to double check the current information, websites like magazines may be correct at the time the information is written, but things change and it is of course impossible to double check all entries on a regular basis. If you have any good photographs that you feel would improve the illustration of this page then please let us have copies. In referring to this page it is helpful if you quote both the Page Ref and Topic or Section references from the Grid below. To print the planning grid select it then right click and print the selected area.
Please submit information on locations you discover so that this system continues to grow.