Nash Point Lighthouse

Marcross or St. Donats, Glamorgan

Featured Location Guide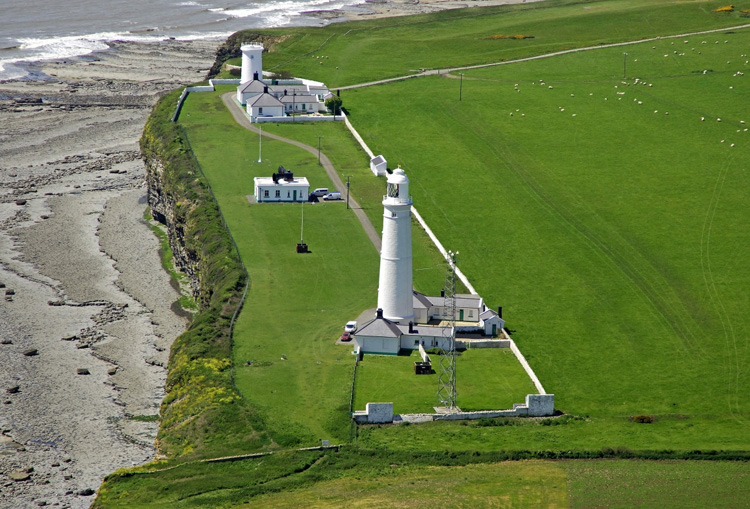 Aerial photo by Marinas.com

more images are available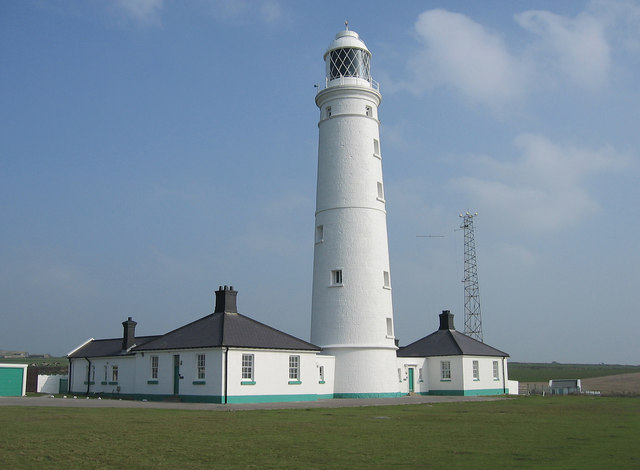 Photo by Peter Wasp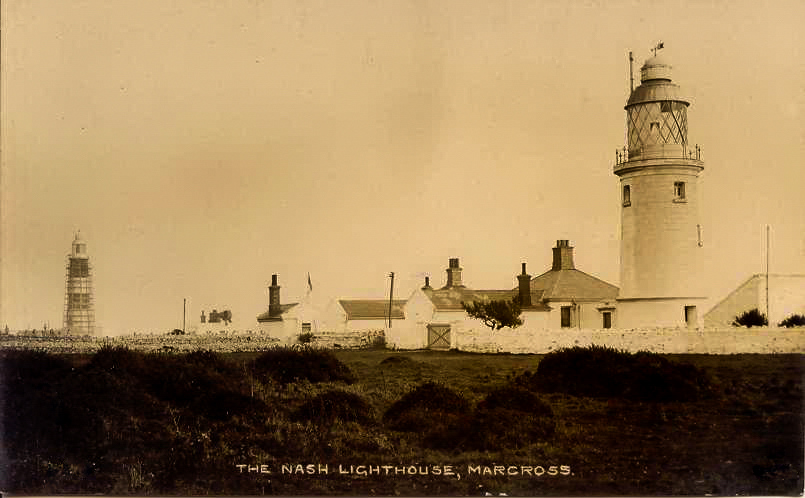 When built this lighthouse like many, had a pair of lights, the low light is seen in the foreground
and the tall one, the one that still exists, is shown in the background.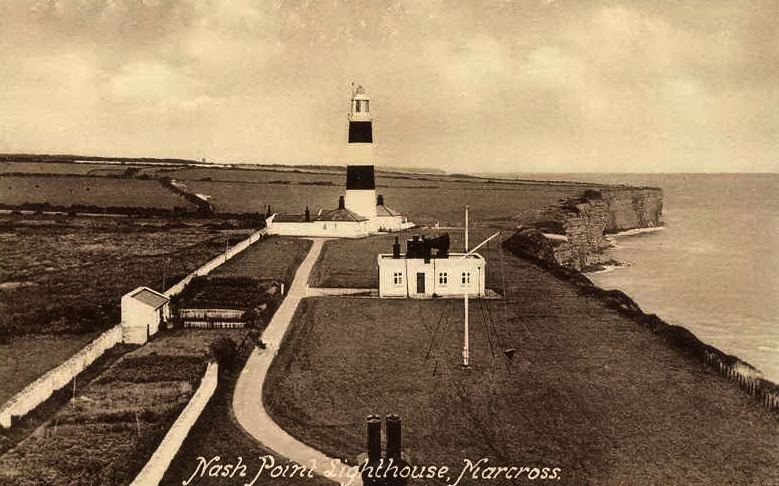 The tall light originally had black bands around it
These two old photographs were taken probably in the very late 1800's
These images are a part of the Camera Images GBPictures archive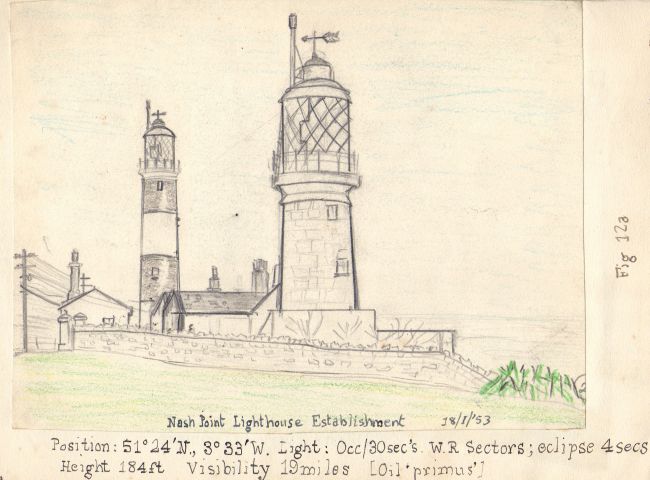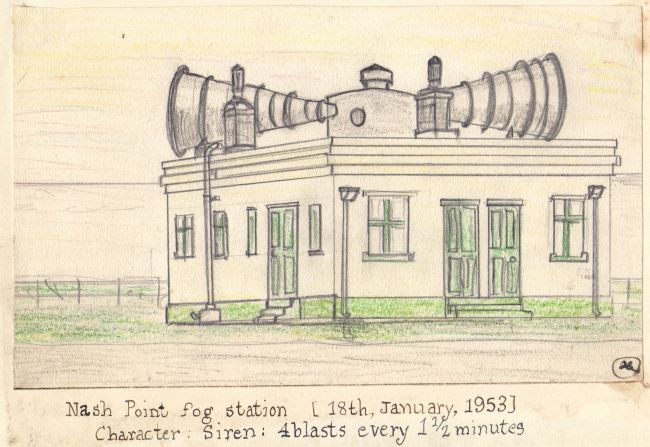 Two drawings of the lighthouses and fog station drawn in 1953 by Brian Mills.
Copyright: Brian Mills

In December 1830, the passenger paddlewheel steamer FROLIC was wrecked with heavy loss of life, near to the location of the Nash point lighthouse. It was because of the outcry about this that Trinity House decided to develop this lighthouse.
The lighthouse was built in 1832. The designer was James Walker, the Engineer-in-Chief to Trinity House. It was Located about 5km (3 mi) west of Llanwit Major.
There were two towers and they served to mark the sandbanks off the point at the entrance to the Bristol Channel and as the high light and the low light formed a range for ships entering the Bristol Channel. Nash Point marks the entrance to the narrower part of the Bristol Channel, leading to the major ports of Cardiff and Bristol.
Two circular towers were built, each with massive walls and a stone gallery. The eastern, or high lighthouse, 37 metres high and the western or low lighthouse 25 metres high. Placed 302 metres apart they provided leading lights to indicate safe passage past the sandbanks.
The high light was painted with black and white stripes and the low light was white. In those days both towers showed a fixed light which was either red or white depending on the direction from which a ship approached. The red sector marked the danger area of the Nash Sands.
The low light was abandoned early last century and the high light was modernised and painted white. In place of the fixed light a new first order catadioptric lens was installed which gives a white and red group flashing.
The low light had its light removed and has been converted to a house, but can still be seen in the form of a white tower, a photograph of this is shown below.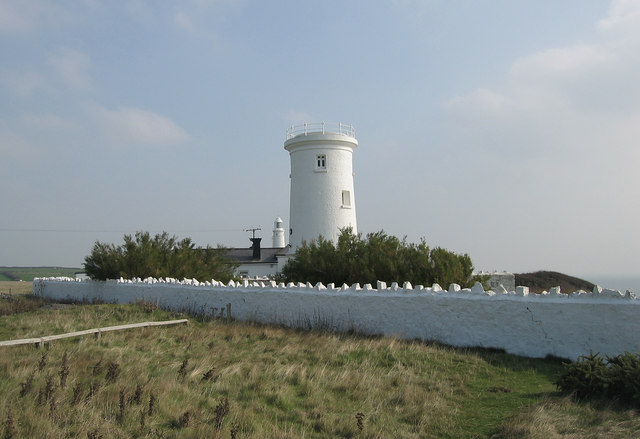 Remains of the Low lighthouse

Photo by Peter Wasp

There was also a fog horn, a siren horn on a building between the two lighthouses, this is no longer in regular use but the fog signal is sounded at 2pm on the first Saturday and third Sunday of each month, weather conditions permitting.
The Nash Siren has sound distributed via two conical elliptical horns arranged horizontally with a separation of 120 degrees. It generates a winding up, that is ascending, continuous changing pitch from A below middle C to A above middle C, the higher note lasting for about 2.5 seconds. An elderly resident who lived at Rhoose village, between Nash and Barry a considerable way away, could regularly hear this foghorn and new it as the Marcross Bull.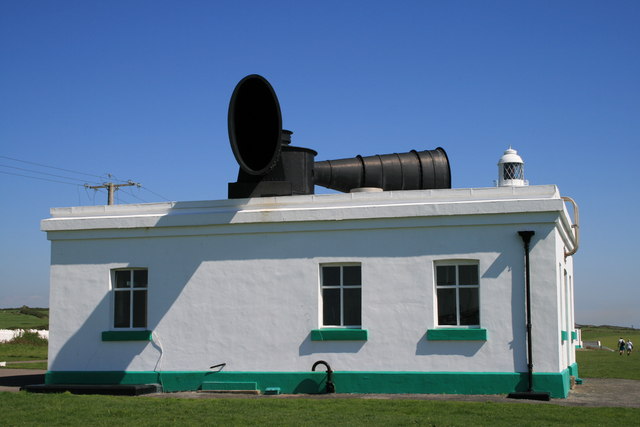 Photo by Martin Edwards

For over 160 years its light has done the intended job, and like many others the success is measured by there being no bad news to report in the area.
Nash Point was the last manned lighthouse in Wales. The lighthouse keepers left on 5 August 1998.
In 1977 the tuberous thistle (Cirsium Tuberosum), a rare plant, was found growing around the lighthouse. Noticeably this was before it was opened to the public, so its unlikely that this was just the result of someone sitting on one.
Nash Point formally opened its doors to the public in 2007. It is accessible by road or by walking the coastal path from St. Donats.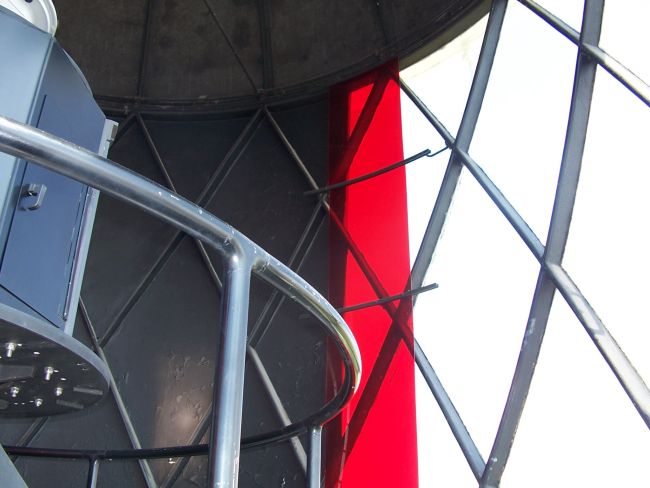 Showing the red Perspex panel that is fitted to the light, showing danger areas. There are two of these. Photo provided by Brian Mills.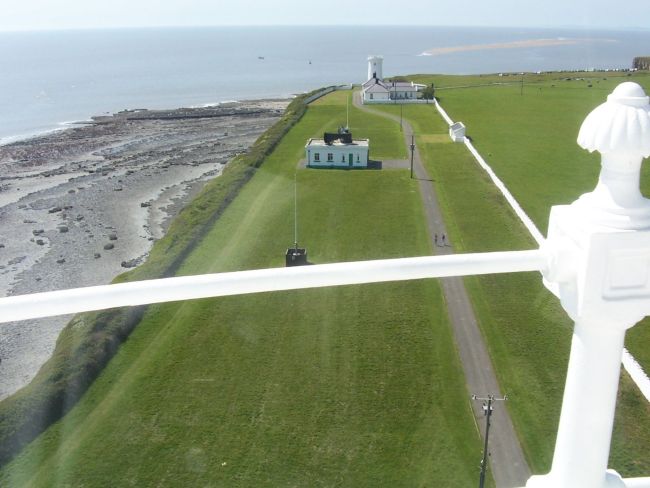 A view from the top of the lighthouse over the foghorn to the remains of the lower lighthouse,
with the Nash Sand Bar beyond. One of the two red sectors would warn ships that they were
in line with this sand bar. Photo provided by Brian Mills.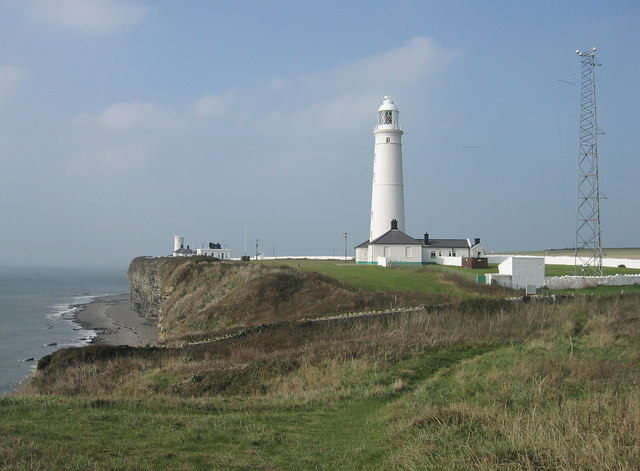 Photo by Peter Wasp

---
Lighthouse information Grid

Name:

Nash Point Lighthouse, Glamorgan

Current status:

Current high Lighthouse is in use, Open to visitors - see below

Low - no longer in use and has no lamp room, not used since early 1900's

Geographic Position:

51° 24'.00 N 03° 33'.05 W

Grid Reference:

SS921680

Ceremonial County:

Glamorgan

Appearance:

Current lighthouse, High, has Round stone tower with gallery attached to 1 storey keeper's house, painted white. This has a light room on the top.

Low lighthouse, the remains of the low lighthouse nearby has no lamp room, is white tower with railings around the top, all painted white.

Map Link:

Aerial photo:

Marinas.com Google satellite view

Other photos:

Geograph

Originally built:

1832 (both high and low)

Current lighthouse built:

1832

Height of Tower:

Current - High 37m 122ft

Low was 20m 67ft (now shorter)

Height of light above mean sea level:

56m 154ft

Character of light:

White and Red Group Flashing Twice Every 15 Seconds depending on direction.

Character of fog signal:

No longer in use. Was siren 4 blasts every 1.5 minutes.

Range of light:

White Sectors -21 nautical miles. Red - 2 red sectors see above

Owned / run by:

Trinity House

Website:

Other Useful Websites:

Routes:

Notes:

The two keeper's houses, Ariel and Stella, are available for holiday rental.
.
---
Lighthouse Visit Planning Grid

Name:
Nash Point Lighthouse, Glamorgan
Grid Reference:

SS918681 SS921680

Location:

Nash Point lighthouse is situated about a mile from Marcross.

Getting there:
by road from Marcross, footpath from St Donats and along coastal path.
Access:

Parking:

Parking next to site (private operator) in May 2007 was £1.50

Address:

Postcode:

Telephone:

01255 245011

Email:
Chris.Dodson@thls.org

Opening times:

See also TH Open of when this is open.

Charges:

Adults £3.50, Children (2-16) £1.50 Family (2+4) £10

Best Times to Visit:

Check opening, access and tide times.

They say a tour lasts about an hour.

Facilities:

Things To Do, See and Photograph:

Lighthouse, coastal, wildlife, plants, possibly ships.

What to take:

Shoes suitable for climbing many steps, small bag with necessary items, Camera, selected lenses and filters.

Nature highlights:

Coastal birds

Photo Restrictions:

None Known

Other Restrictions:
Health and Safety Guidelines - although mostly common sense read this anyway as some types of recreational shoes are not allowed etc.
Nearby Locations:
Other Relevant pages:
Please let us know any other information that we can add to the Further information and Planning Grids or page and any errors that you discover. Before making a long trip to any location it is always wise to double check the current information, websites like magazines may be correct at the time the information is written, but things change and it is of course impossible to double check all entries on a regular basis. If you have any good photographs that you feel would improve the illustration of this page then please let us have copies. In referring to this page it is helpful if you quote both the Page Ref and Topic or Section references from the Grid below. To print the planning grid select it then right click and print the selected area.
Please submit information on locations you discover so that this system continues to grow.