Lundy Island South Lighthouse

Lundy Island, Devon

Location Guide
Lundy Island is situated in the Bristol Channel off the north coast of Devon.

There are three Lighthouses on Lundy:-

Lundy Island South Lighthouse (this one)

Lundy Island North Lighthouse

and

Lundy Island (Old Light) A previous single lighthouse that was replaced by the two above in 1897.

The South Lighthouse is a compact station with cylindrical brick tower with lantern and gallery attached to two 1 storey keeper's houses. It was automated and converted to solar power in 1994, with a Solar-powered lens in the lantern. All buildings are painted white.

This lighthouse is located on cliffs at the southern tip of the island, above where visitors to the island by boat embark on their journey of the island. It is more accessible to visitors than the north light, at the other end of the island.

While the site is open the lighthouse and its tower are not.

Photo from Flickr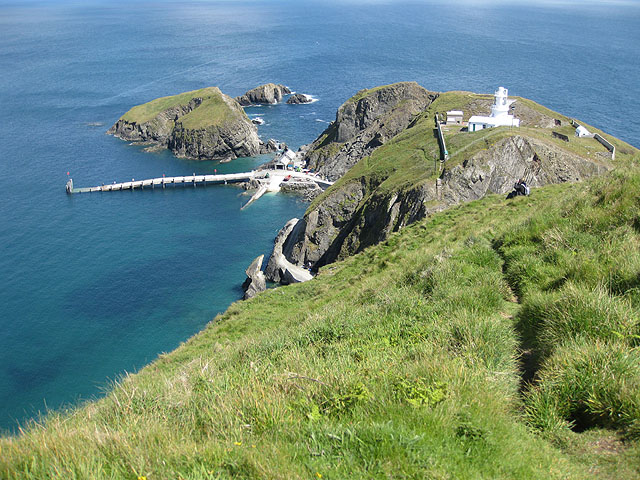 Photo by Pauline Eccles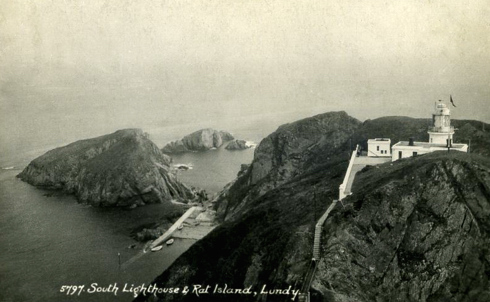 An old postcard image of this lighthouse soon after 1900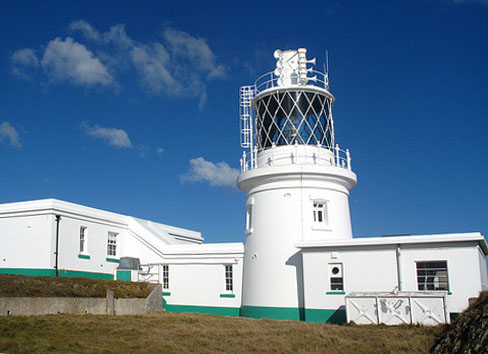 Photo by Dan James
---
The Lundy Lighthouses
In the extremes of the Bristol Channel, off Devon, is the Island of Lundy, 3.5 miles long by 0.75 miles wide it is said to have 20 miles of dangerous coastline. It is a rugged mass of dark granite, surrounded by reefs of sharp rocks that make an approach to the island difficult for those unfamiliar with it.
In 1819 Trinity House decided to build a lighthouse, Lundy Island (Old Light),

on the rocky summit of Chapel Hill. The granite tower was 96ft high with the keepers houses connected to it, it cost £10,276 19s.11d. The builder was Joseph Nelson, the engineer Daniel Alexander and the Superintendent of Works, James Turnbull.
Two lights were shone from the tower, the lower was a fixed white light, the upper was a white quick flashing light, every 60 seconds. This was, at the time, an innovation in lighthouse optics. However, the light revolved very quickly and no period of darkness was detectable between the flashes by most people, so in effect this also appeared as a fixed light. The steady light was from an elevation of 508ft and the flashing at 538ft, being not greatly separated resulted in the lights from a distance of 5 miles or more appearing to be a single light.
Mistaking this for a single light was said to have contributed to a shipping disaster in November 1828. The ship La Jeune Emma travelling from Martinique to Cherbourg, arrived in Carmarthen Bay in thick fog, mistook the Lundy lights for the fixed light of Ushant, and went onto the rocks. Of the 19 people on board, 13 were lost including a niece of the Empress Josephine.
Continual complaints that the light was completely lost in fog, resulted in the decision to replace it. Now, along with other buildings on the island, the Lundy Island (Old Light)

keepers accommodation has been converted into holiday accommodation for visitors to the island.
In 1897 two new lighthouses were built on the North and South extremities of the island, and the original one abandoned, but not demolished.
This one, the South Lighthouse is a compact station with a white circular tower. It was automated and converted to solar power in 1994.
The Lundy Island North Lighthouse

is set on a narrow plateau, on the cliffs. Its a cylindrical brick tower with lantern and gallery attached to two 1 storey keeper's houses. The light was produced from a 75mm petroleum vapour burner until 1971 when electricity was installed. It was automated in 1985 and modernised in 1991 when it was converted to solar power with a new proprietary lantern manufactured by Orga installed on the disused fog signal building.
Around the north lighthouse large colonies of guillemots, razor bills and herring gulls make their nests whilst on the rocks below Atlantic seals take refuge.
Both Lundy Lighthouses are now monitored and controlled by a link from Trinity House at Harwich in Essex.
---
Lighthouse information Grid

Name:

Lundy Island South Lighthouse, Devon

Current status:

Currently in use

Geographic Position:

51° 09'.7 N 04° 39'.3 W

Grid Reference:

SS144436

Ceremonial County:

Devon

Appearance:

Cylindrical brick tower with lantern and gallery attached to two 1 storey keeper's houses. Solar-powered lens in the lantern. All buildings painted white.

Map Link:

Aerial photo:

Google satellite view (poor)

Other photos:

Originally built:

1897

Current lighthouse built:

Height of Tower:

16m 52ft

Height of light above mean sea level:

53m 175ft

Character of light:

One White Flash Every 5 Seconds

Character of fog signal:

A 2 Second Blast Every 25 Seconds mounted on top of the lantern

Range of light:

15 nautical miles

Owned / run by:

Island - Owner National Trust Lundy is financed, administered and maintained by the Landmark Trust.

Site manager/tourism boats etc. Lundy Island Company

Lighthouse Trinity House

Getting there:

Located on cliffs at the southern tip of the island, where it is more accessible to visitors than the north light.

Access:

Site open, tower closed.

Website:

Other Useful Websites:

Wiki (Lundy island)

Routes:
Other Relevant pages:

Notes:
Please let us know any other information that we can add to the Grid or page and any errors that you discover. Before making a long trip to any location it is always wise to double check the current information, websites like magazines may be correct at the time the information is written, but things change and it is of course impossible to double check all entries on a regular basis. If you have any good photographs that you feel would improve the illustration of this page then please let us have copies. In referring to this page it is helpful if you quote both the Page Ref and Topic or Section references from the Grid below. To print the planning grid select it then right click and print the selected area.
Please submit information on locations you discover so that this system continues to grow.