Longships Lighthouse

Off Lands End, Cornwall

Featured Location Guide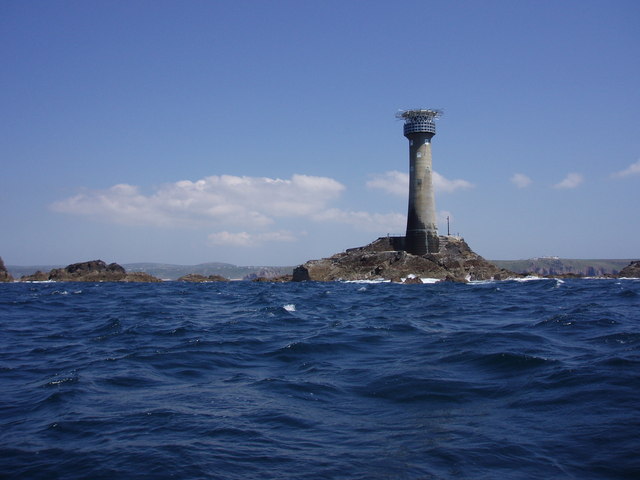 Looking towards Lands End

Photo by Sheila Russell

The Longships are a group of rocky islets approximately 1.25 miles (2km) west of Land's End, Cornwall, with two smaller rocks known as Kettle's Bottom, midway between Longship and the coast. When the weather is good this is a pleasant area, used for recreation, both sailing and diving. The sea around Longships has clear water with prolific marine life and flora. I would presume there are also a fair few wrecks to find and explore.
When stormy this can be the last place you would want to be, with waves that can break over the 115ft lighthouse and which before the lighthouses were in place, resulted in many ships being lost. The earlier lighthouse on this site was replaced by the current taller one to get the light out and over the waves. Even so one ship the Steam ship 'Bluejacket' was wrecked on rocks near the lighthouse on a clear night in 1898, nearly demolishing the lighthouse in the process.
Most of the Longship islets are submerged at high water, but the three largest islets in the group, Tal-y-Maen, Carn Bras, and Meinek, remain above the high water mark.
The Longships Lighthouse stands on Carn Bras, the highest islet and is 35m (115ft) high. A round granite tower standing on rocks, incorporating keeper's quarters, with lantern and a helipad built above the lantern. The tower is unpainted grey stone and the lantern is painted white. Since 1988, it has been able to be run remotely unmanned, so there are no longer any keepers in the lighthouse.
---
The History
Although with modern navigation and lights, loses of ships are rare today, in the past it was common, in part as ships were smaller, had lower less reliable power, and partly through unknown hazards and difficulty navigating around obstacles. There is an enormous power in this part of the sea, off Lands End, when stormy, the sea has been explained as "the whole surface of the sea becomes one dizzy whirl or rushing, writhing, tortured undirected rage bounding and crashing and coiling in an anarchy of enormous power".
In 1790 there were no aids in this area, and any lights that could be seen could not be relied upon, potentials being placed by wreckers.
Tower 1

On 30th June, 1791, Trinity House obtained a patent and gave a lease to Lieutenant Henry Smith by which he would erect a lighthouse on the Longships, and which fixed the rental at £100 for the term of 50 years.

A tower was soon established on Carn Bras, the largest of the Longships Rocks which rose 12m above high tides. The tower was first lit in December 1873 having cost £43,870 to build.

The circular tower, designed by Trinity House architect Samuel Wyatt, had three storeys. The lowest contained water tanks and stores, the next formed a living room and the third the light keepers used as a bedroom. Above this was a wood and copper lantern. The lantern was 24m (79ft) above the sea, and held 18 parabolic metal reflectors and Argands, arranged in two tiers. None shone towards the land, as metal sheets blocked the windows in that direction.

Period painting of the first Longships Lighthouse
Soon after lighting the tower on 29th September 1795, Lieutenant Smith was declared "incapable of managing the concern". Its not clear why this happened. Trinity House took it over and remitted the profits to his family through the Court of Chancery. It may have been generosity to Smith's family or just an agreement made in haste, but it proved much more costly than expected. The profit of the lighthouse rose to £3,017 in 1831 after meeting the maintenance cost of the light of £1,183. In 1836 the profit had grown to £8,293 and with 9.5 years lease unexpired, Trinity House agreed to buy out the lessees for £40,676 inclusive of life rents.
Compared to these high returns, the keepers were not so well rewarded. In this period the light keepers on the Longships received just £30 per annum (just 52p a week) and free food at the lighthouse, but when ashore they had to provide for themselves and had to take what additional employment they could to cover their existence. While in the lighthouse they had a less than ideal existence, cooking their meals in the lantern by the Argand lamps. The lighthouse was manned by four men, two of whom were on duty at any one time, working one month at a stretch, so one month on and one month off but being dependant on the weather to be able to get out and be relieved.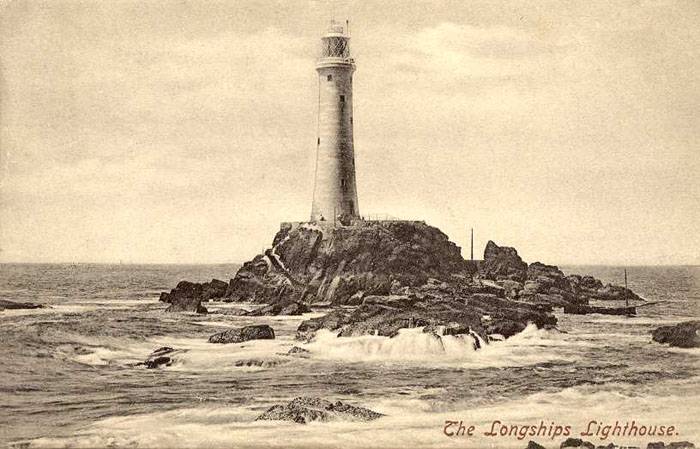 The second Longships lighthouse from a postcard from just after 1900.
This shows it before later modifications like adding the helicopter platform.
Tower 2
In storms the seas swept over the rock and the lantern although 24m (79ft) up, was so often under water that the character of a fixed light could not be determined with certainty. This eclipse by the waves made a replacement necessary.
The present (2nd) circular tower of grey granite was built by Sir James Douglass, Trinity House engineer, in 1875. This was taller, with the light 35m (115ft) up instead of the 24m (79ft) of the earlier tower. The building of the new granite tower used much of the equipment that had previously been used in the construction of the Wolf Rock Lighthouse.

Even today, great waves sometimes break over the lighthouse: there are dramatic photos

taken 10 March 2008 from Lands End (see the third and fourth row of photos on the page).
Longships Lighthouse was automated in 1988 and is now monitored and controlled from the Trinity House Operational Control Centre at Harwich in Essex.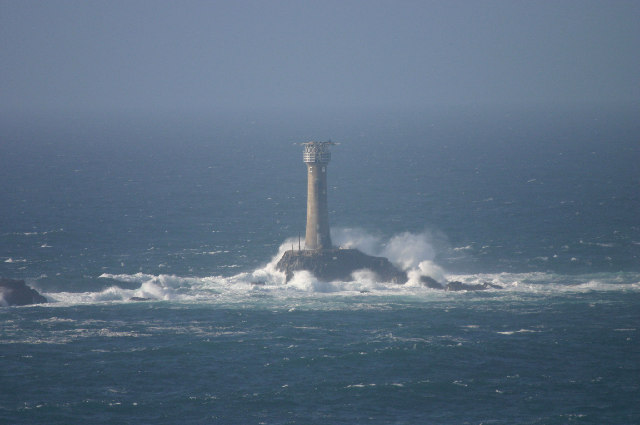 Photo by Ivan Taylor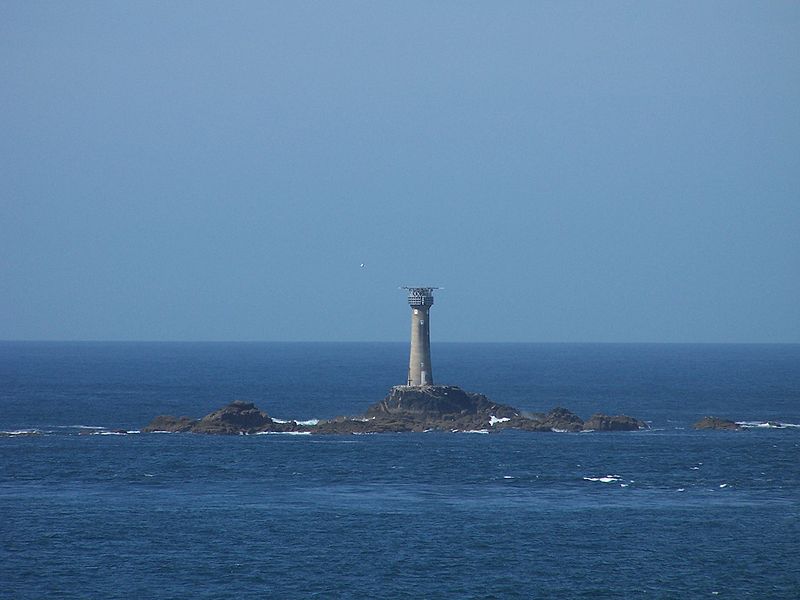 Looking away from Land's End

Photo from Wikipedia

---
Lighthouse information Grid

Name:

Longships Lighthouse, off Lands End, Cornwall

Current status:

In Use

Geographic Position:

Land's End - Located on Carn Bras, largest of the Longships Rocks, about 1.5 km (1 mi) west of Land's End.

50° 03.97'N. 005° 44.75'W

Grid Reference:

SW319252

Ceremonial County:

Cornwall

Appearance:

35m (115 t) round granite tower standing on rocks in ocean, incorporating keeper's quarters, with lantern and a helipad built above the lantern. Tower is unpainted grey stone, lantern painted white.

Map Link:

Aerial photo:

aerial photo

Other photos:

Originally built:

1795

Current lighthouse built:

1875 - second taller tower

Height of Tower:

35m (115ft)

Height of light above mean high sea level:

35m (115ft) now, was originally 24m (79ft)

Character of light:

White And Red Isophase Every 10 Seconds (Light 5 Seconds, Eclipse 5 Seconds)

Character of fog signal:

A One Second Blast Every 10 Seconds

Range of light:

18 nautical miles

Owned / run by:

Trinity House

Getting there:

Way out to sea (boat or helicopter) - visible from Lands End

Access:

None

Website:

TH

Other Useful Websites:

Wiki

Routes:
Other Relevant pages:

Notes:
Please let us know any other information that we can add to the Grid or page and any errors that you discover. Before making a long trip to any location it is always wise to double check the current information, websites like magazines may be correct at the time the information is written, but things change and it is of course impossible to double check all entries on a regular basis. If you have any good photographs that you feel would improve the illustration of this page then please let us have copies. In referring to this page it is helpful if you quote both the Page Ref and Topic or Section references from the Grid below. To print the planning grid select it then right click and print the selected area.
Please submit information on locations you discover so that this system continues to grow.