Lizard Lighthouse

Lizard, Cornwall

Featured Location Guide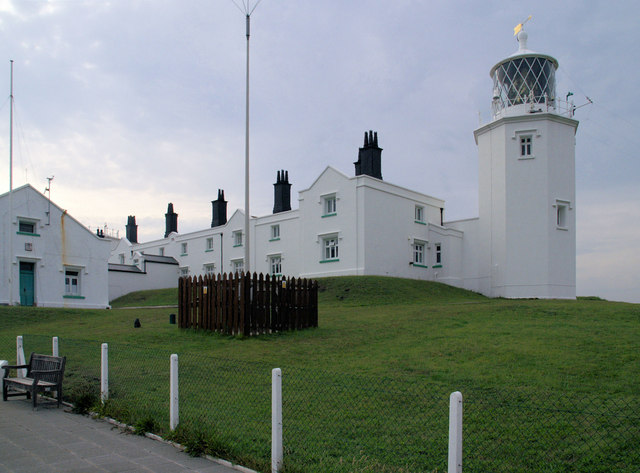 Photo by Pierre Terre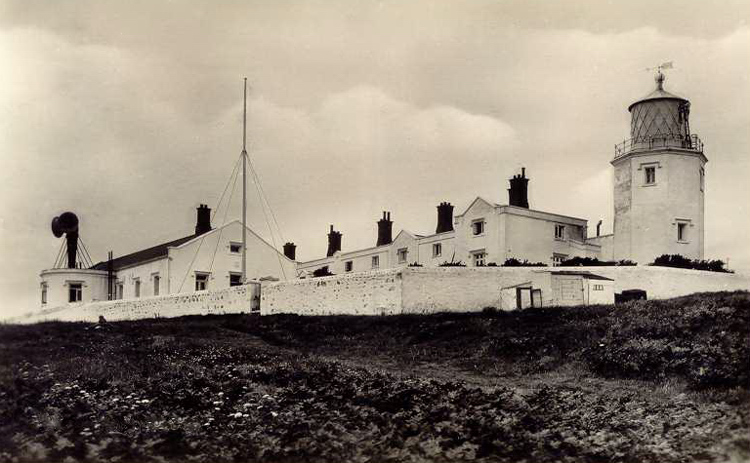 An old photo of the lighthouse - probably 1910-1920
Photo from Camera Images GBPictures archive
Lizard Point is the most southerly part of mainland Britain, sticking out south of the rest of Cornwall and around 20 miles west and over 5 miles south of Lands End. Around the point are many rocks, making it both a major hazard and one that would be often encountered when arriving from the south west or when passing along the south coast going west and the first landfall, or last mainland.
The Lizard Lighthouse is very easily identifiable with distinctive twin towers and a landfall and coastal mark giving a guide to vessels in passage along the English Channel or arriving from the south west, and warning of the hazardous waters off Lizard Point.
It started with two working lights, later modified to have one, and this famous lighthouse has been a traditional landfall for ships arriving in England for more than 250 years.
Today its open to visit, and also has an exhibition centre, see details below.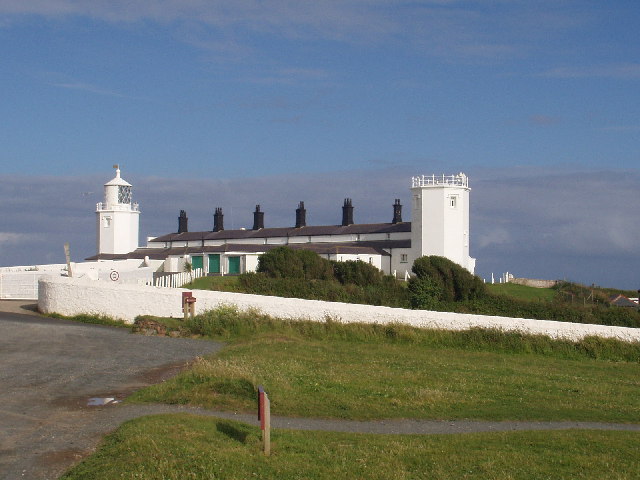 Photo by Gordon McKinlay

The History
Many stories are told of the activities in the distant past of wreckers around the UK coasts, most of which are probably exaggerated, but small communities occasionally unofficially and sometimes officially benefited from the spoils of shipwrecks, and petitions for lighthouses were often rejected on the strength of local opinion for one reason or another, and this applied to the South West of England. While this is often put down to the antics of wreckers we should also remember in those days there was no possibility of anyone much coming to the local inhabitants assistance so far down, if they were raided by military or other pirates, and the advertising of where to land safely at night to would be enemies may have had more to do with their objections.
The distinctive twin towers of the Lizard Lighthouse, mark the most southerly point of mainland Britain. The coastline is particularly hazardous, and from early times the need for a beacon was obvious.
It was Sir John Killigrew, a philanthropic Cornishman, who we know applied for a patent. Apparently, because it was thought that a light on Lizard Point would guide enemy vessels and pirates to a safe landing, the patent was granted with the proviso that the light should be extinguished at the approach of the enemy.
Sir John Killigrew agreed to erect the lighthouse at his own expense, for a rent of "twenty nobles by the year", . for a term of thirty years. A noble

being 6 shillings and 8 old pence (33 new pence) and the first gold coin to be minted in volume in England.
Although he was willing to build the tower, he was too poor to bear the cost of maintenance, and intended to fund the project, like others, by collecting from ships that passed the point, any voluntary contributions that the owners might offer him. In spite of the difficulty of recruiting local labour, the tower was finished by Christmas 1619, and proved a great benefit to mariners.
However, the ship owners offered nothing for its upkeep, and as others around the country found, the mounting costs of maintenance were bankrupting him. Against the advice of Trinity House, James I set a fee of one halfpenny a ton on all vessels passing the light. This tax was opposed by ship owners, and as a result the patent was withdrawn, the light extinguished and the tower demolished.

Patent applications were made and refused over the years, until in 1748 Trinity House supported an attempt by Thomas Fonnereau to erect a lighthouse. The building was completed in 1751, and consisted of two towers, with a cottage built between them, in which an overlooker lay on a sort of couch, with a window on either side commanding a view of the lanterns. When the bellows blowers relaxed their efforts and the fires dimmed, he would remind them of their duties by a blast from a cow horn.

Trinity House assumed responsibility in 1771.

The signal station nearby was built by Lloyd's of London to report ship arrivals, and this famous lighthouse has been a traditional landfall for ships arriving in England for more than 250 years.

Structural alterations were made in 1812, which left the station much as it is today. The Western Tower was discontinued soon after 1903 and a single flashing light installed in the Eastern Tower.

The Lizard Lighthouse was automated in 1998.

Fog Station
Photo by Bob Jones
Housel Bay, The Lizard

Photo by Mick Lobb

This view includes several salient features of the bay. On the cliff top, the lighthouse complex, to the left toward the end of the point, Bumble Rock, and just discernible, the hollow of the Lion's Den, sometimes referred to as the Devil's Frying Pan, remains of a sea cave that collapsed in 1847. The sandy Housel Cove, that can be reached by a steep cliff path, can be just glimpsed over the cliff edge in the foreground
---
Visiting

Visitor facilities at the lighthouse were operated by the Trevithick Trust for many years.

In 2004 the lighthouse was closed for renovations, and during the same year the Trust went out of operation.

Trinity House then took over the visitor facilities and reopened the lighthouse on May 1, 2005.

The Visitor Centre and tower open daily in the summer and several days per week the rest of the year. Further details and links in the grids below.

---

The image to the right

Photo by Chris Allen

Optic that floats in a bath of mercury. Originally powered by clockwork, it is now powered by duplicated electric motors and has a 1,000,000 candlepower bulb that is replaced every 6000 hours. The bulb is permanently lit and automatically backed up.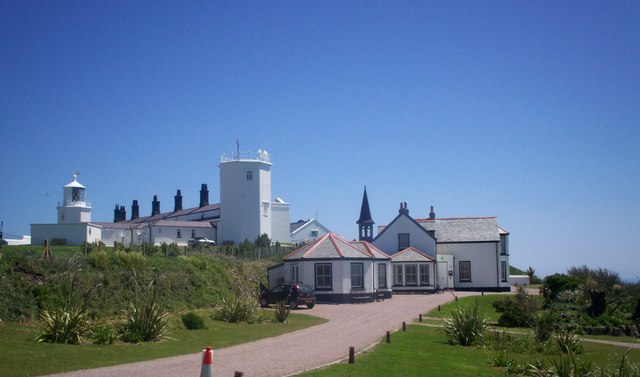 Photo by Peter Clayton YHA

---
Lighthouse information Grid

Name:

Lizard Lighthouse, Lizard Point, Cornwall

Current status:

Lighthouse is in use. Open to visitors - see below

Two towers - East active, West tower inactive since 1903 and lantern removed.

Geographic Position:

49° 57'.58 N 05° 12'.07 W

Grid Reference:

SW704115

Ceremonial County:

Cornwall

Appearance:

Twin octagonal cylindrical stone towers connected by a 2 storey stone keeper's houses, the east tower has a lantern, and gallery. The whole building is painted white.

Map Link:

Aerial photo:

Google satellite view

Other photos:

Geograph

Originally built:

1619

Current lighthouse built:

1751

Height of Tower:

19 metres

Height of light above mean high sea level:

70 metres 210ft

Character of light:

One white flash every 3 seconds

Character of fog signal:

1 blast every 30 seconds

Range of light:

26 nautical miles

Owned / run by:

Trinity House

Website:

Other Useful Websites:

Routes:

Notes:
.
---
Lighthouse Visit Planning Grid

Name:
Lizard Lighthouse, Lizard Point, Cornwall
Grid Reference:

SW704115

Location:

Getting there:
Located on the point at the end of the A3083 (Lighthouse Road) from Helston.
Access:

Parking:

National Trust car park next to entrance gate.

Address:

Postcode:

Telephone:

01326 290202

Email:

Opening times:

See also Trinity House page forwhen this is open and
Trinity house Lighthouse closure page

A PDF can be downloaded relevant to the 2010 year

Charges:

Charge to enter the Heritage Centre and a second additional charge to undertake the lighthouse tour. There are other composite options as well, with other exhibitions/places - see current rates

Best Times to Visit:
Check opening, access and tide times.

Facilities:

Things To Do, See and Photograph:

Lighthouse, coastal, wildlife, plants, possibly ships.

What to take:

Shoes suitable for climbing many steps, small bag with necessary items, Camera, selected lenses and filters.

Nature highlights:

Coastal birds

Photo Restrictions:

None Known

Other Restrictions:
None Known
Nearby Locations:
Other Relevant pages:
Please let us know any other information that we can add to the Further information and Planning Grids or page and any errors that you discover. Before making a long trip to any location it is always wise to double check the current information, websites like magazines may be correct at the time the information is written, but things change and it is of course impossible to double check all entries on a regular basis. If you have any good photographs that you feel would improve the illustration of this page then please let us have copies. In referring to this page it is helpful if you quote both the Page Ref and Topic or Section references from the Grid below. To print the planning grid select it then right click and print the selected area.
Please submit information on locations you discover so that this system continues to grow.