Hilbre Island Lighthouse

off the Wirral Peninsula, Cheshire

Location Guide
Hilbre Island Lighthouse provides a port landmark for the Hilbre swash in the River Dee estuary.
This small automatic lighthouse came under the full jurisdiction of Trinity House in 1973, before this it was operated by the Mersey Docks and Harbour Board Authority.
Hilbre Island Lighthouse was converted from acetylene gas to solar powered operation in 1995.
The images shown on the Trinity House page for this is a metal frame tower with a red triangle on it. None of the many photos of this part of the island show anything similar, but one photos shows another lighthouse, so its either like the photo or a short metal frame tower with a triangle on. Oh, and it flashes.
A metal frame arrangement with goodies on is shown in a Geograph picture

and other photos but this also does not match the Trinity House photo.
If you live or are near here, can you take a look and send us a photo of what you discover.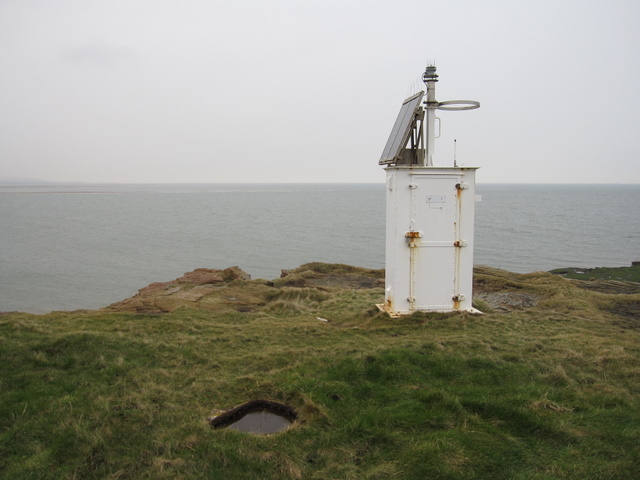 The lighthouse that was on this point on 5th February 2009,
this is presumably the 1995 lighthouse, not the current one

Photo by John S Turner

The hole filed with water in the front is where the post for the 'rocket post'. At one time a rocket was used to summon the lifeboat men out to Hilbre, and the 1913 and 1927 OS maps record a 'Rocket Post' on Hilbre at close to this location. Close up photo of this.

Hilbre Island is the largest of three small islands in the River Dee off the Wirral Coast. It is home to a wide variety of birds and wildlife. To see more details on the history of the island and up to date visiting information take a look at Hilbre Island.

---
Lighthouse information Grid

Name:

Hilbre Island Lighthouse, Cheshire

Current status:

Currently in use

Geographic Position:

53 23.0 N 03 13.7 W

Grid Reference:

SJ183881

Ceremonial County:

Cheshire

Appearance:

Currently a small metal tower with red triangle - to be confirmed

Map Link:

Aerial photo:

Other photos:

Geograph

Originally built:

1927

Current lighthouse built:

Recent

Height of Tower:

3m

Height of light above mean sea level:

14m

Character of light:

Red Flash Every 3 Seconds

Character of fog signal:

Range of light:

5 nautical miles

Owned / run by:

Trinity House

Getting there:

Access:

Website:

TH

Other Useful Websites:

Wiki (article on island not light)

Hilbre Island

Routes:
Other Relevant pages:

Notes:
Please let us know any other information that we can add to the Grid or page and any errors that you discover. Before making a long trip to any location it is always wise to double check the current information, websites like magazines may be correct at the time the information is written, but things change and it is of course impossible to double check all entries on a regular basis. If you have any good photographs that you feel would improve the illustration of this page then please let us have copies. In referring to this page it is helpful if you quote both the Page Ref and Topic or Section references from the Grid below. To print the planning grid select it then right click and print the selected area.
Please submit information on locations you discover so that this system continues to grow.